Everything Else
Orange Faced Tyranical Troll Bigot Visited Norman On Saturday…
10:14 AM EDT on September 19, 2016
The OU Football team wasn't the only debacle in Norman on Saturday.
As I'm sure you know by now, Donald Trump stopped by Barry Switzer's daughter's McMansion in Norman on Saturday to give a new generation of Oklahomans an excuse to despise the Switzer family. Here are all the details via The Oklahoman:
Republican presidential nominee Donald Trump made a brief stop in Norman on Saturday to attend a private fundraiser. Oklahoma Gov. Mary Fallin and former University of Oklahoma football coach Barry Switzer were seen arriving at the event held at a supporter's home near OU. Above, the candidate waves as his motorcade pulls into a driveway. About 150 protesters lined the street across from the property where Trump spoke.
Seriously, that's it. The Republican nominee for president visits Oklahoma 51 days before the election to attend a fundraiser hosted by the so-called "King" of Oklahoma and the only coverage it gets from the most conservative newspaper in the country is a one paragraph mention on Page 5A in the Sunday paper. Norman is a clusterfuck on OU game days, but couldn't the paper have at least sent Graham Brewer out to cover the fundraiser? I know the weather would have made his hair frizzy and everything, but sometimes reporters have to make sacrifices.
The rest of the local media did the exact opposite of The Oklahoman and gave the event the over-coverage it deserved. News 9 kicked off the hype on Friday night with a report claiming Trump would be at the OU game, despite the fact that David Boren said a few days before that Trump would not be invited to the game. Well, at least that's what the station's always reliable "sources" were claiming.
Presidential hopeful Donald Trump will attend the OU game during his fundraiser trip to Norman, Oklahoma, this weekend, sources told News 9.

It will be a busy weekend in Norman. Not only will the Sooners be playing, but presidential hopeful Donald Trump will be in town for a private fundraiser.

According to the Norman Transcript, the event is scheduled to be held at the Miller House near South campus. Trump's online schedule for Saturday includes a 1 p.m. trip to Houston and a 7:30 p.m. stop in Colorado Springs.
Fortunately for Dean Blevins, News 9, and the station's sources (a.k.a. Barry Switzer), Lord Gary England sent a fall squall to Norman that pushed back the OU / OSU slaughter to 8:00pm. Therefore, the station and it's sources finally had a decent excuse for being wrong again.
I don't know if Coach Switzer led the crowd in some of his favorite SAE chants in an effort to make Trump feel comfortable and welcome, but there's just not a lot of info floating around about what was said or done at the fundraiser. It's like everyone had to sign a confidentiality agreement or something. We do know that Mary Fallin stopped by...
Let's give a shout out to Mary Fallin's pedicurist for the quality job on the toenails. It's good to see Hipster Boo Boo found a job that pays! Also, kudos to Mary Fallin for sticking with the same red cape jacket she wore the last time Trump was in town. Say what you want about her job as Governor, but she sure does get her money's worth out of her clothing. For the first 10 years of her political career, we had to deal with the light blue lady suit. Now we get that monstrosity. I like it a lot better.
We also know that Presidential Candidate Joe Exotic got kicked out of the fundraiser. Here's video of him whining about it to the media and protesters:
Wait. Wrong video. That's his music video for "I Saw the Tiger." hard to believe they would kick out a singer songwriter with those vocals. Here's the correct video:
If the presidential election was held tomorrow, I'd actually consider flying to Ohio and casting a vote for Joe Exotic. Although he wants to build a wall to keep all remaining tigers in our county, I think he's the best candidate. Who wouldn't want to pay $10 to pet a baby tiger on the White House lawn?!
Because there wasn't a lot to report inside the actual fundraiser, most of the local media decided to focus on the Trump protesters who congregated outside the Switzer McMansion. The highlight was when an OU Frat called the police because protesters were sitting under a tree on their lawn. Yeah, that's right. An OU frat called the cops and it had nothing to do with alcohol poisoning. That has to be a first.
Here's a video of the encounter featuring the annoying frat boys and equally annoying protesters...
Listen, about the only thing that's easier to dislike than Donald Trump is an entitled, arrogant, pompous-ass OU Frat Boy, but I can't blame the bros on this one. Yeah, kicking the protesters off their lawn is a dick move, but it is their tree and their property. They have to save that space for sorority girls to sing songs or whatever.
Also, the first thing the protestor lady does is complain about the heat like it was 100-degrees out. Sorry lady, I was in Norman that day. Outside of Gary's surprise thunderstorm, it was a beautiful fall day. You needed a shady tree about as much as Ohio State needed another touchdown.
Anyway, I guess that concludes our wall-to-wall, semi-mailed in coverage of the Trump visit coverage. In hindsight, maybe I should have followed the Oklahoman's lead and only dedicated a paragraph to it. That would have saved time, and some of my sanity.
===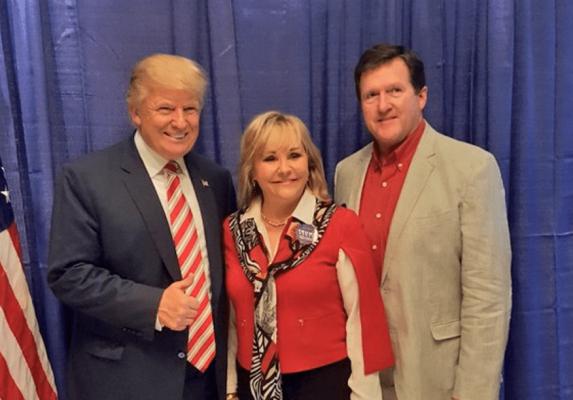 Stay in touch
Sign up for our free newsletter