Everything Else
There's some weird stuff happening in Oklahoma right now…
12:17 PM EDT on August 24, 2016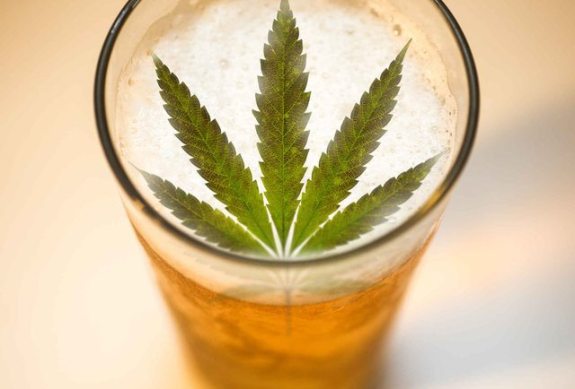 Oklahoma is quickly becoming the Sodom and Gomorrah of the heartland.
In less than 24 hours, we've learned that:
A) Oklahoma brewers will soon be able to serve cold, tasty beer directly to thirsty customers.
B) Potheads from Hooker to Beaver to Valley Brook will have a chance to forget to vote for medical marijuana legalization in the not too distant future.
C) Hell has frozen over.
Seriously, what is going on here? Oklahoma's been fighting the war against fun since the great Land Run of '89. Now you're telling me adults may soon be able to drink a beer at a brewery and then go home and smoke a joint to fight "stress," "anxiety" or "insomnia" in the privacy of their own home? That's terrifying! What's next on the agenda? Properly funding education? Repairing roads and bridges? Getting decent license plates? If we're not careful, all of our state's many fine traditions may become extinct like the dinosaurs who died when Noah refused to save them.
Anyway, let's touch base on these two topics. First, we'll start with our good friends at Devon Energy convincing Scott Pruitt to let brewers serve craft beer directly to customers.
If you remember correctly, the ABLE Commission flexed a little muscle while shitting the bed and ruled that SB 424 allowed breweries to sell cold beer like Ogletoberfest for off-premise consumption only. The decision, which was apparently made in a brazen attempt to show everyone just how awful and bureaucratic our puritanical government can be, pissed off everyone because it totally contradicted the intent of the legislation.
After a public hearing, negative media attention and even lawmakers saying ABLE got it wrong, the agency announced they would seek an official opinion from Devon Energy / Attorney General Scott Pruitt. That decision was released yesterday. The verdict? Expect Vast to re-open as Frack Brothers Sky Brewery in the next few months...
Attorney General Scott Pruitt on Tuesday announced his office has reviewed SB 424 and has issued an official opinion at the request of the Oklahoma ABLE Commission:

"As promised, my office has completed its legal review and analysis of SB 424 and has issued an official opinion in response to the ABLE Commission's request. Interpreting the law is never about picking winners or losers. This opinion upholds the original intent of the legislature, which was to permit craft brewers to sell high-point beer for consumption both on and off their premises. I am confident this opinion provides certainty to regulators, businesses, and the people of Oklahoma."
That's great news! It's about time Devon Enr... errr... Scott Pruitt did something right. Now he can go back to suing Colorado for legalizing weed and worrying about where kids use the bathroom!
The other big news item from yesterday is that Oklahoma Secretary of State Chris Benge announced that Joe Dorman and his band of merry potheads have gathered enough signatures to hopefully get a medical marijuana state question put on a future ballot.
Via NewsOK.com:
An initiative petition to let Oklahomans vote on whether to legalize marijuana for medicinal purposes has enough signatures to potentially get on the ballot, Oklahoma Secretary of State Chris Benge announced Tuesday.

Backers of the petition say they hope to get the issue on the November ballot, but state officials say time constraints may make that impossible. If the issue fails to make the November ballot, voters still might get a chance to vote on it later during a special election or the 2018 primary or general election, officials said.

The secretary of state's office counted 67,761 signatures for the proposed state question, which is 1,774 more than the 65,987 signatures needed to get the issue on the ballot.

The latter number represents 8 percent of the 824,831 ballots cast in the 2014 gubernatorial election.
That sounds like a cool deal and everything, but before you run to Leafly to check out the newest sativa strains, keep in mind the state question still has to clear many bureaucratic and legal hurdles. Here's more info:
In order for the issue to be placed on the November ballot, the state Election Board would need to receive a proclamation from the governor by Friday stating the issue is ready to be placed on the ballot, said Bryan Dean, spokesman for the state Election Board.

However, before that can happen there are several steps in a process that must be followed for the issue to qualify for placement on the ballot.

"As required by law, the secretary of state's office will send a report on its findings to the Oklahoma Supreme Court," the secretary of state's office said in a news release.

"The state Supreme Court determines whether the number of signatures counted is sufficient for the proposal to be placed on an election ballot."

Oklahoma's attorney general is then given five business days to review the ballot title.

"If the proposed title is found noncompliant, the attorney general has 10 business days to submit a rewritten ballot title," the news release said. "The next step will be notification to the press to announce publicly that any member of the public can, within 10 business days, challenge the signatures and/or the proposed ballot title. When the measure has cleared all legal hurdles, it can qualify to be placed on a ballot for a vote of the people."

Joe Dorman, a former Democratic gubernatorial candidate and spokesman for the group that backed the petition, said the group still hopes to get the issue on the November ballot and he hopes state officials will do everything possible to make that happen.
Yeah, I'm sure state officials will do everything possible to make sure this gets on the ballot. As we know, they always have an open mind and are very easy to work with when it comes to modernizing Oklahoma's laws.
Anyway, I'll put the odds that a medical marijuana SQ makes the upcoming ballot at about 42.0%. Even that may be a little optimistic. For some reason, I have a hunch that our theocratic lawmakers are going to do everything possible to prevent this from making the ballot. And even if it does we need at least half of the people who vote in this state (a.k.a. old people who attend church) to cast a "yes" vote. Even though 71% of Oklahomans are in favor of medical marijuana, I think that's going to be a tough fight. The freedom-loving moral police who run this state love telling people what they can or cannot do to their own body, especially if it's enjoyable, so expect a big fight and lots of pushback.
But you know what, who cares about that right now? In less than 24 hours, our state has paved the way for a craft brewery boom and nearly 69,000 citizens put their name on a sheet of paper to help legalize medical marijuana. Sodom and Gomorrah can't get here quick enough!
p.s. - I'll be celebrating the freeing of Oklahoma's taps this Friday at Anthem Brewery. Stop by and have an Ogletoberfest while brewmaster Patrick Lively plays renditions of his favorite pop standards on pan flute. 
Stay in touch
Sign up for our free newsletter