Everything Else
The ABLE Commission is protecting us from the evils of good craft beer…
11:18 AM EDT on August 22, 2016
When I first heard about the ABLE Commission's recent dick move to not follow the intent of SB424 and prohibit local craft brewers from selling cold six point beer like Ogletoberfest for on-site consumption, I did what any sane, logical blogger looking for an easy tax write-off would do. I flew to Colorado to experience the feeling of buying cold Oklahoma beer in a liquor store, something I still can't do here...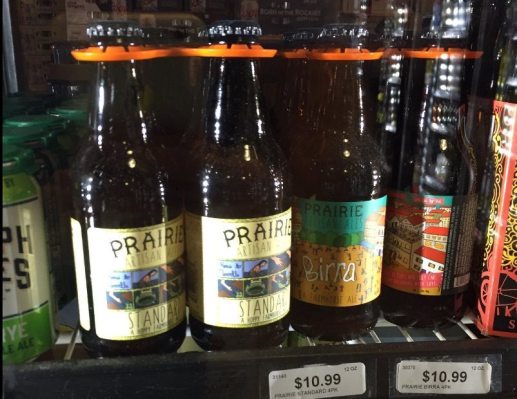 Is flying to Denver on whim to buy cold, award-winning Oklahoma beer in a liquor store rational or even related to the issue at hand? Other than not having to clean beer slush out of my freezer the following morning, probably not, but then again, neither is ABLE's decision to prohibit on site consumption of craft beer inside tap rooms.
Earlier this year, the Oklahoma legislature and Governor Fallin actually did something right for a change and passed Senate Bill 424. Scheduled to go into effect on August 26th, the law authorized brewers to sell their beers directly to customers on their premises. Great news for beer lovers, right? Well, not if you're a puritanical fun hater who works for the ABLE Commission. They're totally against it.
Via a Brianna "Don't Call Me Daughter" Bailey article on TheOklahoman.com:
Oklahoma City-based Coop Aleworks was planning a big party at its brewery in southwest Oklahoma City on Friday to celebrate a new state law the brewer believed would allow it to sell full-strength beer in its tap room.

But those plans are now up in the air after the Alcohol Beverage Law Enforcement (ABLE) Commission, the state's chief alcohol regulator, said it doesn't know if the new law allows for such sales.

"We don't know where we stand now," said Sean Mossman, director of sales and marketing for COOP Ale Works. "We know the law will go into effect on Friday, but we don't know how ABLE will interpret that law."

Craft brewers say their industry would be devastated if state regulators don't allow them to sell full-strength beer by the glass in tap rooms, which they believed was part of a new state law set to take effect next week.

Senate Bill 424 is scheduled to go into effect on Friday. Under the new law, craft brewery operators believed they would be able to sell full-strength beer to visitors by the pint, as well as bottles, cans and growlers for customers to take home.

However, the ABLE Commission told brewers this week that it interprets the new law as not allowing for the sale of beer at breweries for on-premises consumption.
Naturally, ABLE's decision upset and angered just about any logical, freedom-loving person who likes craft beer, owns a brewery or partners with a local brewery to co-brand a successful, refreshing Vienna-style Oktoberfest lager. Basically, they pissed off everyone with a beard. As a result, the agency held a heated open meeting with brewers and the media on Friday where a rude, annoyed, defensive, and extremely square man with the ABLE Commission awkwardly-answered questions in an attempt to justify the agency's ridiculous decision.
Here's more:
Keith Burt, executive director of the ABLE Commission, said at the beginning of Friday's meeting that the language of the law was unclear and could be open to interpretation.

The law states that brewers may sell beer on at their breweries, but does specify if that includes sales for consumption on-premises.

"I didn't know they wanted on-premises consumption because it doesn't say that," Burt said. "We want to follow the law, so we're asking for the attorney general's help to interpret what it says."

Lincoln Ferguson, a spokesman for the Oklahoma attorney general's office, said he expects a formal opinion on what the new law allows will be issued by the end of next week.

"In anticipation of the request for an official opinion, the attorney general's office has expedited our review process and is currently researching the issue," Ferguson said in a statement. "We intend to respond with a formal opinion next week, prior to the law taking effect."
Wait a second? They're sending it to Scott Pruitt for review?! That's great!!! If we know one thing about Mr. Pruitt, it's that he's a decent, honorable, selfless public servant who is able to set aside his own personal beliefs and political ideology to make fair, impartial legal opinions. It's one reason why Oklahoma wins so many cases in front of the Supreme Court!
To get a sneak peek of what Mr. Pruitt's opinion may be, I emailed Mr. Pruitt's handlers with Devon Energy...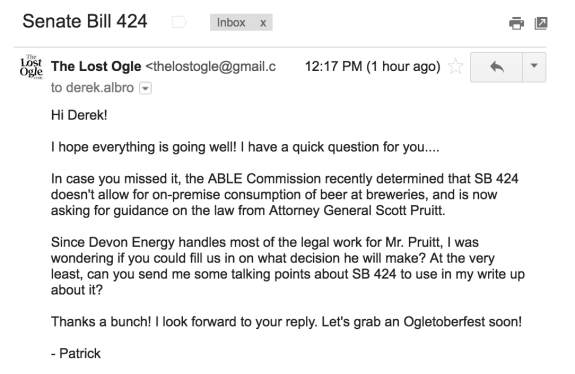 I'll let you know when Derek gets back with me.
In the meantime, isn't this some ridiculous bullshit? I'm seriously considering running for Governor in 2018 on a "Make Oklahoma Great Again" platform. One of my campaign pledges will be to cut all funding to the ABLE Commission. Maybe I'm a rebel, but I just think there are better things to do with taxpayer dollars than spend it on an agency that goes out of its way to make it more difficult for legal-aged Oklahoma adults to buy a cold beer and cheese fries inside a place that brews beer.
Until then, I guess we have to wait for Scott Pruitt to issue his decision. If you work for Devon and want influence him via phone or email, here's his webpage. If that sounds like too much work, I'd suggest you' waste away your day by drinking a cold Ogletoberfest instead. You can find it at most bars, liquor stores or anywhere fine beers and spirits are sold.
Well, except for the place that brews it. That's dangerous and against the law...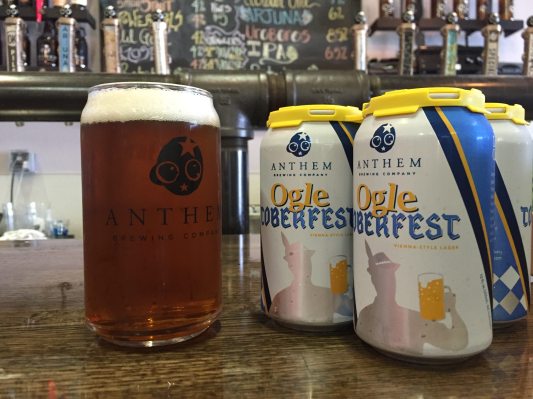 Stay in touch
Sign up for our free newsletter