Everything Else
Channel 25 busts OK County Clerk for not showing up to work…
6:48 AM EDT on July 27, 2016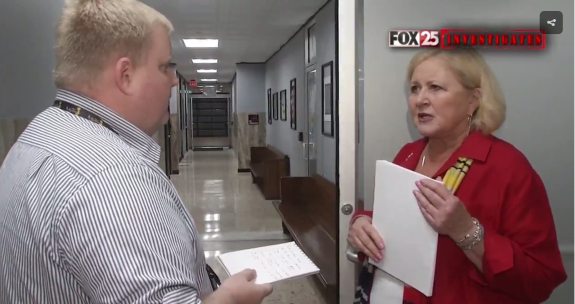 The lady pictured above who looks like she's being asked why she didn't flush the toilet is Carolynn Caudill. She's the Oklahoma County Clerk, which means she, uh, well, I don't really know what a county clerk does. I think they just stamp, file and organize things, which when you think about it, sounds like a boring, monotonous job, and probably helps explain why Ms. Caudill doesn't like to go to work every day.
Via KOKH:
How often do you expect your elected officials to be at work or inside the building where their office is located?

Fox 25 Investigates has spent the last month investigating concerns about Oklahoma County Clerk Carolynn Caudill's attendance in the office she's asking you to elect her to once again. Caudill is a Republican seeking a sixth term in office. She failed to get more than half of the primary vote so she is facing an August runoff election.

However despite multiple , phone calls, text messages, emails and stops by her office she has never agreed to an interview to answer our questions about how often she is actually in the office.

While there is no official time sheet for any of the county's elected officials - there is an electronic trail that will tell you when they are in or at least near the building.

FOX 25 requested the records that detail when the transponder in Caudill's car opens the gate to allow her access to parking. We also requested records from when her personal electronic key card is swiped.

The records spanned a three month period from April through June, which included the time of the initial primary election in which Caudill ended up in a runoff.

There were 64 working days in the three months. According to the records there is no indication of Caudill's vehicle entering, or her card being scanned for 40 percent of those days.
That's awful. How dare this woman not show up at work and surf the Internet, text friends, send dirty emails to coworkers, and play Pokemon Go in the office like everyone else who hates their job. I'm outraged!
Caudill has said some of her missing days were related to running a campaign for re-election. For comparison we also requested records from county court clerk Rick Warren who was also running a political campaign during the same three months. His vehicle registered as arriving around 8-am nearly every work day. He too is involved in a run-off election.

The county office building opens to the public at 8 in the morning, however according to the records Caudill only ever arrived before 10 in the morning on eight of the 64 days. Of those 64 working days reviewed, there were only 10 days that have proof Caudill remained in the building even one minute past 4:30; the county offices close at 5:00 in the evening.
I'm kind of ashamed to admit this, but apparently Carolynn Caudill and I work the same schedule. Of course, it's okay for me to do that because I'm professional blogger and not a public servant. I'm supposed to sleep in, fold mom and dad's clothes, and then work a little bit before meeting friends for Happy Hour. It's a different situation for Caudill. She just can't mail it in and not show up to work. She has to at least pretend to care. That's part of being an elected official, right?
In response to the KOKH report, Caudill emailed Channel 25. She accused Phil Cross of ambushing and threatening her:
I was ambushed by your reporter Phil Cross at the courthouse this afternoon as I was returning to a Retirement Board meeting bringing information to the District Attorney. You should know he was very disruptive, rude, unprofessional, and his behavior was disgusting. I can certainly appreciate now why Fox News is currently embroiled in sexual harassment suits at the national level. I felt threatened by Mr. Cross.
Your news station had requested information about parking records that have absolutely no basis in fact for recordkeeping purposes of when those who come into the building or when they leave. I've attached the disclaimers for your reference. As the County Clerk I have meetings insides and outside the building. My time isn't kept by an electronic card, and there are no requirements for that type of time keeping for elected officers. I work long hours in and OUTSIDE the building representing my office and Oklahoma County well in excess of 40 hours a week...
Yeah, she doesn't have to go to the office because she spends "long hours in and OUTSIDE the building representing her office and Oklahoma County." I assume that's exactly what was happening the Tuesday night she was charged with a DUI:
Oklahoma County Clerk Carolynn Caudill was fined and given six months probation on charges of driving under the influence and striking a parked car.

Caudill, 67, was sentenced Wednesday in Oklahoma City Municipal Court. Her first name is spelled "Carolin" in municipal court records.

Caudill entered an Alford plea on both counts, defense attorney Shawn Jefferson said. An Alford plea is a guilty plea without an admission of guilt. "It's like a no contest plea," Jefferson said.

On Sept. 17, Caudill was found in a parked car that was heavily damaged on the passenger side. It was on a lawn at 7949 N McKinley Ave. Police noted a strong odor of alcohol on Caudill and reported her eyes were bloodshot and watery. She was arrested on complaints of driving under the influence and leaving the scene of an accident.
Anyway, you can watch the entire report here. It's pretty good. Also, if you're looking for another reason to not vote for Carolynn Caudill in August, check out this Phil Cross story. Back in June, former Governor Frank Keating's massive forehead had to refute an endorsement that Caudill put on a postcard.
Stay in touch
Sign up for our free newsletter