Everything Else
20 Reasons to Stay in Oklahoma… (10-1)
10:15 AM EDT on July 14, 2016
This week I'm cowardly counting down 20 reasons (many of which happen to do with hipsters, street drugs and failure) to stay in Oklahoma. You can check out reasons 20-11 here. Now, on to the final 10…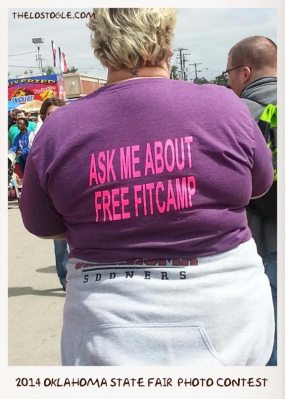 10. You're Obese.
Everywhere you look, people are getting in shape. They're running for fitness, biking to get where they need to go and walking just to enjoy the neighborhood. Except in Oklahoma. Sure, you have a few of those jerks that are trying to make a difference and make the rest of us look bad, but there's a reason why we're like number 49 in the nation when it comes to moderate exercising, eating vegetables, sleeping without C-Paps, and water consumption. Move anywhere else and you'll be the fattest person in the room, so breathe heavily and with belabored pride that you live in a state that cherishes its morbid obesity.
-
9. They filmed the movie Twister here!
Hey, remember when they filmed that movie Twister here, like, 20 years ago? That was pretty cool, right? Right?
-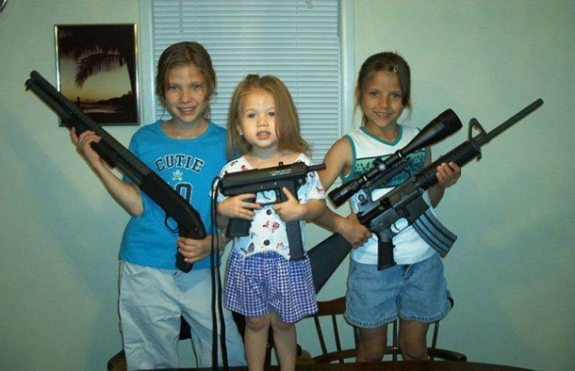 8. Cheap Guns
Why own one gun when you can own numerous guns, just like Jesus, Ayn Rand and Thomas Jefferson did? Go to some states and you'll actually have to wait 48 hours before you can get a gun. That's too long and a violation of my Second Amendment rights, as stated in the Bible. Go to any gun show in Oklahoma and you can be purchasing a gun—JUST LIKE THE ONES IN THE PHOTO ABOVE—out of the back of some dude's van within 10 minutes. Because who knows when you'll need to open carry to a Black Lives Matter rally, am I right?
-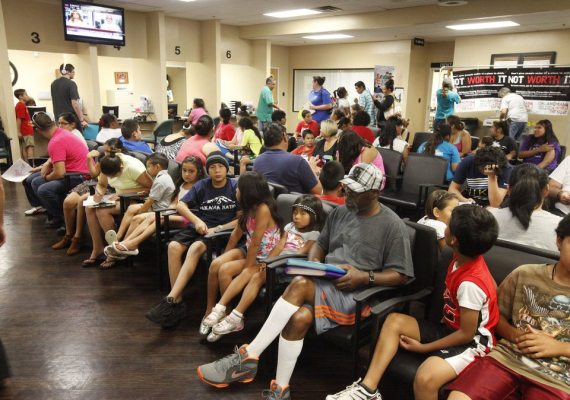 7. The Indian Clinic
Most Oklahomans can't afford basic healthcare (#OklahomaStandard). But, luckily, many Oklahomans who are of (provable) Native lineage and are eligible for "free" healthcare from one of the state's scattered Indian Clinics. Sure, they're underfunded and understaffed, but it's the one treaty the white man hasn't managed to break with Natives yet. Be it a quick check-up to test for possible diabetes or to receive the horrible news that you've tested positive for diabetes, what would we do without the Indian Clinic?
-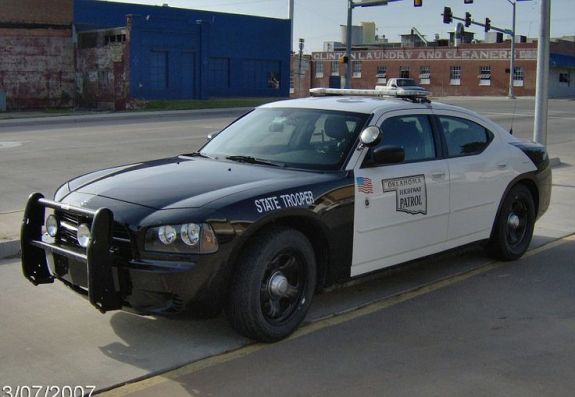 6. The safest medians in America.
If you go to any other big league city in America, the first thing you might notice is that the streets are simply littered with the corpses of homeless panhandlers, firemen collecting money in a boot and children pimping car wash fundraisers who had accidentally fallen on to the road and been summarily run over by cars of all makes and models. Thank God this isn't something we have to deal with anymore here in Oklahoma City due to our stringent laws regarding economic standings and median etiquette.
-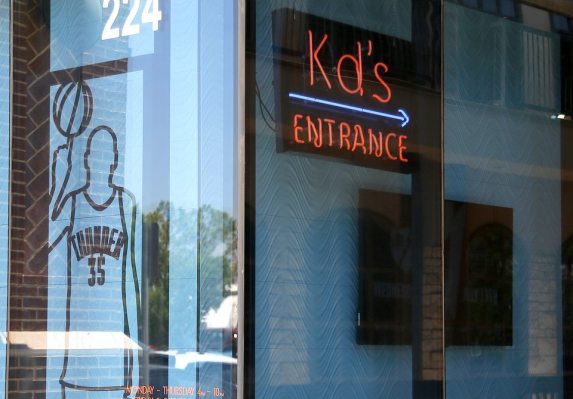 5. You've got gift cards to local dining establishments located only in Oklahoma.
Really, mom, you couldn't just do a gift card to, say, Romano's Macaroni Grill or On the Border like everyone else, could you? She means well, don't get me wrong, but it's still impossible to leave knowing that there's still $87.34 left to use at any Hal Smith Group restaurant on one card, coupons for a free side of chile con queso from the Deep Fork Grill and there might be close to 40 bucks left on this birthday gift certificate to Ted's. There's no way, with good conscious, you can move without finishing those off lest ye come off as ungrateful.
 -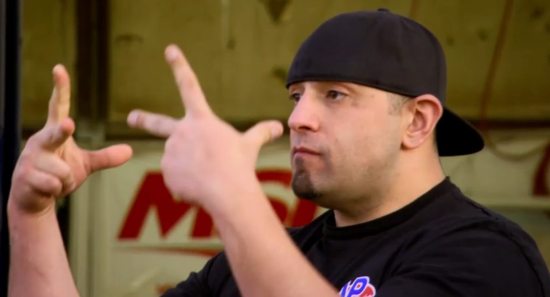 4. You're a star on the show Street Outlaws
As you know, Oklahoma City is home to world's most daring, underground street racing scene... that takes places on closed public highways and airport runways with plenty of ambulances, fire trucks and police officers on standby. You can't get that service in any other state.
-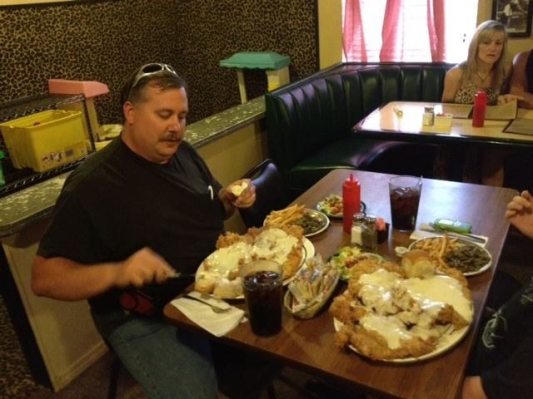 3. Large food portions.
You're a big Okie with a big heartland appetite, so any of those frou-frou liberal finger-foods they consider meals in Hollyweird don't work. We're the Bible Belt Goddammit and this belt is unbuckled after every meal. Welcome to Oklahoma, where even the kid's menu can be a Man vs. Food challenge. Maybe it's our pioneer spirit—the starving through the winter part, most notably—but if we're gonna pay over $5 for a meal, it had better be all you can eat with some leftover for lunch tomorrow. Can we get some more rolls over here?
 -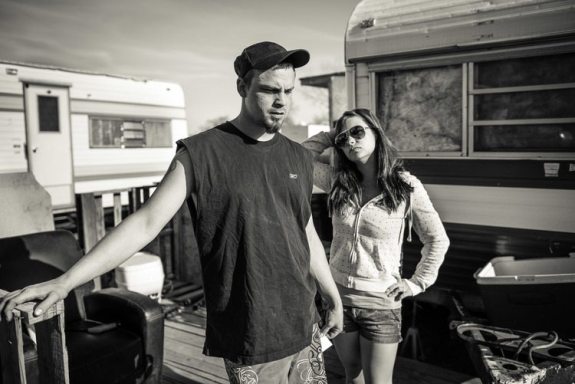 2. You got your high-school sweetheart Mary Sue pregnant.
It's like something out of a Bruce Springsteen John Moreland song: sure, you were a big time football star, but a torn ligament cost you a football scholarship. You've spent the past few months workin' down at the feed and grain mill, but you got a dream of drivin' cross-country in your '55 Chevy. But one summer night out by the old DQ things got hot and heavy with Mary Sue. She accidentally got pregnant so you sold the Chevy and took the foreman job down at the frackin' site. That was 25 years ago last fall.
-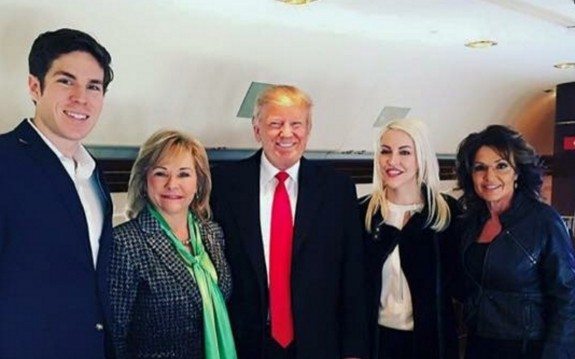 1. You made one too many jokes About the Vice-President's daughter.
This Friday at 9 a.m. America will learn if Donald Trump has picked Governor Mary Fallin as his running mate. At 9:01 a.m. the staff of the Lost Ogle will learn that we are no longer employable anywhere in America, will be audited and left with nothing, forcing us to move back in with our parents. We won't be leaving Oklahoma for a looooooooong time.
-
Louis Fowler's mother has already stated he can't move in with her. Follow him on Twitter at @LouisFowler.
Stay in touch
Sign up for our free newsletter