Everything Else
Great, Mary Fallin is trying to bribe Kevin Durant…
12:43 PM EDT on June 13, 2016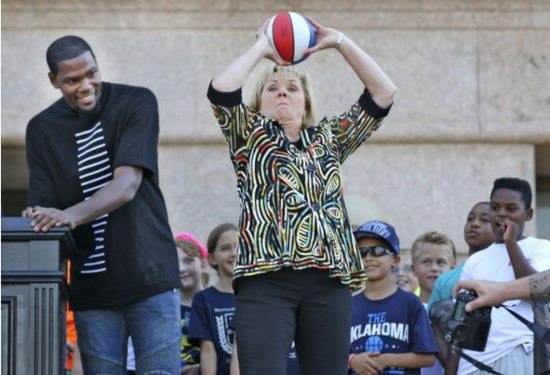 This may surprise some of you who've been reading this site over the years, but every now and then I like to escape the minimum-security prison known as Oklahoma and go on tax-deductible business trips to other cities. My accountant advised that I do this so I can learn about new places and how they differ from Oklahoma, and then share my experiences with you on this site.
As a result, I'm writing this blog posting from a very green, super huge tree-lined suburb just west of Philadelphia. I feel like I'm in a totally different country. Everything is clean, the roads are curvy, and I think I've counted a grand total of three pickup trucks since my plane landed on Friday. No lie, I'm pretty sure there are more pickups in the Twin Peaks parking lot on I-40 than the entire Philly metro area combined. Also, they have these stores called Wawa on every other corner. They're kind of like one of those weird 7-Elevens that doesn't sell gas combined with a sad mall food court. When I first heard someone say "I need to go to Wawa," I literally thought they had to go to the bathroom.
Anyway, I guess the big news in Oklahoma this weekend is that Mary Fallin tried to sabotage OKC's chance at re-signing Kevin Durant by offering him a position in her cabinet.
Via the worldwide leader:
Oklahoma's efforts to keep Kevin Durant with the Thunder is going all the way to the top job in the state.

In answering a question during the Oklahoma Press Association's annual convention Saturday, Gov. Mary Fallin said she would be willing to give Durant a government post if the seven-time All-Star stays with Oklahoma City.

"If Kevin Durant thinks about leaving, which I hope he doesn't -- Oklahoma loves Kevin Durant, and Kevin Durant loves Oklahoma. But if he'll stay, I'll make him a Cabinet person for health and fitness on my Cabinet," Fallin said, according to the Tulsa World...

Fallin acknowledged that her offer might not hold much sway in Durant's decision, saying the Cabinet position "might not be as attractive as a couple of million dollars."
When I first saw this, I figured "Great. Here we go. As if running our state and economy into the ground wasn't enough, now she's getting into the NBA Free Agent recruitment game. See you later, KD. I don't blame you for leaving now."
But then I thought back to the infamous Kiss Cam moment and realized "You know what, Mary Fallin is a Thunder fan. Granted, she probably thinks a pick and roll is something they teach at the Highway Patrol Academy, but that doesn't matter. As our state's most powerful elected official, she's simply doing her part to keep Kevin Durant in OKC."
Seriously, offering KD a spot in her cabinet in return for signing with OKC is actually a sweet gesture. Well, if it wasn't bribery.
Via something called "Oklahoma Statutes."
2014 Oklahoma Statutes
Title 21. Crimes and Punishments
§21-380. Bribery of fiduciary.

Universal Citation: 21 OK Stat § 21-380 (2014)
A. Any fiduciary who, with a corrupt intent and without the consent of his beneficiary, intentionally or knowingly solicits, accepts, or agrees to accept any bribe from another person with the agreement or understanding that the bribe as defined by law will influence the conduct of the fiduciary in relation to the affairs of his beneficiary, upon conviction, is guilty of a felony punishable by imprisonment in a state correctional institution for a term not more than ten (10) years, or by a fine not to exceed Five Thousand Dollars ($5,000.00) or an amount fixed by the court not to exceed twice the value of the benefit gained from the bribe, or by both said imprisonment and fine.

B. Any person who offers, confers, or agrees to confer any bribe the acceptance of which is an offense pursuant to the provisions of subsection A of this section, upon conviction, is guilty of a felony punishable by imprisonment in a state correctional institution for a term not more than ten (10) years, or by a fine not to exceed Five Thousand Dollars ($5,000.00), or both.

C. As used in subsection A of this section:

1. "Beneficiary" means any person for whom a fiduciary is acting;

2. "Fiduciary" means:

a.an agent or employee, or

b.a trustee, guardian, custodian, administrator, executor, conservator, receiver, or similar fiduciary, or

c.a lawyer, physician, accountant, appraiser, or other professional advisor, or

d.an officer, director, partner, manager, or other participant in the direction of the affairs of a corporation or association.
Okay, I don't technically know if Mary's offer constitutes bribery or not, but considering this is Mary Fallin we're talking about, I'm going to assume it does. No wonder she's a Republican. Pesky laws and regulations always prevent her from doing what she wants. She tries to get Hipster Boo Boo a trailer on the mansion grounds and it violates pesky CMZ codes. She tries to reward Kevin Durant for staying in OKC and it's bribery. Thank God raising taxes on the poor and denying them access to healthcare isn't a crime, or she would probably be going to jail. 
Anyway, I guess I should wrap this up and enjoy the remaining hour of this business trip. I still need to pack for the return flight home, and based on my last visit to Wawa, have 12 Tasty Cakes left to consume. Mmma. Tasty Cakes.
Stay in touch
Sign up for our free newsletter