Everything Else
Mayor Mick needs to put this city on another diet…
2:24 PM EDT on May 25, 2016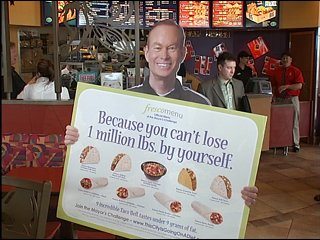 It's hard to believe, but it's been nearly 10 years since Mayor Mick put Oklahoma City on a Taco Bell Fresco Menu diet in an effort to help us all lose 1,000,000 pounds through painful diarrhea. We're reminded about the campaign every now and then when Mayor Mick gives a TED Talk, or from PR firm-pitched news stories on websites like Entrepreneur.com:
A few years ago, a fitness magazine ranked Oklahoma City among America's most obese places to live. After reading this, Mayor Mick Cornett entered his own height and weight into a government health website and found out that he was in fact obese. Both results plagued him.

So on New Year's Eve of 2007, he announced to the press: "This city is going on a diet." He challenged the citizens - and himself - to lose a collective 1 million pounds, setting up a website where more than 47,000 citizens registered for the OKC Million program and tracked their weight.
I'll admit it. I'm one of the chubby funsters who signed up for that site. Granted, I lied about how much weight I lost and used the alias Haywood Jablome, but what can I say, I'm a team player. Plus, I'll do anything to see Mayor Mick dance on Ellen.
Cornett knew that if he wanted to get people to get fit, he had to rebuild this commuter-friendly town for pedestrians. This meant adding new, wider sidewalks, biking routes and a larger park. When he proposed a 1-cent sales tax hike to fund these projects, it was welcomed with open arms due to its alignment with the health campaign, which had gained national attention.
By January 2012, the city hits its million-pound goal. It was removed from the same magazine's list of America's fattest cities and even landed a cushy spot on America's top 10 fittest cities. Cornett says Oklahoma City also made the Kauffman Foundation's list of most entrepreneurial cities, as several local businesses capitalized on the public health initiative.
That's nice. Although the article is from 2014, it's good to see Oklahoma City receiving positive, totally reliable, national attention for being a progressive city that encourages its citizens to lose weight and care about their health and fitness. I think we can universally agree that the weight loss campaign has worked. For example, every time I'm stuck in line at the Braum's drive thru I now notice a little less arm fat from the person grabbing a sundae in front of me.
Anyway, I bring all this up because the American College of Sports Medicine recently released the American Fitness Index. It ranks the top 50 metro areas in the US by their "fitness." Knowing that we as a city once lost 1,000,000 pounds, we have to be in the top 10 right?
1. Washington-Arlington-Alexandria, DC-VA-MD-WV

2. Minneapolis-St. Paul-Bloomington, MN-WI

3. Denver-Aurora-Lakewood, CO

4. Portland-Vancouver-Hillsboro, OR-WA

5. San Francisco-Oakland-Hayward, CA

6. Seattle-Tacoma-Bellevue, WA
7. Boston-Cambridge-Newton, MA-NH
8. Salt Lake City, UT
9. Hartford-West Hartford-East Hartford, CT
10. San Diego-Carlsbad, CA
Okay, so we didn't make the top 10, but that's fine. It gives us a goal for next year. Let's see where we rank in the Top 20:
11. San Jose-Sunnyvale-Santa Clara, CA12. Chicago-Naperville-Elgin, IL-IN-WI13. Sacramento-Roseville-Arden-Arcade, CA14. Atlanta-Sandy Springs-Roswell, GA15.5 (tie) Austin-Round Rock, TX15.5 (tie) Raleigh, NC17. Baltimore-Columbia-Towson, MD18. Richmond, VA19. Virginia Beach-Norfolk-Newport News, VA-NC20. Milwaukee-Waukesha-West Allis, WI
Wow. We didn't make the Top 20 either. That's surprising. Also, how does Raleigh and Austin tie? They should have a tug-of-war as a tiebreaker. Let's just get to the next 20 so we can see where we rank on this stupid list:
21. Providence-Warwick, RI-MA22. New York-Newark-Jersey City, NY-NJ-PA23. Cincinnati, OH-KY-IN24. Philadelphia-Camden-Wilmington, PA-NJ-DE-MD25. Cleveland-Elyria, OH26. Tampa-St. Petersburg-Clearwater, FL27. Pittsburgh, PA28. Saint Louis, MO-IL29. Los Angeles-Long Beach-Anaheim, CA30. Kansas City, MO-KS30. Kansas City, MO-KS31. Jacksonville, FL32. Miami-Fort Lauderdale-West Palm Beach, FL33. New Orleans-Metairie, LA34. Phoenix-Mesa-Scottsdale, AZ35. Buffalo-Cheektowaga-Niagara Falls, NY36. Riverside-San Bernardino-Ontario, CA37. Dallas-Fort Worth-Arlington, TX38. Columbus, OH39. Charlotte-Concord-Gastonia, NC-SC40. Houston-The Woodlands-Sugar Land, TX
WTF?! We were beat by Houston on "Fittest City" list? That would be like ranking behind Tulsa on a list about the most boring cities. It's an outrage!
41. Las Vegas-Henderson-Paradise, NV
42. Detroit-Warren-Dearborn, MI
43. Orlando-Kissimmee-Sanford, FL
44. Birmingham-Hoover, AL
45. San Antonio-New Braunfels, TX
46. Nashville-Davidson-Murfreesboro-Franklin, TN
47. Memphis, TN-MS-AR
48. Louisville/Jefferson County, KY-IN
49. Oklahoma City, OK
50. Indianapolis-Carmel-Anderson, IN
There you have it. Out of the 50 largest metropolitan areas in the US, Oklahoma City is Number 49 when it comes to fitness. I guess we can now add "Thank God for Indianapolis" to our list of unofficial mottos.
Stay in touch
Sign up for our free newsletter