Everything Else
Oklahoma Senate Leader Blames Media For Covering Nutty Legislation He's Introduced
1:17 PM EDT on May 24, 2016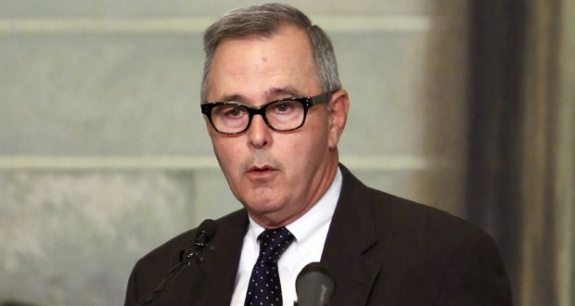 They guy pictured above with the "I hope these make me look smart" glasses is State Senator Brian Bingman. He's served as the President Pro Tem of the Oklahoma Senate (one of the most powerful positions in the state) since 2011. He's also an oil company executive, which probably helps explains why Oklahoma has given away over $1-billion in tax breaks and subsidies to oil and natural gas companies since 2012.
Apparently, Bingman is a little salty with how the Oklahoma media has covered the 2016 Oklahoma legislative session. He claims the media is focused on all the headline generating anti-abortion, anti-trans, anti-anyone-who-isn't-a-white-Republican-Christian-male social bills that our legislature is passing, and not the work lawmakers are allegedly doing to fix the state budget crisis they ultimately created.
And get this, he's not joking.
Via The Tulsa World:
Senate committee votes to protect students and schools from president's public school restroom directive

The Senate Joint Committee on Appropriations and Budget voted Friday in favor of legislation aimed at protecting students and schools from federal overreach as the result of the president's public school restroom directive regarding transgendered students. President Pro Tempore Brian Bingman is the principal Senate author. The bill passed 20 to 15.

"The Senate believes in local control of schools because parents and teachers are best equipped to make decisions on what's best for students. Senate Bill 1619 doesn't provide instruction on whether schools should follow the recent edict of the federal government. This bill isn't a commentary on transgender students. Senate Republicans want schools to provide a safe and nondiscriminatory environment for all students. This measure is about doing what's best for all students in Oklahoma schools by ensuring schools that make the decision to accommodate transgender students regarding showers and locker room facilities also accommodate students who would object to those arrangements because of their deeply held religious beliefs," Bingman said.

SB 1619 defines a person's sex as "the physical condition of being male or female, as identified at birth by that individual's anatomy." The bill states that if a school district allows a member of the opposite sex to use a bathroom and athletic facilities for the opposite sex, it must provide for a religious accommodation for students or their parents who object to the policy. The accommodation will apply to restrooms, changing facilities, or showers. Providing access to a single-occupancy restroom, shower, or changing facility will not be an allowable accommodation.
Okay, so maybe he is joking. That's actually a snippet from a press release for SB 1619 – the newest piece of anti-trans legislation that Bingman is trying to force through the Oklahoma legislature. It's the most recent press release (you know, those things legislators send to the media) on Bingman's Oklahoma Senate Page.
Let's get back to the story where Senator Bingham criticizes the local media for covering the crazy legislation he's promoting in press releases:
State Senate leader Brian Bingman blames media for focus on social issues

Oklahoma's top state Senate leader says the Legislature is focused on core issues such as education, transportation and health care but that the media's focus on social issues such as abortion has distracted from that.
Senate President Pro Tem Brian Bingman criticized the media while speaking to the Tulsa World during a fundraiser Thursday night in Tulsa, just hours after the Senate passed a bill that would make performing abortions a felony in the state.

"That's the media's doing," said Bingman, R-Sapulpa.
"They can pick and choose and they can elevate the issue and people call and (say), 'Is that really what you all are doing?' My focus has been on the budget this year."
Listen, I never turn down a chance to criticize the local media. They may be the only group in the state that rivals the Oklahoma legislature when it comes to general incompetence and ineptitude, but this is absurd. It would be like Steve Kerr complaining about all the coverage given to Draymond Green's vicious kick to Steven Adams privates. Are there more important things to follow and discuss about the series? Probably so, but guess what? He kicked a guy in the nuts! It's something people are going to pay attention to it, especially in a state where the legislature does the same thing to its people on a weekly basis.
Seriously, how can you blame the media for informing the public about unconstitutional, time-wasting laws being passed by its lawmakers? That type of news is important, and considering the amount of web traffic and TV ratings these stories generate, it's something people care about. If you don't want the media to focus on your ideological pandering, stop doing it. It's really that simple.
Stay in touch
Sign up for our free newsletter