Everything Else
Blake Shelton and Aaron Tuttle should grab a beer…
11:04 AM EDT on March 29, 2016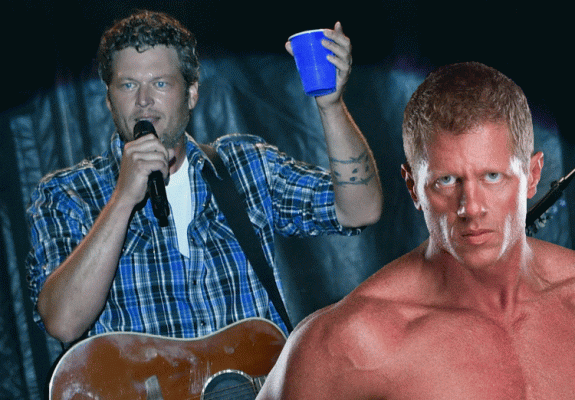 If you had to pick one Oklahoma country music legend to get drunk and party with, there's a good chance that you'd go with Blake Shelton. Who wouldn't? He'd be one hell of a wingman, and based upon some of the darn tootin', good old boy stuff he says on Twitter and in his songs, the guy knows how to party. Plus, he's not a douche bag like Toby Keith or Garth Brooks.
Unfortunately, choosing to get hammered with Blake Shelton would be about as smart as cocktail tanning with Aaron Tuttle. In case you haven't heard, Blake's hard partying, heavy drinking, womanizing ways are apparently just a big ruse. In real life, he's apparently a bigger buzzkill than Vince Gill riding the Bricktown Water Taxi.
Via a Nolan Clay article on NewsOK.com:
In a statement for his libel lawsuit against a tabloid magazine, country music singer Blake Shelton said his comments about drinking on Twitter are jokes and part of his act.

"I do not drink excessively, binge drink or have a drinking problem," he said in the sworn declaration March 16 from Tishomingo, where he has a farm.

The Oklahoma superstar in October sued In Touch over its cover story, "Rehab for Blake." He is seeking $2 million in actual damages plus punitive damages from Bauer Publishing Co. and related companies involved with the weekly magazine. The lawsuit is pending in federal court in California.
So everything Blake sings and talk about is a lie? He doesn't drink excessively, binge drink or have a drinking problem? Yeah, I'm not sure I buy that. The man is a coach on The Voice. I don't see how people can even watch the show while sober, much less be involved in the production.
Here's more from Nolan Clay's article:
The singer's comments on Twitter, a popular social media site, have become an issue in the lawsuit. Attorneys for the magazine contend he has made himself "libel proof" with respect to stories about his drinking because of his "endless" tweets about it.

The attorneys are asking U.S. District Judge Christina A. Snyder to dismiss the lawsuit. They have put into evidence almost 50 pages of his tweets about drinking. "Since 2009, he has consistently bragged about being drunk to his over 15 million Twitter followers," In Touch editorial director David Perel said in a statement in support of the request for a dismissal.

"Mr. Shelton's Twitter feed is full of his descriptions of drinking early in the day and at work," Perel said. "Scores of other tweets recall how excessively drunk he often was. ... In a YouTube video promoting one of Mr. Shelton's albums, Mr. Shelton declared that 'I think of a hangover as a badge of honor.'"

Shelton said in his March 16 statement that he jokes about drinking, but his comments are "part of my schtick with my fans."

"It is part of my act, part of my performance, but in no way indicates that I have an actual problem with alcohol," he said.

"My tweets are intended to amuse and get a reaction from my fans. They are exaggerated figments of my imagination, and, from the reactions I get, I think my fans understand that," he said. "For example, I once tweeted that I was so drunk 'I just defrosted my cat … In the microwave.' Of course, I did not actually do that. Nor, as I tweeted several years ago, did I ever actually walk into KFC, Taco Bell, Radio Shack or a Ford dealership, pull my pants down and yell a joke.

"When, in the past, I have tweeted that I was shooting a show or performing 'drunk,' such tweets have also been in jest," he said.
Instead of producing hundred of pages of evidence that support their claim, I think In Touch should simply claim their story was about the fake heavy drinking Blake Shelton character we're all familiar with. They'd win before Fake Blake Shelton could shotgun a beer with Toby Keith's horses.
Anyway, as a D-list celebrity blogger and KFOR employee, I can identify with Blake on this. Sometimes famous celebrities like us do things for show. Some of my life is an act. At least that's what I told the judge to get out of those stalking charges that Emily Sutton filed against me. There's a difference between the angry, sarcastic, irreverent, chauvinistic, creepy Patrick you read on this site and the sensitive, charming, caring, back rubbing, puppy rescuer I pretend to be in real life when talking to women at bars.
Also, while on the topic of ridiculous lawsuits against publications. I guess I should mention that Aaron Tuttle is still suing us... for "conversion." To catch you up on things, Aaron amended his lawsuit, The TLO Legal Dream Team with Dunlap Codding filed a motion to dismiss his lawsuit, and Aaron's attorney responded to our motion by debating legal theory and challenging the constitutionality of Oklahoma's laws. Or something like that. You can read everything on OSCN.
Stay in touch
Sign up for our free newsletter