Everything Else
Mary Fallin refused to say the E-Word at State of the State Address…
12:28 PM EST on February 2, 2016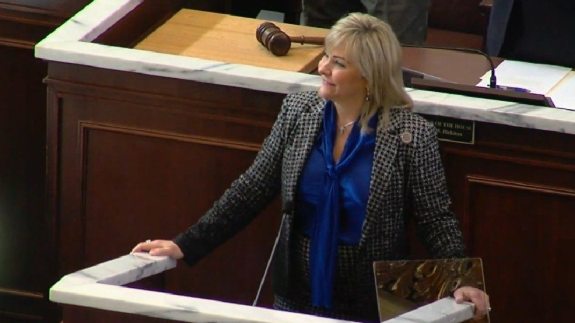 Yesterday afternoon, our amazing Governor gave her annual State of the State speech at the Oklahoma Capitol. In the address, she touched on the long list of issues, concerns and problems facing our state and its people, and how she's going to fix them... or make them even worse.
Because I don't value my health or sanity, and I'm still looking for more motivation to pack up my bags and leave this state like an entry-level school teacher, I read the entire speech online. When I was done, I checked to see how many words Mary spent on the important topics we all care about. Here's what I found:
Budget / Taxes: 1,497
Education: 608
Corrections Reform: 403
Economy: 323
Capitol Repairs: 239
Earthquakes: 0
No, that's not a patented TLO typo. Mary Fallin, the Governor of a state that in just five years has gone from a vibrator to jackhammer when it comes seismic activity, didn't mention earthquakes once in her State of the State speech. In fact, she even went off script and admitted she wasn't going to say the word.
It happened towards the end of the speech after Mary recapped the Oklahoma Standard stuff:
"Oklahomans do the hard work day in and day out. Just look at our first responders who, in the past year alone, have provided world-class responses to floods, tornadoes, blizzards and ice storms."
According to several Moles, some Democrat then said out loud "And earthquakes." Mary then looked at the person and said, well, watch the video:
"I wasn't going to say that word, but thank you for reminding me." - Mary Fallin.
Yep, that's our governor basically admitting that she will not say the E-word, or address or offer any solutions to perhaps the biggest environmental crisis facing our state since the Dust Bowl. That's kind of puzzling, especially when you consider she was all about earthquakes in Friday's Tulsa World:
Like many other Oklahoma residents, I have felt walls shake from earthquakes that have struck our state with increasing frequency over the past few years. I take the concerns seriously and I share your worries about potential damage from the quakes, which numbered more than 900 with a magnitude 3.0 or greater last year.
I have felt walls shake! I feel your worries! I take concerns seriously! But... not enough to address the issue in my big State of the State address to the Oklahoma people. My donors in the energy industry just won't allow it.
Seriously, what have we done to deserve this!? Why does God hate us? Was it Color Me Badd? Things haven't been the same in this state since they came on board in the early 1990s.
Of course, maybe the Ogle Moles were wrong and Mary was responding to something else. Maybe she was going to say "Titfarts" or something. To get an answer, I emailed Fallin's Press Secretary, Michael McNutt, to get some clarification on the statement and confirm what the Moles told me. He's the former reporter who did such a great job promoting Mary for The Oklahoman that he was able to get a better paying job doing the same thing for the state.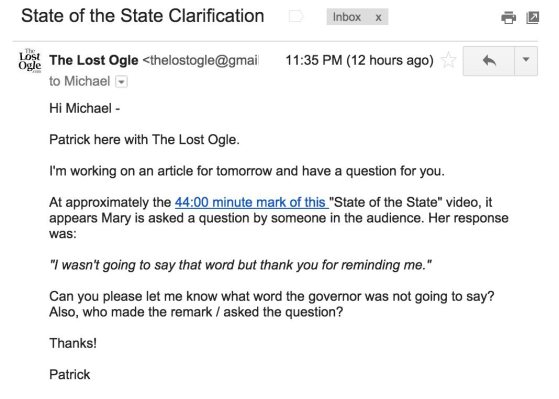 As of publication time, Michael has still not replied to my email. I bet he's busy working with Devon Energy on new words to describe earthquakes, or better yet, he's probably coaching Mary on how not to say the E-word.
"Okay, let's try one more time. What happens when the ground shakes."
"An earthquake!"
"No. Remember, Mr. Nichols and Mr. Hamm don't want you to say that word. They want this issue to go away because it's bad for business."
"I'm not going to say that word!"
"Perfect!"
For fun, we should have a contest to see who can get Mary to say the E-word first. I'd probably try to trick her into saying it during a game of Pictionary, Catch Phrase or Trivial Pursuit. Actually, I don't think the Trivial Pursuit thing would work. I doubt Mary is too good at that one
Anyway, I guess you can read the State of the State address here. Although I focused more on what's not in the speech, she does go into detail on some of the words her handlers and donors do want her to say. You should check it out... especially if you're still looking for that excuse to move
Stay in touch
Sign up for our free newsletter