Everything Else
TLO's Ultimate Neil Diamond Mixtape…
11:30 AM EST on December 23, 2015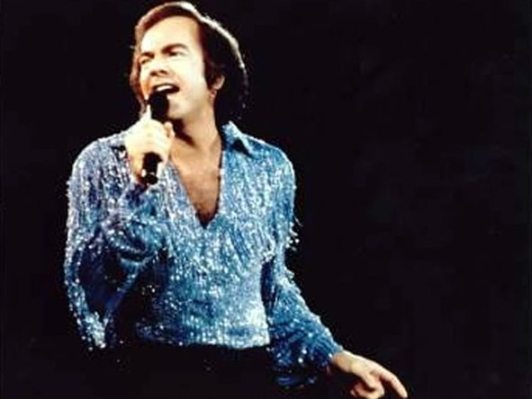 As far as I am concerned, no one had a better record collection than my mother. Filled with the light rock standards of Christopher Cross, the Carpenters and John Denver, the one touchstone that absolutely changed my life was Neil Diamond. Even when I was trying so hard to be punk in high school, that Maxell-120 cassette case labeled Punk Anarchy Mix '95, actually contained Hot August Night and Love at the Greek, both high-speed dubbed from sticky old tapes borrowed from the Belle Isle Library.
If you haven't seen Diamond live yet—and why haven't you?—don't miss out, but, until then, I highly recommend the sterling Neil Diamond tribute group Super Diamond—the only tribute band that Diamond himself has performed with—who will be rocking in the New Year at Bricktown NYE 2016, the Metro's premier New Year's Eve bash, at the Chevy Bricktown Event Center this December 31st. It's the only New Year's Eve celebration where you can yell "So Good! So Good!" at the top of your lungs while wearing a black big and tall rhinestoned poet's blouse and not be sent to jail.
I recently talked to Super Diamond lead singer Randy Cordiero. I can't wait to see what powerhouse playlist they have in store for the New Year's Eve crowd, but until then, here's my own playlist of Diamond cuts to get TLO readers excited and in the mood for what's to be the only way to ring in 2016 in OKC and turn any cold December day into a Hot August Night.
"Headed for the Future"
In the mid-80s, my parents owned a Delta '88 and it came with a car stereo demonstration tape that featured the theme from the Cosby Show, the theme from the 1984 Olympic Summer Games and, most memorably, this brilliant Diamond attempt at that New Wave/Krautrock thing the kids were into at the time, and sorry Kraftwerk, but I think he did it better.
"I'm Alive"
From 1982's Heartlight album, this is one of those Diamond cuts that does a triumphant job of reassuring the importance of you and your will to live and will to love in this world, especially in a time when the cynical nature of humanity does a darn good job of telling you otherwise. It's a three minute affirmation that you can dance to.
"Be"
When it came to inspirational books, everyone I knew loved The Giving Tree, but I was always more entranced by Jonathan Livingston Seagull, the story of a seagull who wishes to have a higher purpose in life, even when the whole world hates him for it. It was made into a commercially disastrous movie in 1973 with a moving soundtrack—my favorite cut being the stirring "Be"—by Diamond that is, sadly, probably the most overlooked album in his oeuvre.
"If I Never Knew Your Name"
A lesser-known early-era Diamond love song with a gorgeous melody and majestic chorus that really should have been a single. It's one of those songs that goes great on an upbeat mixtape to a girl who you're still in the honeymoon phase with.
"Hello Again"
Now my favorite Diamond album has to be the soundtrack to 1980's The Jazz Singer, his big-budget attempt to break into movies. The movie, about a Jewish cantor who goes against his traditional rabbi father's wishes and becomes a pop star is an emotional powerhouse that was ahead of its time. But I never missed a chance to watch it when it came on HBO in the early 80s. This tune, "Hello Again", is a beautiful paean to rekindling love, unrequited or otherwise.
"I Am…I Said"
Just as much as Diamond is able to instinctively tap into the very heart of love, so can he into the very soul of loneliness. While many people would pick "Solitary Man" as a sterling example of this, that's too obvious. For me, he really captured not only the darkness of isolation but the absolutely crushing weight of being self-aware about it with "I Am…I Said", a heartwrenching plea for someone to just notice and reach out, if only once.
"You Don't Bring Me Flowers"
You know that moment when you look over at your mate and realize you're no longer lovers but roommates? That's the moment I had when my ex-wife said she wanted a divorce; a total recapitulation of the past year and how there was no passion, no love, just two people going through the societally expected motions. This duet with Barbra Streisand captures that heart-breaking reality with such precision that every time I hear it I relive that moment I signed those papers and said goodbye to her for the last time.
"Brother Love's Traveling Salvation Show"
If you ever needed another reason to see a live Diamond show—or tribute show, for that matter—this is the ultimate one; every performance is an explosive revival of soul, a lyrical punch to the gut that personifies everything he is known for in his rhinestoned stage persona, all to the sound of that good gospel beat. (It also happens to be my number one karaoke go-to.)
"America"
Once upon a time, America was a country that was proud—or at least strived to be—of all of its people, made up of different races, religions and creeds. America was proud to be the beacon, the light in the dark that everyone from all over the world would try to reach. And no one contained that feeling better than Diamond than in this 1980 hit, also from The Jazz Singer soundtrack. A song that so perfectly captures not only why we are Americans but why we want to be Americans, it should've been named the new national anthem upon release. It still should be. It still needs to be.
Bricktown NYE 2016 is a TLO sponsor. We appreciate their support, and hope you do, too. For more info on Bricktown NYE 2016, including tickets, visit www.bricktownnye.com.
Louis Fowler is a frog who dreams of being a king. Follow him on Twitter at @LouisFowler.
Stay in touch
Sign up for our free newsletter