Everything Else
TLO Restaurant Review: Church's Chicken
9:00 AM EST on November 6, 2015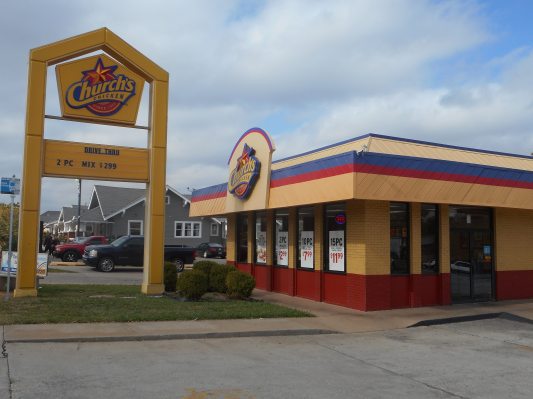 Back in the late 90s, when Louis was a fresh-faced pup out of high-school and entering the big, mean ol' real world, one of the quickest ways to earn a couple of bucks for an impromptu date night, an evening of much-needed laundry or just something to eat other than Ramen, was to sell plasma at the Centeon donation center up on NW 23rd Street.
For about an hour's worth of work—usually reading a book or watching a VHS copy of Major Payne—you could walk away with a cool $25 and only a slight case of Hepatitis A. Because banks were for rich white people, the only place to cash the dot-matrix printed blood money was at the run-down Asian convenience store up the block or across the street at the friendly neighborhood Church's (with a meal purchase).
I usually chose the chicken.
You have to understand that the late 90s were a turbulent time. Cleanliness wasn't as in vogue then, like it is now, and a fried chicken joint could be filled with bleeding plasma merchants, drugged-up hookers and homeless dudes chomping ice, mingling easily with full-on nuclear families, Bible-toting church ladies and teens skipping school, all in a filthy building that was covered in windows riddled with drive-by bullet holes and unmopped floors covered in the results of said drive-bys. We preferred it, dammit!
So I guess you can only imagine my head-shaking loss of innocence when, on TLO editor Patrick's orders, I was sent to one of the few remaining open Church's Chicken franchises in town, located at 701 NW 23rd in the soon-to-be-gentrified Uptown 23rd District, to review their famed foodstuffs before that lone restaurant is shut down by the Oklahoma Tax Commission for failure to pay taxes as well.
This wasn't the Church's I grew up with. This wasn't my Church's.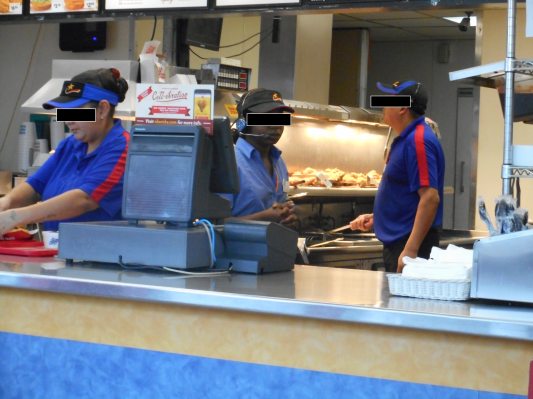 Maybe it's my fault. Since moving back to Oklahoma City, whenever I craved that Southern delicacy I always figured "Why should I spend money on some chain when there's a Bobo's—in my opinion the greatest fried chicken in the history of the world, part one—right up the street?" Keepin' it local and all that. Because of that commitment I made to small business, I haven't made a return trip to Church's in about 20 years. It was a rude awakening.
The store was immaculate. It was clean and even had that fresh pine smell that let you know it had been cleaned recently. The windows were bullet-hole free and the signage was in-line with corporate SOP manuals, intact and concise. The floors were spotless and the tables sparkling. My dining partner and I had no fear or apprehension of accidentally poking ourselves on a stray hypodermic. The Braum's at NW 16th and Classen could take a few notes.
The employees were Stepford-friendly, smiling and pleasant, professional in demeanor and appearance, even though it was the middle of a busy lunch rush. They promptly prepared and plated our three-piece chicken meals, I had the French fries and she the mashed potatoes and gravy, both with biscuits and a handful of their famous jalapenos. At about $8 bucks each, it was a pretty decent lunch deal.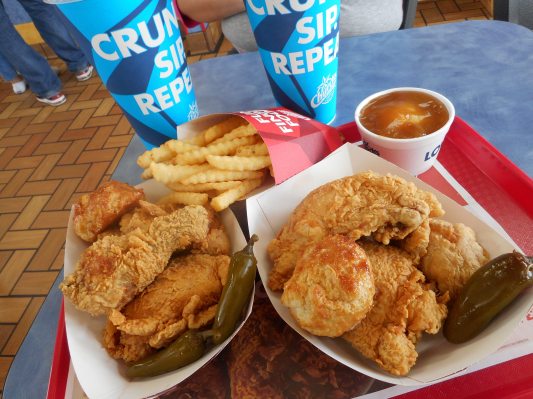 The beyond crispy fried chicken was decently delicious, hot and juicy but in definite need of numerous packets of Texas Pete hot sauce--of course that's just my preference. It was good eats, for sure, with little pockets of searing grease burning my lips and tongue in every attempted bite. The fries were top-notch, but the mashed potatoes and gravy had a delectable USDA commodities faux-feel to them that I missed and loved, bringing on wonderfully impoverished wave of nostalgia. Add hot water and stir into my heart, nasty-ass taters.
And the jalapenos…while they're nothing particularly special, they always make a great compliment to any and every Church's meal, for some odd reason. Let's not forget about those buttery, honey-drenched biscuits either. Who needs the chicken? Get me six of those and some extra honey and butter and I'm straight.
Sitting back, wondering if this will be the last time that I'll ever eat at a Church's in this state, I began to worry about the folks behind the counter. Will they have jobs tomorrow? What are they gonna do? Is there some kind of change.org petition or Kickstarter we can get going to help the Reciprocity Restaurant Group, the franchisees for this city's fine Church's, to help them pay off their taxes?
Deciding to make a difference for once in my life, "Man in the Mirror"-style, I figured that I would lead by example and make the first donation by going across the street to the plasma donation center—now called CSL Plasma—and make a couple of bucks to kick the thing off. Unfortunately, thanks to freshly eating a big fried chicken meal cooked in heavy grease, my blood pressure was at 211/98 and, therefore, unable to donate any of my thick viscous fluids.
Have the love, I guess.
-
Louis Fowler is also a big fan of Eischen's, but, then again, who isn't? Follow him on Twitter at @LouisFowler.
Stay in touch
Sign up for our free newsletter