Everything Else
College Football Musings from the Train: Week 8
9:30 AM EST on November 2, 2015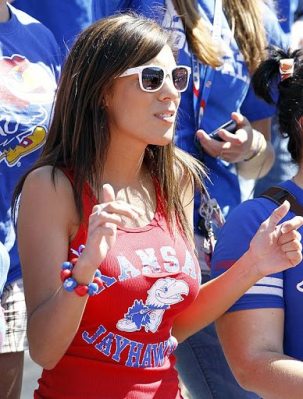 10) Oklahoma rolls
Oklahoma played "okay" Saturday afternoon in Lawrence and completely overwhelmed the worst Power 5 team in recent memory 62-7.  Oklahoma wasn't sharp – there were penalties, bend but don't break defense, too much pressure on Baker Mayfield, another head-scratching fumble by Sheph on a punt return, and some tough times running the ball between the tackles – but Oklahoma rolled anyway because Kansas.
Mayfield continued his torrid streak, throwing four touchdown passes and amassing 383 yards through the air. 11 of his completions went to Sheppard for 183 yards and a score. Oklahoma ran for 265 on the ground, though the sledding was marginally more difficult than the previous week. Alex Ross, Joe Mixon, and Samaje Perine all averaged 7+ yards a carry. For an offense that wasn't perfect, 710 total yards is pretty damned good.
The defense was good yet again. Especially the front. Charles Tapper and Walker are doing their dead level best to re-enact the 2001 Sooner defensive line. I don't know where this Tapper was in 2014, but that dude has been dominant the past month. If Devonte bond returns at some point this season, OU will have the best defensive line in the conference. And who predicted fifth-stringer Dakota Austin would be as good as Zach Sanchez? Or some random junior college transfer would solidify the back of the defense? There was a stat during the game that shows how well this defense has played since conference play opened up - Oklahoma is the first team in 18 years to have 10 picks and 20 sacks in a month.
But let's not get too excited. This is a Jayhawk squad on pace to make history. So ...
-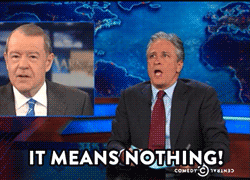 9) What did this mean? Nothing.
If you don't play well and still beat a team by 55 points, that team is Kansas. They can't do anything on offense and are on pace to allow the most yards in college football history. Ever. No one worse.
So in summary ... nope. This game meant nothing. Which is not a bad thing.
-
8) Oklahoma State and the tale of two halves
The score was 24-7 and Oklahoma State looked really bad. They couldn't stop the Red Raiders. They looked putrid on defense and couldn't run the ball against the worst run defense in the country. And then a different team showed up. OSU outscored the Red Raiders in West Texas 63-29 the rest of the way to run away with the game 70-53.
James Washington arrived. As did Raymond Taylor. J.W. Walsh said "well hello there, chum." It was a complete ass whipping the second half. Washington finished with 200 yards and two scores. Taylor only carried the ball five times, but he scored on two of those plays including a long touchdown late in the third quarter to give OSU its first lead.
And then there is Walsh. He was so good he gets his own discussion point.
I believe this team is good. They are opportunistic. They have talent on both sides of the ball. And they are undefeated. But for the love of God stop screwing around with inferior teams. It can't last. It just can't. And it won't. The Pokes fall behind TCU by 17, they won't win. OSU allows Baylor to hang around, the Bears aren't going to fold late. The Cowboys turn one-dimensional and give Oklahoma the ball on bad interceptions, they will lose. The national media is taking notice of Oklahoma State, but not necessarily for the right reasons (close wins, giving up big points, easy schedule this far).
Oklahoma State is still in the picture nationally. And this was a good win. But damn this cannot continue.
-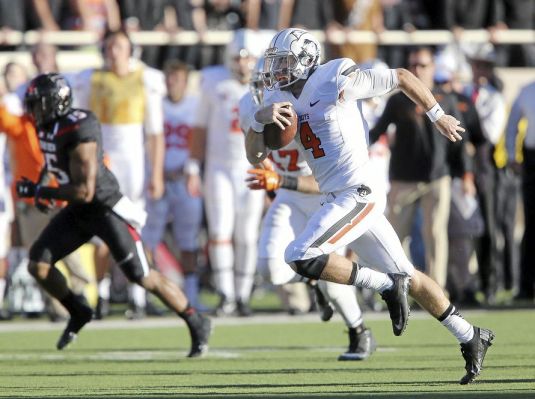 7) So ... Maybe J.W. Walsh should play a lot more
I have not been kind to J.W. Walsh in the past. He has not proven to be a championship caliber quarterback. He has a weak arm. He simply can't make certain throws required of the position.
But that dude has found himself a niche the past month.
Trailing 45-42 with 12 minutes left in the game, the Cowboys went crazy, scoring 28 points to close out their impressive win in Lubbock, and Mason Rudolph had nothing to do with it. JW Walsh rushed for one touchdown, threw for another, and generally led OSU on three big play scoring drives. The Cowboy rushing game was pedestrian with Rudolph in the game. With Walsh it thrived. He finished with 80 yards rushing and 167 yards passing, accounting for three scores. That's 10 touchdowns in the last three games.
I'm not saying Walsh should start next week at home, but Mason Rudolph has been average this year. Hurt, not hurt, whatever. He has eight picks to 12 touchdowns. And he was benched Saturday afternoon. Gundy has himself an issue. Does he continue to play his talented sophomore quarterback who has a penchant for interceptions and hamstrings the running game? Or does he bench Rudolph at the first sign of trouble in favor of a zone read, big play run offense and risk damaging his future quarterback beyond repair?
-
6)  Minnesota loses brain, game
Minnesota has the ball on Michigan's one yard line, 19 seconds left with a timeout to use AND SCENE.
Instead of calling the timeout and throwing the ball 3 times, or simply running the ball and as time runs down, then calling a timeout and then throw the ball into the endzone, this happens:
I get people make mistakes in their chosen vocation. But how in the hell do you screw up so royally while stealing money from the state of 10,000 lakes? Of all the options, you choose the worst. You lose with a timeout on the board.
-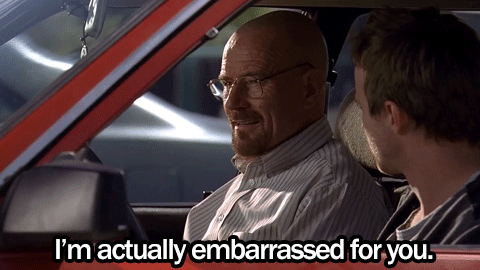 5)  Texas embarrasses themselves
I'm not one of those crazy day walking OU fans that rehashes the OU/Texas loss with shock and awe and anger.
But what in the holy hot shitballs was that crap?
After beating OU and KSU, perhaps Texas wasn't that bad. Perhaps those close, heartbreaking losses to a good Cal and undefeated Oklahoma State were a reflection of an improving Longhorn team, one that could win all the games they should and a few games they shouldn't.
lol
Texas shit itself Saturday night at that buzz saw masquerading as Ames, Iowa. The Longhorns were shut the f@$& out by the Iowa State Cyclones 24-0. The same Iowa State Cyclones that were 103rd in total defense. Texas had seven three and outs. They had two drives greater than 22 yards. If Texas was awarded a touchdown by getting past midfield, they would have lost by more than touchdown.
Texas still must go to West Virginia and Baylor. The best this team can do is win 5 games. No Texas coach should survive a 5-7 season. But Texas accepts expects mediocrity these days so GO CHARLIE!
-
4) Miami and Duke and wtff
Crazy college football game ending 2015, part XIV:
We see this, what, half a dozen times a week? And it always ends with a fumble or a loss of thirty yards. Maybe every year or so a Division III team pulls off a crazy lateral laden end of game win. But not in a Power 5 Confernece against a ranked team. Of course, perhaps the officiating had something to do with it.
Therefore, if Oklahoma State beats TCU via JW Walsh bicycle kick to a naked Byron Houston, don't be surprised.
-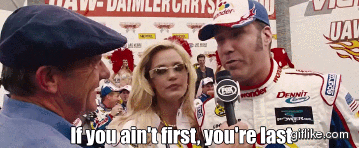 3) The best of the losers
Alabama, Stanford, Oklahoma, Notre Dame, Florida, Utah, and Florida State. That's a pretty good group of teams each with a loss, some (#redrivershitshow) worse than others (#clemsonisgood). Some (#secwestoverrated) with easier remaining schedules than others (#battleofthesatscores).
You can throw most of those teams in a bag and any would win a death a match. Except the Florida schools which are talented, but have more issues than the others. And each will lose another game. Also Utah doesn't have the name recognition of the others, plays in the craptastic PAC 12, and must play Stanford in the conference championship.
Which pretty leaves us with college football royalty and Stanford. Can any of these programs make the playoff? Alabama is the likely culprit if any. They still play LSU, who is a shell of an undefeated. And they get an average Florida team in the SEC championship. Oklahoma, in order to run the table, must beat TCU and then Baylor and OSU on the road. Yeah, that's not going to happen.
That being said, right now, Stanford is the best of the one loss teams. They don't have a bad loss (hear that, Oklahoma?). They beat a good USC team on the road. They also look the part. Notre Dame could make an argument with the their only loss being the "best loss." But Stanford has defeated UCLA, Arizona, and at WSU. And they still play decent Cal and Oregon, probably Utah, and excellent Notre Dame. Stanford runs the table they will have the best all around wins. And no bad losses.
Apologies to Alabama, but if Stanford, the best current one loss team, runs the table, they deserve a playoff spot over all other one loss teams. But that won't matter because, alas, SEC speed y'all.
-
2)  Final Four
Baylor - Two more weeks and the country finds out what this team is made of.
Clemson - Will roll to the playoff. Florida State is nothing to get excited.
Michigan State - Betting on Sparty beating the Luckeyes.
Alabama - Will hammer one-dimensional LSU next week.
-
1) Predictions
Oklahoma/ISU
Oklahoma has now played two and half good games over the last three. They will be looking ahead to Baylor on November 14. Shouldn't matter.
Oklahoma: 42
ISU: 14
Oklahoma State/TCU
And so it begins. Oklahoma State hosts TCU, goes to ISU, then hosts Baylor and Oklahoma. I continue to not believe in this team to my detriment. Rejoice Poke fan.
TCU: 41
Oklahoma State: 40
Stay in touch
Sign up for our free newsletter