Everything Else
College Football Musings from the Train: Week 5
9:53 AM EDT on October 5, 2015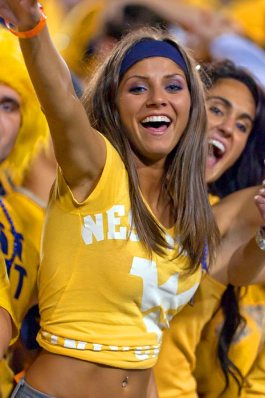 Sorry about missing last week. It will never happen again.
-
10) Oklahoma handles the Mountain Folk
I don't want to hear any crap about how West Virginia was overrated, their defense isn't that good, and their offense is pedestrian. OU hasn't shown a propensity towards playing well at home in recent years, and that was a good win over a quality opponent
Oklahoma came out of the gate fighting (literally and more on that later), staking a 24-7 halftime lead and slamming the door shut in the 4th leading to a 44-24 win against a good Mountaineer squad on a gorgeous Saturday afternoon. Aside from one really bad interception, Baker Mayfield was again the difference, going 14 of 25 for 320 yards and 3 scores. 25 attempts. 320 yards. Many of which came on big plays and fantastic play calls. West Virginia was hellbent on bringing pressure against both the pass and run. Whether it was Lincoln Riley's play calling or Mayfield checking at the line, the receivers were running open on huge plays when the line gave Baker time to deliver the pass.
Of course the line didn't always give Mayfield time. Nor could they run block for shit. What was at first a question mark has become a liability. This offense line is bad. Not young. Not developing. They are terrible. When not running past the tackles and backs on blitzes, the West Virginia front seven made life hell on the running backs for most of the game, pushing back the interior line and giving Perine and Mixon nothing. The only saving grace is Oklahoma has likely played  against its two best defensive lines until the last week of the season, which means we get to hear in November about how this line has improved over the year. Don't believe it.
But regardless - this is a good win. A one point win would have been a good win. Halfway through the 3rd quarter Oklahoma was on its way to a fourth loss in seven home games, but OU actually has some resolve. That was a key ingredient missing from last year's squad.
-
9) Defense shows up
The defense showed something Saturday. Mike's boys held West Virginia to under 400 total yards on 80+ plays. The Mountaineers, which led the country in turnover margin, gave away the ball four times. Aside from one really bad defensive series ... and it was really bad ... to start the 2nd half, the defense was able to stop the run and put the West Virginia offense in long 3rd downs, allowing the defense to pressure the quarterback and force said turnovers.
We witnessed the re-emergence of Charles Tapper, who was a terror on the interior line, often collapsing the pocket though not showing out on the stat sheet. Steven Parker was what we all envisioned him becoming at safety - good cover skills, ball hawker, and pass rusher. The linebackers filled gaps and aside from a drive or two, prevented the West Virginia running game from breaking loose.
But let's dismiss the formalities - this was the Eric Striker show. He of the 13 tackles. The two sacks. The forced fumble for a touchdown. Striker was a man Saturday. Those numbers really don't accurately describe what impact he had on the game. He ran around the tackles. He forced early throws and scrambles. He caused holding penalties. He was the best player and playmaker on a field full of both Saturday.
-
8) 23
The question: how many penalties were featured during Saturday's contest?
It is hard to find fault in a game where OU beats a top 25 team by three scores, but when you rack up 12 penalties for over 110 yards ... it bears mentioning. Hands to the face? Check. Offsides? Check. Personal foul? :-/. Offsides and a personal foul on the same play? Double check. Sideline warning? Times deux. Illegal wedge on a kick off? WTFF.
The game was chippy from the start. And West Virginia was equally guilty by committing 11 penalties for over 100 yards. But those marginal flags, coupled with endless reviews, forced what was an exciting game into the realm of the unwatchable. But we can't be surprised by this. After all, this is the same crew that bent Texas over last week in Austin.
Was there a discipline issue in Norman? Yes. But every marginal foul was flagged. The calls went both ways. Something has to be done to correct the officiating in this conference. That should not have been a four-hour game.
-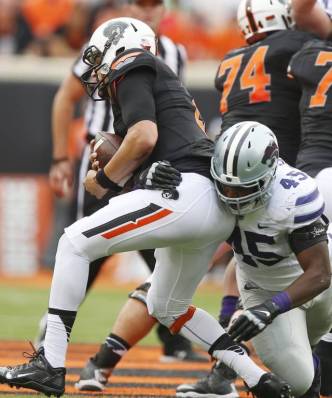 7) OSU survives again
The Cowboys grabbed another win from the jaws of defeat Saturday afternoon, escaping with a two point win at home against a team that played its 5th string quarterback (who is a wide receiver) a majority of the snaps ... until he got hurt and the concussed fourth stringer was forced back into action, the ethics of which should be questioned. The Cowboys had yet another PAT missed/blocked, but were able to convert on a late 4th and long, then run down the clock for a game winning 35 yard field goal in the closing minute.
Mason Rudolph was again very good. He threw for three scores and over 420 yards. His wide receivers were excellent - both Washington and Ateman caught touchdown passes and amassed 100 yards receiving. The defense, pretty damned awful in the first half, was equally dominating in the second half, limiting the 'cats to 6 points post intermission. But his was a limited Kansas State team who took 3 overtimes to beat Louisiana Tech at home a week earlier.
Anyway, it is now time to call OSU what they are - an above average team that isn't going to do anything great this year. Great teams do not beat Texas by divine intervention or barely hang on against Kansas State. Where OU shows what we call "resolve" to win games, OSU seems to luck into it. Texas punter. Free first down. Probably something in the Central Michigan game that I can't remember. This isn't going to continue, Poke fan. The Cowboys aren't going to win games in conference by giving a converted wide receiver 28 points in one half. OSU screws around like they did on Saturday on BOTH sides of the ball, West Virginia is going to run away with a win.
-
6) Second verse, SAME AS THE FIRST
As bad as Oklahoma's offensive line is, and ladies and gentlemen, it is bad, at least it can pass block somewhat and manage to open running lanes at the end of games. Oklahoma State's offensive line is flat effing bad. Again, OSU cannot run the ball against anyone. I know Carson and Chiles were out. But OSU couldn't break 50 yards on the ground Saturday afternoon. And it's not as if the Cowboys are playing Leach ball or has recruited a bunch of pass blockers in a run first system. These are Wickline guys. You know, that guy calling plays in Austin? Yeah, the line guru. Apparently he recruited no one who can run block.
Even the coaches know there is no point in trying to run the ball. Yurcich Gundy did not call a true running play over the first two series. Only 21 running plays were called all day. Versus 60 pass plays. Either the program needs to call more running plays, and diagram those plays in a different manner, or they need to find better players now.
As I mention above, OSU is playing on borrowed time. The defense? Eh, I have some confidence they will figure it out and end up at the top of the conference. I have no confidence in the Pokes ability to establish a running attack. This line still hasn't played TCU or Baylor or Oklahoma's or even West Virginia's pass rush. Those teams get to pin back their ears. #prayforMason
-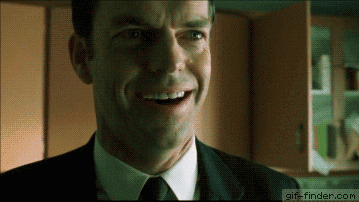 5) The Fall of Texas
Texas was utterly obliterated by TCU 50-7 in a game that could have been 100-0 had TCU not called off the dogs in the second half. They have been defeated by three or more scores seven times since Charlie Strong took over last year. SEVEN times in less than 2 years. Oklahoma has lost by three or more touchdowns EIGHT times in 16 years under Bob Stoops.
Look at these stats: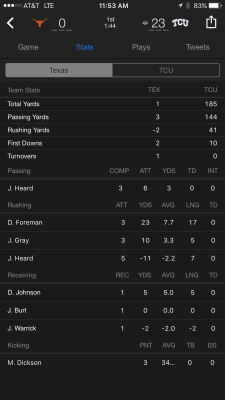 That is some crazy, humiliating stuff right there. Almost as humiliating as tweeting about your intent to transfer at halftime.
Oklahoma is only a 13-point favorite this week. That is the only scary thing about this game it should be a 40 point spread. Or something around the 1996 line ...
-
4) Brian Kelly cost Notre Dame a playoff spot
The Irish were down 21-3 entering the fourth quarter Saturday evening at Clemson in a top 15 matchup in a monsoon. They mounted a furious comeback, falling short on what would have been the game tying 2-point conversion that wasn't converted, it the second of two missed 2-point conversions in the 4th quarter.
Yes, you heard that right. Notre Dame lost by two and failed to convert two 2-point conversions in the final quarter.
The Irish scored with 14 minutes left in the game to cut the Clemson deficit to 21-9. Instead of simply kicking the PAT, Kelly inexplicably went for two. Clemson then of course kicks a FG to make it a 24-9 score. Noted Dame scores and kicks the PAT. Score 24-16. Notre Dame scores in the final minute and was forced to try another 2 point conversion, which predictably failed. Notre Dame loses 24-22.
The media is not talking about this enough. Kelly's ridiculous decision to chase points cost his team the game. ND simply kicks the PATs, the game goes to overtime and the Irish have a chance to win and stay undefeated. As it is, they lose because their coach is mental.
-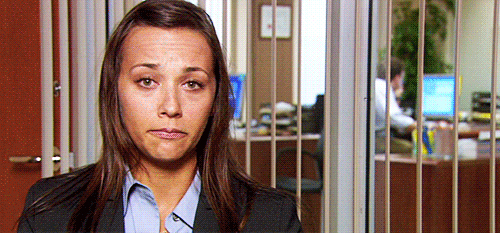 3) Can anyone play this game?
Ohio State scrambles to beat an overmatched Indiana. Michigan State needs a late 4th quarter stop to put away Purdue. Ole Miss gets hammered by average yet now "for real" (per ESPN) Florida. Georgia gets run out the building by Alabama. UCLA goes down. TCU and Baylor? No defense. Texas A&M? Let's everyone with a pulse hang around. LSU escapes Syracuse two weeks ago.
There isn't a great team in college football this year. Hell, there might not be any good ones either. Houston and the fighting David Bassitys are undefeated. Hell, might as well include them if only to procure good seats in Houston in a few years ...
So with that said ...
-
2) Final Four
Utah - Put me on the bandwagon. So far, they've been the most impressive team in the country.
Baylor - I do not trust TCU or Oklahoma.
Alabama - I also do not trust LSU. Alabama lost at the right time.
OSU - I guess someone has to win that conference.
-
1) Predictions
OU / Texas
There is absolutely no reason Oklahoma should be in dogfight with this team. They are awful and borderline dead, which is precisely the reason why this game will be close.
Oklahoma: 31
Texas: 28
OSU at West Virginia
Oklahoma State has played down to its competition this year. They have been lucky to remain undefeated. That comes to an end this Saturday
West Virginia: 30
Oklahoma State: 17
Stay in touch
Sign up for our free newsletter