Everything Else
Steve Russell wants some attention…
11:06 AM EDT on September 24, 2015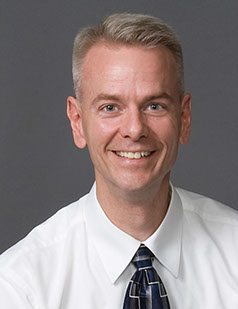 The guy pictured above who looks like he teaches 8th grade science is US Congressman Steve Russell. He represents the Oklahoma 5th Congressional District that covers most of the OKC Metro and the Shawnee-Seminole-Wewoka triangle, otherwise known as Shawnoleka.
If you forgot about Steve or have never heard of him, don't feel too bad. You're not the only one. Since he was elected in 2014, he's done a remarkable job staying quiet, flying under the radar, and not letting stupid things come out of his mouth that bring shame and embarrassment to our state.
For an Oklahoma citizen, that's a good thing. But for an Oklahoma politician, it's a ticket out of office. If you're not out pandering and showing everyone how crazy you are, the voters in this state will elect someone who will. As a result, it looks like Steve is trying to get his name out there a bit.
Last night, News 9 brought us a nice little fluff piece about Steve. In an interview with Kelly Ogle, he talked about everything from being a hard worker to killing a man in close combat to finding Saddam Hussein (a.k.a. important, relevant issues that matter to Oklahomans).
Kelly Ogle: What would surprise the average Oklahoman the most if you said 'I want you to sit in this chair a week?

Russell: "I think there are several things. The hours that we put in, they would be shocked. I mean, you literally are working from sun up to way past sundown. I think that they would also recognize that even when you're off, you're not. You're a public figure, a public face, people recognize you and even though they may not bother you or say anything, you are constantly on the job and you know I'm comfortable with that."

He and his wife Cindy have five grown children and are now empty-nesters.

"We enjoy being together, she also is excited that we're doing this, that we're a partnership together but if she feels the need to travel home, she will and not be ashamed to spend time with the kids," he said.

Kelly Ogle: What are you wearing on your lapel?

Russell: "I'm wearing the combat infantry badge. You get that with close quarters fighting with an enemy and it usually resorts in somebody dying."

He earned the badge in Iraq. His military career also including tours in Afghanistan, Kuwait and Kosovo.

Kelly Ogle: Do people still come up to you and want to talk about Saddam Hussein?

Russell: "All the time."
Just like me, I'm sure most Oklahomans value and respect Steve's strong work ethic, military background, and boring empty-nester status, but respect gets you nothing nowadays. To really get the attention of Oklahoma voters, you need to piss off a demographic like minorities, women or homosexuals. When they hate you, the Derplahoman voting base will love you more!
Steve's obviously picked up on this. The same day News 9 aired the fluff piece, word leaked out that Steve wants to know if two celebrated female soldiers received special treatment at Army Ranger school, because you know, women receiving special treatment in the military is a crisis facing our country that must be dealt with immediately.
Via People:
A congressman who is a combat veteran and Ranger graduate has asked the Pentagon's top Army leader to produce documents related to the performance of the females who began Ranger School at Fort Benning, Georgia earlier this year, PEOPLE has learned.

In a letter obtained exclusively by PEOPLE, Rep. Steve Russell, R-Okla., gave outgoing Army Secretary John McHugh until September 25 to produce documents revealing the women's test scores, evaluations, injuries, pre-training and more. The letter was delivered to McHugh's Pentagon office on September 15.

"The training of our combat warriors is paramount to our national defense," Russell wrote to McHugh. "In order to ensure that the Army retains its ability to defend the nation, we must ensure that our readiness is not sacrificed."
Way to go, Steve! Questioning the credentials of two badass female soldiers will really piss off all the feminists out there. Well done. Who cares if it makes you look like a micromanaging dickhead, the women-hating Derplahoma crowd will love this. Expect your approval ratings to skyrocket! Maybe you should take things further and question the credentials of gay and muslim soldiers, too. That will really boost your popularity!
Russell released the following statement about his investigation on Facebook:
The records request on the recent Ranger classes that included females is to investigate serious allegations that are being made by members of the military. No one wanted to touch this issue. As one of only two Ranger qualified members of the US House, I asked for the records to determine the nature of the allegations. The investigation should show whether there was any wrong-doing or it will lay it to rest. We expect to examine the records by next week and will make a determination from there."
You really have to give Steve some credit here. If you're trying to manufacture controversy to get your name out there, it's smart to latch onto something so stupid and inconsequential that literally no one else will touch it. How brave! Hopefully his investigation uncovers that the women soldiers did get special treatment. Then maybe they'll get kicked out of the Army Rangers, and Steve can brag he kept trailblazing women soldiers out of the army. Once again, his base will love it.
Stay in touch
Sign up for our free newsletter