Everything Else
15 Memories of the Oklahoma City Hornets
1:47 PM EDT on September 22, 2015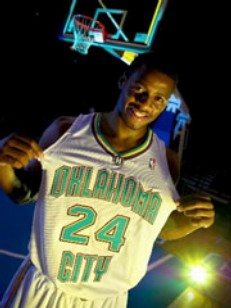 10 years ago this month, Oklahoma City officially became a "Big League City" when the New Orleans Hornets announced they were temporarily relocating here due to the Hurricane Katrina.
As you know, the Hornets were a huge success. The team was competitive, hard-working, and feisty, and thanks to the support of fans and the business community, we proved to the NBA (and especially David Stern) that Oklahoma City was a legitimate "Big League City." Now, thanks to those Hornets and fans, we now have the Oklahoma City Thunder... and a website called The Lost Ogle.
Yep, blame the Hornets and Hurricane Katrina for this site. In case you don't know our site's history, a coworker and I created a PHPBB message board called OKC Hornets Central about a week after the team moved here in 2005. It was strictly for Oklahoma City-based fans. The next year, we eventually added a blog element, got Buffalo Wild Wings to sponsor us, and I even made guest spots on The Sports Animal as Patrick Nelson. I was destined to become a sports media personality! But the team then went back to New Orleans, and with no NBA team to cover and whine about, I created a new website called The Lost Ogle.com. I'm not sure that's a good thing or bad thing.
In this special and rare re-post, I thought it would be fun to take a look back at our city's first date to the NBA prom: The Oklahoma City Hornets. It's kind of hard to believe, but it's been 10 years since Chris Paul, David West and, uh, Arvydas Macijauskas took our NBA virginity and set the dinner table for the Thunder.
Here are my Top 15 Oklahoma City Hornets memories. Check them out:
15. David West's Buzzer Beating Shots
Ready to feel old? It's been so long since the Hornets played in Oklahoma City that none of David West's game winning shots are on YouTube. But I did find the video above where West beat Oklahoma City on a last second shot.
-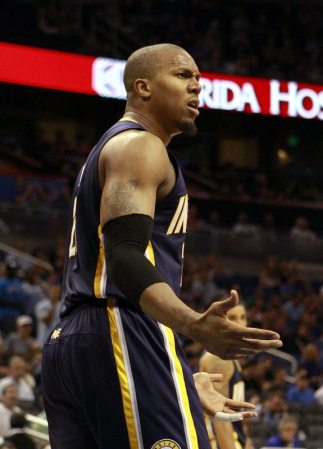 14. David West's constant denial that he ever committed a foul
As the picture above shows, it looks like David West still whines to the refs every time he is called for a foul. He could be called for a tech after hitting someone in the face with an ax and he'd still whine about it.
-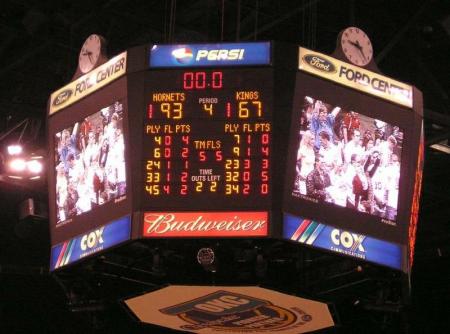 13. Opening Night
This was such a surreal moment. Before the season, the Hornets were universally picked to finish last in the Western Conference and their first game was against a Kings team that won 50 games the season before. Not only did Oklahoma City destroy the Kings, but the crowd was amazing and intense. On that night the Hornets officially became Oklahoma City's team... for two years.
-
12. Kirk Snyder's wicked dunk on Von Wafer before he absolutely lost his mind
Before he went nuts, Kirk Snyder was one of many below-average shooting guards to play along Chris Paul. In fact, he made one of the greatest plays to ever be seen inside the Ford Center / Oklahoma City Arena / Chesapeake Energy Arena when he dunked over some guy named Von Wafer. If your name is Von Wafer, you deserve to be dunked on.
-
11. Boomer Tramel's daily guarantees in the Oklahoman that the Hornets would never return to New Orleans.
Not too long after the Hornets relocated here, the state's most popular columnist began to write column after column explaining why the Hornets would stay in Oklahoma City and never return to the Big Easy. BULLFEATHERS!
-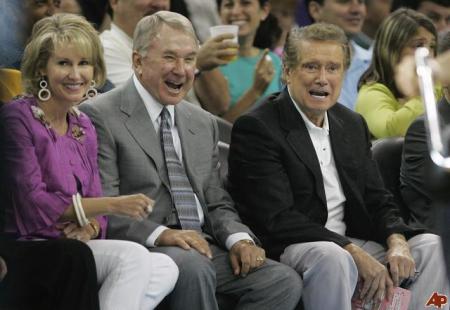 10. George Shinn
I liked George Shinn in the same way I like the guy who sells me the car at the dealership. He's a nice guy, makes you feel important and tells you everything you want to hear, but deep down you know he's just kissing your ass because he wants to sell you something.
-
9. HornetsCentral.com
Sorry, I had to include this in here. Before there was a Lost Ogle, I ran a local blog and message board called HornetsCentral.com. It was a dorky little place where Internet losers, trolls and Doug Loudenbeck would congregate to discuss the Hornets and debate which city would be the permanent home of the team. I sold the site in 2008, and the new owners renamed it OKCThunderFans.com
-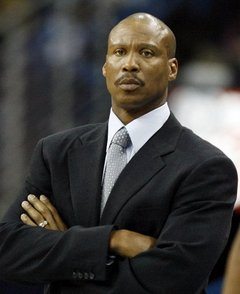 9. Byron Scott's Blank Stare
During the HornetsCentral days, I would sometimes try to guess what was going through Byron Scott's brain during close games. I heard from various sources that it was Braum's Ice Cream, but I think he just enjoyed listening to crickets.
-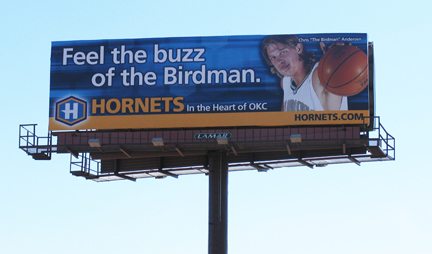 8. The Birdman
If you partied in North Oklahoma City during the fall of 2005, there's a good chance that Chris "The Birdman" Andersen either bought you a drink a Baker's Street or drugs at some after party in Nichols Hills. I think it's safe to say the guy enjoy life, tattoos and video game bowling a little too much during his stay in Oklahoma City.
-
7. DJ Rob Nice
Before Jonathan Meisner, Matt Vaughn and our very own Joel Decker told a lucky fan that Midfirst Bank would give them $100 for hitting the rim or backboard, Oklahoma City NBA fans got to know arena emcee DJ Rob Nice. He was cooler than the other side of the pillow's pillow. He and his backwards ball cap were fresher than a virgin's...well...you get the picture.
-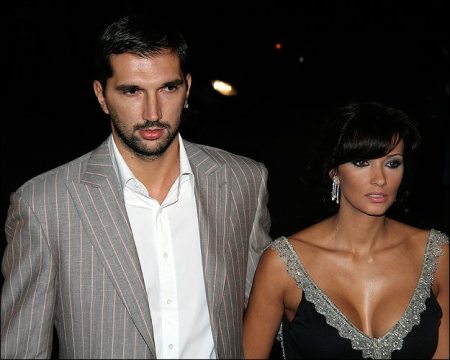 6. The signing of Peja Stojakovic
Man, I was pumped when the Hornets' signed Peja. He was going to be the missing piece of the puzzle. He was going to give Chris Paul the reliable wing threat he needed to lead OKC to a deep playoff run. Peja kind of did all that...the year after the Hornets left OKC. I think he played in only 12 games in Oklahoma City before he injured his back while having wild sex with his hot European model wife...or lifting weights.
-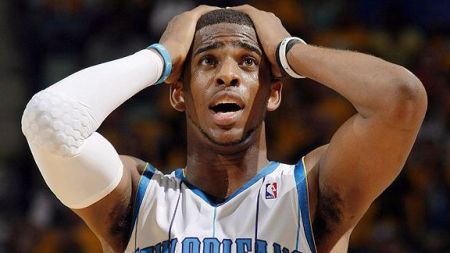 5. Chris Paul
If you lived in Oklahoma City from 2005 - 2007, it was a requirement that Chris Paul be your favorite NBA player. This was because he was a talented, hardworking kid with great character. However, now that time has passed and he plays for the Clippers, he's a selfish, dirty, flopping, wannabe tough guy.
-
4. Jackson Vroman's Wrist
A bunch of really bad basketball players suited up for the Oklahoma City Hornets. Here are just a few off the top of my head: Boki Nachbar, Linton Johnson III, Moochie Norris, Cedric Simmons, Marcus Vinicius and old Marc Jackson. Vroman may have been the worst of the lot, but he's more memorable because of a gruesome broken wrist injury that happened at the Ford Center. I can't find the video online, but the look on Jackson's face whenever he saw a bone sticking out was awful.
(Editor's Note: Sadly, Jackson Vroman passed away earlier this year in an accident near a pool.)
-
3. The rise of the speedy finger guy who controlled the scoreboard
I'm not sure who updated the points on the old Ford Center scoreboard, but I'm pretty sure the guy lived about 3-seconds in the future.
-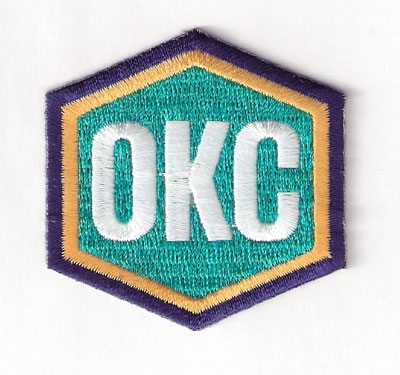 2. The Oklahoma City Patch
I was thinking about putting the Oklahoma City jersey in this spot, but screw that, they wore the OKC jerseys once or twice. They wore this patch every damn game. I still think I have about 20 of the damn things laying in an old shoebox in my attic. I bet they'll be worth tens of hundreds of pennies when I bring them to Antiques Roadshow in 40 years.
-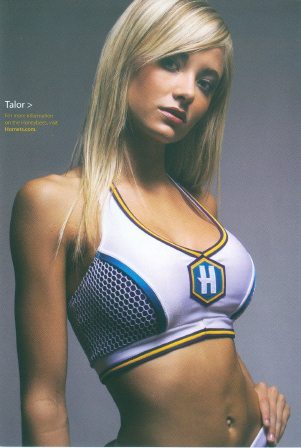 1. Honeybee Talor
Yeah, the Thunder may have Kevin Durant and Russell Westbrook (and James Harden and Serge Ibaka and Sam Presti), but the Hornets had Honeybee Talor. She's hotter than all the Thunder Girls combined. Here are a few more pictures of her that I found on her Model Mayhem page: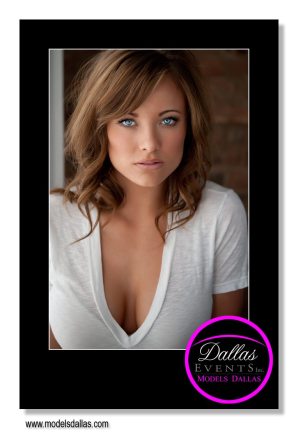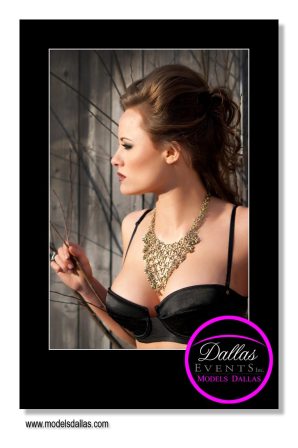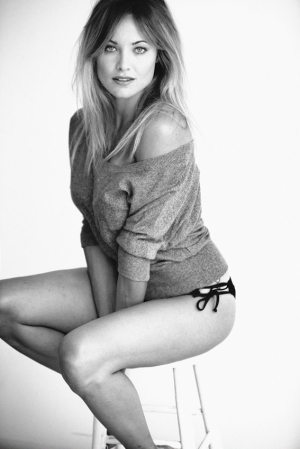 I think I need a cigarette.
-
Anyway, that's my list. I'm sure there are some things I forgot like Speedy Claxton's teeth, JR Smith's Cha-Cha dance and whatever that Gerry Vaillancourt thing was, but I'm sure you'll let me know in the comments.
Stay in touch
Sign up for our free newsletter