Everything Else
College Football Musings from the Train: Week 2
10:15 AM EDT on September 14, 2015
10) The improbable win
Whoo-hoo-hoo, look who knows so much. It just so happens that your friend here is only MOSTLY dead. There's a big difference between mostly dead and all dead. Mostly dead is slightly alive - Miracle Max
It was hard to imagine a 31-24 Oklahoma win as the 4th quarter began Saturday night in Knoxville. Down 17-3. No offense. Bad interception. Gassed defense. 102,000 screaming hillbillies.
But sometimes, a team isn't really dead. It just looks that way.
Somehow, someway, Oklahoma erased a 14 point deficit over the final eight minutes to snap victory from the jaws of death, defeating a decent Tennessee team 31-24 in two overtimes. The Sooners were led by Baker Mayfield, who threw three touchdown passes in the final four possessions of regulation and overtime. Two of his touchdown passes went to Sterling Shepard, who will now probably get a room named after him at Sooner Legends Inns and Suites, including the game tying toss with under a minute left in the game. Despite the continued struggles from the offensive line, Samaje Perine was a warrior, rushing for 78 yards on 23 carries, most of which were all after contact. He also caught a two-yard touchdown pass at the 8:20 mark in the fourth to formally begin the comeback.
Two touchdown turnarounds aren't unique. They happen more often than you think. But this two touchdown deficit might as well have been 35 points. The Sooners redefined offensive ineptitude until mid-fourth quarter. Mayfield was 8 for 25 with two picks entering the fourth. The Sooners had 49 yards of offense until midway through the 2nd quarter. Oklahoma did not get double-digit first downs until the final stanza.
But all those stats don't really tell the story of how bad Oklahoma looked on offense for most of the game. Dropped passes. Penalties. Unblocked blitzes. Missed receivers. There was zero sign this team could score points on the Volunteer defense, much less two touchdowns in under 10 minutes. Hell, if it wasn't for an epic defensive performance over the last 40 minutes of the game, the Sooners would have endured its second embarrassing loss in the last 3 games dating back to 2014.
But then ... it didn't happen.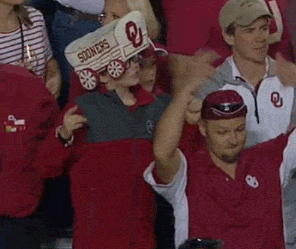 I have entered this football season with reserved skepticism. 2014 took a lot out of me as a fan and alum. The 2013 Sugar Bowl was an exciting win. Bedlam that year was fantastic. But this win was so unexpected throughout the entire contest, my excitement at the win is unparalleled.
-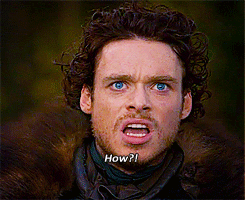 9) But really, how could this happen?
"How?"
That's what I kept asking myself after the 10th whiskey on Saturday night. How could OU, seemingly inept and dead and ready for Week 3 of the college football season, come back with such a fury on the road against a member of the greatest conference in the history of the world ... and win?
Oklahoma started terrible. Turnover on the first possession. Bad penalties on the 2nd offensive possession. Terrible field possession throughout the first half. Tennessee gashing the defense. The game getting away from the team early in the second with a 17-0 deficit. Hell, even a shanked punt by the most consistent player on the team.
Mayfield was horrible. Yes, he was under pressure. Yes, the offensive line was a sieve. But any hint of a pass rush, and out goes Mayfield on the roll out. He was running scared. And his coordinator wasn't helping him. Screen plays on 3rd and 7. One route deep balls on 1st down. Running behind a terrible offensive line on 2nd down. 3rd and 10+ all night. Maybe Riley needs his horses to run his offense. But it was pedestrian for most of the night Saturday.
But ... despite all that .... and because of the defense, the game was never out of reach. Did I mention the defense? Aside from Matt Dimon's awful play for much of the first half, the defense was incredible. Heroic. Staunch. Devante Bond is Eric Striker 2.0. Five tackles, two sacks, one forced fumble. Striker was nails. The secondary was great. Charles Walker has arrived. Charles Tapper has returned. And they never got tired. When it appeared Tennessee would run away with the game, when the offense would hamstring the defense with a three and out or a turnover, the defense stepped up. I would be remiss not to mention the true freshman Austin Seibert. Aside from one shank, dude hit huge punts all night. He nailed all his kicks. He is ice water. Props to the D and Seibert for keeping the game manageable.
Because at some point, the offense figured it out. Mayfield finished the game 11 for 14 for 102 yards and 3 touchdowns. Sterling Shepard become the best player on the field with two touchdowns receptions, one to tie the game on the first fade play call of the night. The other ... the Sideline Ballet: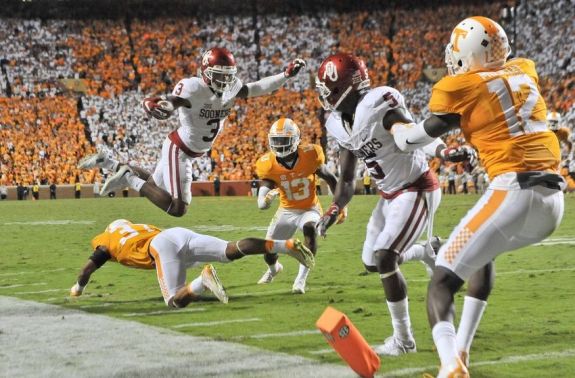 The offensive line, much maligned by everyone for the entire game Saturday night started to make holes for Perine. They stopped holding on every play. They gave Mayfield time, or a way to rollout right.
The Sooners seized momentum and never let go. Just an amazing game to watch develop. How did this happen? Defense, attitude, and a quarterback who simply won't give up. Last year, this team quit against Baylor and Clemson. The 2015 Sooners don't have that quit attitude ... yet.
-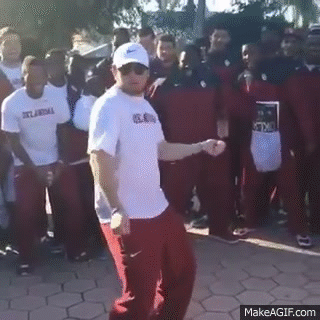 8) Mayfield and the D 
Where was this attitude in 2014? It would appear someone dragged ass to New Orleans sometime this off-season and found that 2013 end of season attitude, and injected into this Sooner defense and its new quarterback.
The defense was good enough for some of the game. Superior the remainder of the night.
Oklahoma surrender 157 yards the first 18 minutes of the game. Tennessee would finish with 254 total yards. That's less than 100 yards in 42 minutes of play in regulation and overtime. 7 points over that same period of time. I understand Tennessee ain't the 2008 Oklahoma Sooners. But they aren't terrible on offense. And this was a home game. With a crazy crowd. And UT had all the momentum. Against a beleaguered defensive unit.
It was the coming out party for Bond and Walker. Bond was a terror off the edge. He is what Striker is on the other side of the ball. Walker was a man in the middle. Oklahoma struggled at times early defending the zone read especially in the form of Matt Dimon. But then the tackles figured something out. The rushing game for Tennessee died. The Volunteers had no time to throw with pressure from the edge and the middle.!
But the play of the secondary has been the pleasant surprise. Especially at the safety position. Steven Parker was excellent Saturday night. He is what we thought he could be when he came out of Jenks. Ahmad Thomas hasn't played like the worst safety in school history. All Zack Sanchez does is make big plays. Jordan Thomas ... well, he isn't related to Ahmad Thomas. I get that Akron and Tennessee aren't Baylor or TCU, either. But this passing defense made EVERYONE last year look like the '84 Dolphins. So success against any program is improvement.
However, this newly recovered attitude resulted in some ... well ... very public commentary: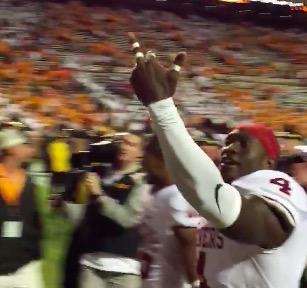 And this: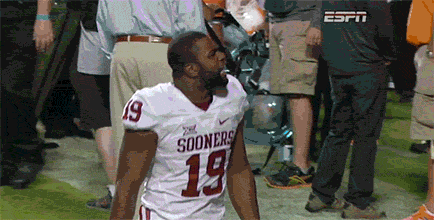 And ... well ... this:
Eh, whatever. Call us a-holes. Call us classless. Can't call us losers right now.
Not only has a new attitude pervaded the Sooner defense, it has manifested itself in the form of Baker Mayfield. Dude isn't six-foot tall. He has an average arm. He can move somewhat, but he ain't Brad Smith (or even Trevor Knight). He will throw his head into the line on an option, but he isn't Tim Tebow. This kat, however, has something. Moxie. Bulldog. Whatever. He seems incapable of giving in. He was so bad for so long Saturday night. Not that he had any help from the line or the receivers. But even when he was bad, he was ballsy. Taking on defenders. Shaking off tackles. Throwing 50 yard passes on the run. Putting his head into the line to win the game.
Yeah, I don't know if the guy will ever be an all-conference pass thrower. But he has something that has been missing from that position at this program in several years.
-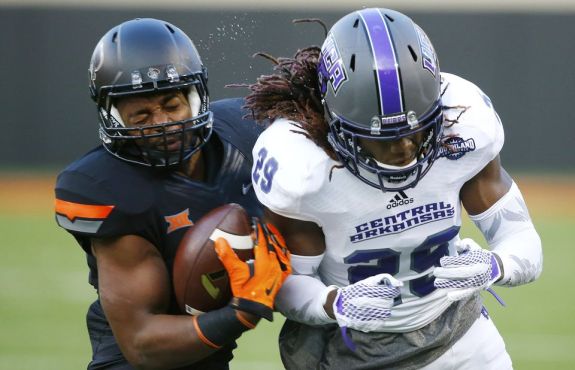 7) Oklahoma State wins a scrimmage
So .... Oklahoma State played a FCS doormat Saturday night, coinciding in part with the awesomeness outlined above. As you can imagine, I did not spend much time watching this game, which was 10-0 at half. OSU missed two PATs. Mason Rudolph threw a bad interception. OSU still had issues running the ball. It was a 12 point game entering the 4th quarter. CAU had 12 tackles for loss.
But the Cowboys won by 24 points. primarily due to an excellent defensive performance.
Rudolph threw for a career high 401 yards in his first career start at home over with two touchdowns. Five receivers caught three or more passes. Mike Gundy indicated that Rudolph wasn't sharp Saturday night. Which is a problem. Because OSU still can't run the ball. The Cowboys rushed for 164 yards, but it took 35 carries. Whether it is scheme. Or playcalling. Or talent on the offensive line. Something is preventing this OSU squad from establishing any sort of running attack against lesser talent, or in the case of CAU, 6A-1 talent.
The defense, though, will not be a problem.
Oklahoma State, despite not causing a turnover, held Central Arkansas to 220 yards. They sacked Central Arkansas twice and created 10 tackles for loss. Emmanuel Ogbah was excellent again, leading the way with 7 tackles, two tackles for loss, and a sack. Shows me that OSU can play good defense without being opportunistic. Well, at least they can against a team full of also-rans.
We really know nothing about this team other than they piddle around with mediocre opponents. Nothing will change this weekend. They will, however, when the calendar turns October.
-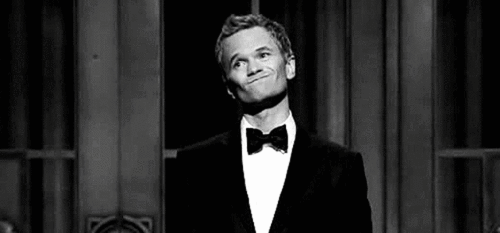 6) The OSU offense, specifically the running game
What is supposed to be high-powered, chock full of talent offense has been at best average against below average to laughable competition. The biggest question mark continues to be the offensive line, which thus far has proven it cannot assert its dominance against even the worst competition.
Rudolph isn't running for this life. But he isn't hanging out in the backfield for 5 seconds deciding between 3 open receivers. And the pass blocking isn't even the problem. OSU averaged just over four yards a carry. In a game where the Pokes were attempting to assert a ground attack. ----ing Samford rushed for 164 yards on this team a week ago. This is a major problem that won't manifest fully for a few weeks. But when it does, God help Mason Rudolph - these Big XII pass rushers will pin back the ears and light him up.
Again, is this a personnel issue? Is the offensive line devoid of talent? Or is it coaching? The line has taken a noticeable dive since current UT offensive coordinator Joe Wickline left for Texas. These are primarily his recruits, so its hard to say there is a talent problem. OSU fan certainly thinks Mike Yurcich is the issue. And why not? He was this brilliant (i.e. yes man) brought in to implement a high-powered run/pass attack. OSU is anything but that. Runs between the tackles for 2 years. Screens. Passes behind the lines. If the guy does have the autonomy to call his own plays, he needs to move on. Bad hire in the first place.
However, if Gundy IS involved in the play calling ... OSU has a much bigger problem to address as the season progresses.
-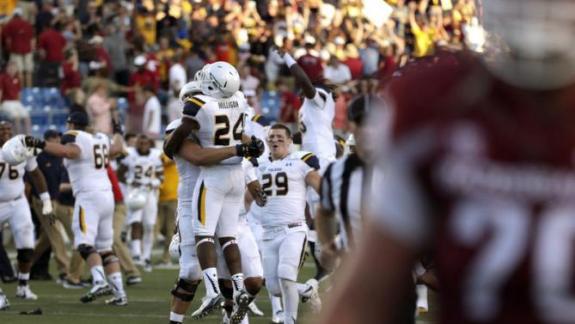 5) The SEC did not have a banner week
The SEC entered the weekend with 10 teams in the top 25. TEN. The SEC made up 40% of the top 25. That's insane for many reasons.
One of those reasons: hype does not equal reality.
Auburn needed a miracle and some questionable coaching moves to beat 47.5 point underdog and FCS afterthought Jacksonville State in overtime at Auburn. The Gamecocks of not South Carolina were the better team for all but a few minutes Saturday afternoon. Missouri couldn't crack 300 total yards in escaping Arkansas State. Florida beat East Carolina by a touchdown at home.
And those teams won.
Aside from Tennessee imploding against the greatest college football program on earth, Arkansas battled Toledo in Little Rock Saturday afternoon. Prior to the game, Bret Bielema decided that foot in mouth disease is this season's new black by commenting on Ohio State's soft schedule. Then went out and got run by a 23 point dog from the MAC.
The SEC (West) is still king of the college football world. But again, this conference is NOT the only group of schools that play quality college football.
-
4) Sad Virginia
The Cavaliers had them. They had them beat. They were going to beat Notre Dame. The Irish lost their starting quarterback for the year. You know, the guy who personally embarrassed Texas last week. But this was going to be a statement win for Virginia.
Then this happened:
And that happened: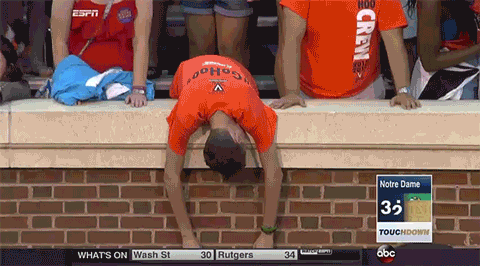 -
3) Texas is baaaaaack
*cough* bullshit *cough*
Yes, Texas beat Rice by 14 in a game where the score wasn't that close until the end of the game. The Longhorns ran up 42 points, surrendering 28 in its first win of the 2015 season. They appear to have found a quarterback in the form of Jerrod Heard, who threw for 120 yards and two touchdowns and ran for another 96. The defense turned over Rice 5 times. So on its face, good win.
Except that Texas was outgained 462 to 277. Texas had 11 first downs. Rice had 30. Texas had the ball for 16 minutes. Rice? 44.
Sure, Texas won the game. And they have a new quarterback who (absolutely has to be) is better than Swoopes. But this was far from an impressive win and should not insert any confidence into normal Texas fan.
What does Walt have to say about this big Texas win?
"Where is the OU defense??? Maybe they are hanging out with the Texas offense."
And they say OU fans care about Texas losing more than they do winning. Ok, obsessed Texas fan. Good luck next week against that vaunted Cal program.
-
2) Final Four
Ohio State - Michigan State beat a good Oregon team at home. But this isn't as good a Spartan team as the 2014 version. OSU plays no one else.
TCU - TCU has looked better than Baylor, who at times looks bad and uninterested on defense.
USC - This conference is looking worse and worse each week. USC should run the table.
LSU - someone from the SEC West is going to win the SEC and go to the playoffs. This week it's LSU.
-
1) Predictions
Oklahoma v. Tulsa
Tulsa has run up 600 yards of offense over the first two weeks of the season. I *think* OU's defense is better than last year by a wide margin. But this will be a test of their focus (week after a big win) and attitude.
Oklahoma: 44
Tulsa: 21
Oklahoma State v. UTSA
UTSA gave Arizona all it wanted two weeks ago. Then they shit the bed against Kansas State. I don't know what to think of Oklahoma State thus far, except that they don't seem serious about playing football at an elite level this season, especially on the offensive side of the ball.
Oklahoma State: 28
UTSA: 10
Stay in touch
Sign up for our free newsletter