Everything Else
Gravy Train's 2015 College Football Preview
10:07 AM EDT on September 2, 2015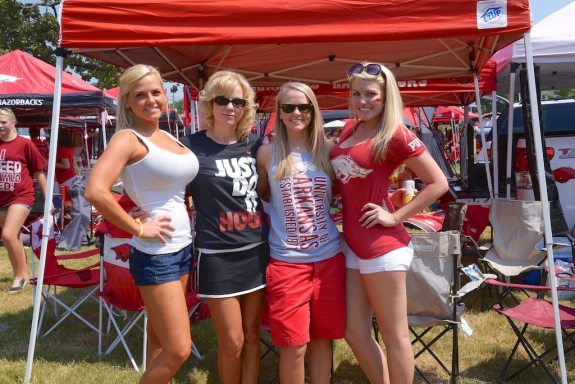 Hello, TLO readers. I hope you're ready for another season of my astute weekly analysis of OU, OSU, the Big 12, the general college football landscape, and of course, random pics of hot coeds.
First, let's talk about OU: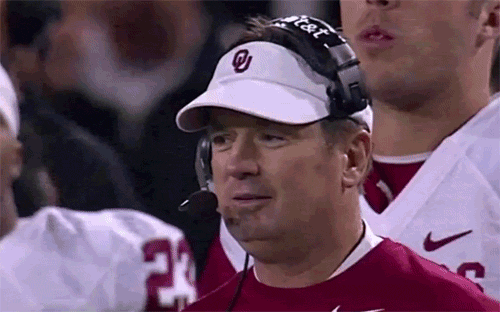 The University of Oklahoma: Land of Tepid Optimism and Shattered Expectations
Like the typical Oklahoma alum and football fan, I stupidly bought in to the hype last summer. Hammering Alabama in Sugar Bowl. Double digit returning starters. Renewed attitude. Sadly, it was blown to hell by terrible play calling, worse quarterback play and one awful pass defense. Oh well, at least I was right when I called for Josh Heupel to be fired following the Texas Tech game. I'm glad the OU donor who forced that move reads this column.
But enough about last year, it is exceedingly difficult to believe this Oklahoma team can pick itself off the mat and win 10 games. The days of an Oklahoma squad playing inspired football with their backs against the wall went the way of the dodo in 2014, courtesy of a 4-5 record to end the season, and culminating with a humiliating 34 point loss to Clemson in the Russell Athletic bowl. Those four wins? Against teams with a combined 15 wins and 34 losses.
Oklahoma will be breaking in several new starters on the offensive side of the ball. The most important is quarterback Baker Mayfield, the walk-on who was let go by Texas Tech and hasn't played in a real game in over two years. He'll be protected by three new offensive lineman, none of which saw major minutes in important games last year, and he'll be throwing to three guys on the outside who have caught meaningful passes in FBS. Seriously, THREE of the top 12 receivers have real experience at wide receiver ... and one of those guys is 12th on the depth chart ... behind a walk-on. Oh, and Oklahoma has a new offensive coordinator. He can't be any worse than what they had.
OU does have some solid playmakers returning. We all know what Perine can do, but he's now a power running back operating in the air raid spread. Will they go away from the pass, pass, pass, pass, pass, draw, pass, pass, pass, pass, draw system to force feed him the ball the 20 times a game he needs it to be successful? Everyone claims Mixon is the real deal, but at last check, he's the backup to Perine. Sterling Shepard is a good college receiver (when healthy) and has to potential to be a game changer, but every defensive coordinator knows that and will focus on slowing him down.
Frankly, though, the offense is the least of OU's concerns. Because at last check, some guy who is a shell of Mike Stoops is still roaming the sidelines in Norman. Actually, he's now in the press box. I'm sure that will fix things.
The Sooners finished in the bottom 20 of pass defense in 2014. Improvements should be expected as Oklahoma returns almost the entire back seven on defense. However, when you trot out starters like the Thomas Brothers and Hatari Byrd, and your best player is an undersized rush end with a cool name like Striker, it is hard to expect anything other than another historic ass kicking by [insert team]. Call me crazy, but you may not want so many returning starters when those starters play like petrified elephant shit. I look forward to seeing Jordan and Ahmad Thomas completely out of position for the majority of conference play while simultaneously watching Zack Sanchez miss an arm tackle and Steven Parker run the 60 yard dash chasing a wide open receiver.
Unless the secondary underwent a cosmic change of ability, I just don't see how Oklahoma stops Baylor or TCU or Oklahoma State. Oklahoma has to win two of those games to finish with 10 wins. No one, not even the girl in white pictured above, can convince me there are less than four losses on this schedule.
-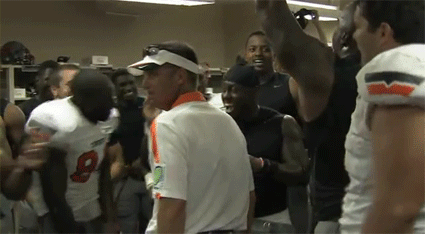 Oklahoma State University builds momentum for 2015 on a punt return and a bad Pac-10 team
I don't know how to put this politely – Oklahoma State sucks. Is awful. Putrid. Horrible. Shit. – Gravy Train, 11/17/2014
Good call, Dipshit.
It is amazing what one really, really, really bad decision by Bob Stoops and a win against a bad Washington team can do for what was once deemed a complete throwaway year. It is also amazing how expectations can go through the roof based on the same results. For example, OSU homer Blobert Allen can see OSU running the table in 2015. OSU has a shit ton of talent returning, but also has plenty of question marks on both sides of the ball.
Mason Rudolph showed Poke Nation he is the man. The true freshman took over for Daxxxxx German prior to a trip to Waco, proved game for the challenge, and led OSU to two wins to close out the 2014 campaign. His numbers weren't spectacular, but he was a 18 year-old kid, not expected to play, who showed moxie that rivals 48-year-old Brandon Weeden. And he's only sophomore ... who returns 7 of his 9 top pass catchers, including the next great OSU idiot/alcoholic wide receiver James Washington. Sure, OSU lost Tyreek Hill to some newly normal offseason shenangains, but if Chris Carson is anything close to what he is predicted to be, OSU will be fine with he and Rennie Childs operating the ground game. Oklahoma State has the makings for a top three offense in the conference.
All that said ... if the OSU offensive line isn't improved, none of the above will matter. OSU will start a backup transfer from UAB at left tackle and a walk-on with one start at center. Yes, Zach Crabtree has the makings of an All-American at right tackle. But the rest of the crew isn't anything to get excited about and they were, at times, terrible in 2014. Depth is also an issue. So ... bottom line, Poke fan better hope the skill positions offset the line in 2015.
The defense, aside from one huge exception, should be salty. Like top of the conference salty. Emmanuel Ogbah, Ashton Lampkin, and Kevin Peterson could be the best trio of defenders in the conference. OSU returns most of the team's top tacklers, it's best pass rushers, and virtually the entire secondary, including Lampkin. Gundy thinks this is best defense he will have had in Stillwater. I would tend to agree ... IF the defensive tackles are any good. If the Pokes struggle, it is going to be in the trenches. The Cowboys are lucky that few if any Big XII teams can run the ball between the tackles on a consistent basis. Oklahoma being an exception if you don't take into account coaching and "heart".
Oklahoma State has the personnel and schedule to make some noise this year nationally. Get into November undefeated? Could be an interesting late fall in Stillwater.
-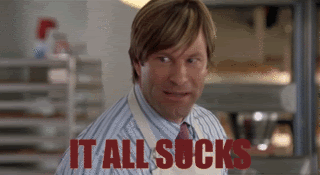 The Big XII is bad, like "the best teams in the conference are two SWC private school throwaways" bad
When an Oklahoma team with several question marks is your preseason third best team, your conference sucks. TCU and Baylor are decided favorites to win the conference. Who would have ever predicted that when the new Big 12 was formed? It isn't hard to imagine that Missouri and Texas A&M would finish 3rd and 4th if they stuck around.
The conference is not getting any favors from some Texas, whose struggles sum up the "One True Champion" crapfest. Texas is no good and has nothing on the horizon either. The Longhorns have no quarterback, no playmakers, and a big, slow and at times uninterested defense
Of course, none of that really matters to Texas fans. They're the most arrogant assholes in the world. I have this friend. We'll call him Walter Evans. He's a good dude. He has a daughter around my kids' age. I have worked with him on some projects in the past and served on a few committees with he and his wife. But he is a Texas grad. And by that, I mean he is stereotypical Texas fan, replete with misplaced arrogance and entitlement bereft of a fan who's program isn't firmly entrenched in the shitstorm known as mediocrity. Here are a few quotes taken from an actual conversation Sunday morning:
"Wouldn't it be hilarious if Akron beat Oklahoma? I mean, everyone would be calling for Stoops head!! Hilarious!!! We would never call for a coach's job like Sooner fan does."
"Did you know this is the first year the Texas athletic department wasn't the top revenue producer in the country in like ten years? That's only because that Nike guy gave like $95 million to the Oregon athletic department this year. So technically, we are still the richest."
"You got some new Wranglers with Copenhagen ring stains?"
That last one was because me and Mrs. Gravy moved south of the Canadian River this summer. Yeah, it's not related to the OU/Texas rivalry, but still... SCREW YOU.
Anyway, that's what Texas fan has been reduced to: revenue, schedule smack and personal attacks. Walt will be a fun conversation this football season.
-
How the local schools will finish
Oklahoma: Being the eternal optimist, I'm going to say OU shows some life and goes 8-4. I wouldn't be surprised of Trevor Knight starts a game or two, or even plays in special goal line packages called The INTDozer.
Oklahoma State: OSU goes to West Virginia and ends with Baylor, TCU, and Oklahoma (with ISU sprinkled in). They will lose 2 or 3 of those games. Pokes finish 9-3
Tulsa: The Wedges went 2-10 last year, all but two of their losses were by double digits. A pretty forgiving schedule with a new, high-powered offense gets Tulsa to bowl eligibility at 7-5.
-
My College Football Playoff Final Four Hunches
I'm calling these "hunches" as opposed to predictions, because let's be honest, part of the joy of college football is that it's unpredictable.
1. Ohio State: They won the national championship with a third team quarterback. It may be time to anoint as the best head coach in college football.
2. TCU: I love their offense, defense, special teams and even some of their cheerleaders.
3. Auburn: The bylaws of the College Football Playoff mandate that one SEC school has to make the playoff.
4. USC: When in doubt, go with the drunk coach.
-
Week One Predictions
Akron at Oklahoma:
Oklahoma will try to keep the starters in as long as possible and score as many points as they can to impress the dozens of fans who will be left in the stadium in the fourth quarter. Akron keeps is relatively close in the first half until Oklahoma runs away with the game late
Oklahoma: 47
Akron: 14
-
Oklahoma State at Central Michigan
Oklahoma State should be very good this year. Strange away game for the 'Pokes. No reason to play this game away from Stillwater other than to recruit the upper midwest. BIG 10 SPEED, Y'ALL!!
Oklahoma State: 50
Central Michigan: 21
Stay in touch
Sign up for our free newsletter