Everything Else
The time I was scammed out of $20 and made the Channel 9 news…
9:29 AM EDT on August 27, 2015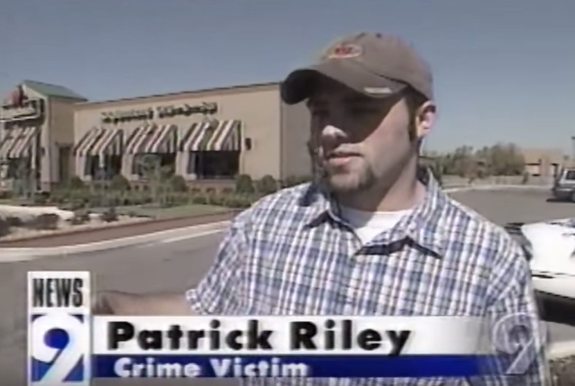 Pantyhose... Mercedes... $20...
No, that's not that beginning to our newest installment of Tuttle Tales – Aaron Goes to the Mechanic. Those are three things that helped me achieve my first 15-minutes of fame, and understand what it's like for the media to deservedly portray you as an absolute idiot.
Recently, I uncovered an old VHS copy of an interview I did with News 9's Gan Matthews in 1999. It may be one of the most embarrassing moments of my life. Since I almost have no shame, I thought I'd share it with you all today. But first, here's backstory...
Back when I was 21-years-old, wore awful jeans and didn't look anything like I do today, I waited tables at the Applebee's on NW Expressway. Now before you give me the nickname "Riblet" and swear to never read this site again, let me try to justify waiting tables at Applebee's.
1. This was 1999. In those olden, dial-up times, OKC didn't have all these cool fancy local restaurants, shops, bars and hipster food foragers. The only time you'd drive to Midtown, the Plaza or even Downtown was to get shot or buy crack. We were a city of restaurant chains. The most popular local eateries at the time were Ted's, Zio's and Sonic. In a strange way, I guess Oklahoma City hasn't changed all that much.
2. Pioneer Pies wasn't hiring. 
3. This was the first Applebee's to open in Oklahoma City. In all fairness, I had no clue I was working at the Walmart of casual restaurant chains and that I'd have to call my co-workers "Apple Buddies." In fact, the only reason I applied is because my friend, Wes, scored a job there a few weeks earlier and they had a hot 18-year-old hostess with big boobs named Katie.
4. It was a college job. I had just finished up my Hall of Fame career at OCCC, and was entering my first semester at UCO. My major was, get this, English Education. For the sake of my checking account and all high school students around this state, thank God I eventually dropped the "education" part. It was too difficult. UCO was all about this stupid "teaching portfolio" thing that requires you to be organized, motivated and take the teaching profession seriously. They were all about preparing teachers to make more money in other states.
5. I looked and acted like this: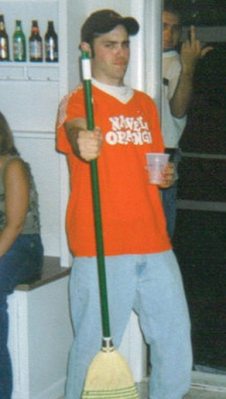 Wow. Those jeans. By the way, that's my friend Josh in the background. He's the guy who was with me when I got jumped at Booger Reds. Probably not surprising.
Anyway, one October night I was working the closing shift at Applebee's. It was about 10:55 or so, only 5 minutes before closing, and the place was dead. We had one customer in the restaurant – some old guy sipping on a Bud Light Brewtus at the bar – so I decided to get a head start on my closing duties and enter my $2 credit card tips into a computer located near the back of the bar, directly in front of the doorway leading to the smelly kitchen. You've been to an Applebee's with your grandparents before. You know what I'm talking about.
While I was standing there, an older model Mercedes zoomed into the parking lot with its hazard lights flashing and parked diagonally between two parking spots like Kit from Knight Rider. Unfortunately, David Hasselhoff didn't jump out of the car. Instead it was some defeated guy in a his mid to late 40s. He made a slow trot towards the front of the restaurant.
I looked at Karl, the bartender on duty, and asked:
"Crap. Should we tell him we're closed."
He shrugged his shoulders. "It's up to you."
Quick aside: Never walk into a restaurant right before they close and order a bunch of food and drinks. It's too risky. Sure, the staff will say they don't mind, but trust me, they fucking mind. You'll seriously have no clue what you're eating. Don't do it.
So the guy in the Mercedes walks in the front door, makes immediate eye contact with me, and walks down a little ramp to the bar area. He was wearing a inside-out-sweatshirt, mesh shorts and cheap adjustable baseball cap. I'm pretty sure he had a graying goatee. I was about to tell him "Sorry... we just closed," but before I could get a word in, he asked:
"Are you the manager? I have a problem and need to speak to someone."
Without waiting for me to answer, he immediately went into this long sad story about how he was about to drive to Elk City to pick up his wife who had car trouble, but a belt snapped on his Mercedes while he was driving down Expressway. He said he replaced the belt with a pair of his wife's panty hose that were in the car as a short-term fix. He then explained he accidentally left his wallet and credit cards in his wife's car and was short the $18.50 for a new belt.
I look at him skeptically and said "So you need $20?"
"I really do. I'm not joking around. That's my Mercedes right there. Just look at my hands."
I looked down and they were covered in black grease.
"I can give you collateral." he said. "Cell phone. Laptop. I just need to get to Elk City. I can come back tomorrow and take care of you." You have to remember, those things were luxury items in '99.
"You'll come back?"
"I will. I promise."
Then, like a schmuck who worked at Applebee's serving little old ladies Oriental Chicken Salads, I reached into the little money pouch tucked in my apron and handed the guy a $20 bill.
"Thanks, bud! I'll see you tomorrow."
Then, just as quickly as he walked in the restaurant, he walked out, hopped in his Mercedes and sped away.
–
As this point, you probably think you know what happened. The guy never came back and I was scammed out $20.
That's not 100% correct. You're right, the guy never came back and I was scammed, but I wasn't out any money. After we locked the front door and the old man at the bar left the restaurant, Karl the Bartender walked up to me.
"Remember the older gentlemen at the bar? He wanted me to give this to you." Karl then handed me a $20 bill. "He appreciates your kindness and generosity, and thinks he can afford to lose $20 more than you can."
I was floored. Karma is real! There is a God! And although I felt like I was caught walking around with my zipper down, I was not out $20. Everything was okay and I'd have one hell of a story to tell to the other waiters later at Lumpy's.
And this is where things get embarrassing.
A few days after all this happened, I'm up at Applebee's about to start my shift. The KFOR 5pm news is on the TV and Karl the Bartender starts freaking out. "Patrick! Patrick! Come here. Come look at the TV. Hurry!"
I run up to a TV in the bar area, look up, and there's Linda Cavanaugh warning viewers about a con artist targeting NW Oklahoma City businesses. He was going door-to-door telling people he was using panty hose as a belt on his Mercedes and asking people to borrow money, only to disappear and never be heard from again! It was the same guy! I couldn't believe it! I wasn't the only idiot in the world!
Karl suggested that I call the police and file a report. For some reason, I agreed. The next day, a Friday, some detective from the OKCPD fraud division came to my apartment at 122nd and Penn. He filed a report and showed me a lineup card. Honestly, none of the photos resembled the guy, so I picked a face and the detective left. I never heard from him again.
Four or five days eventually passed, and I figured the thing was done. In all honesty, I had already forgotten about it. But then, right before I was about to head to an afternoon class, I got a call from KWTV 9's Gan Matthews! Yep, THE Gan Matthews! This was from his pre-Cleveland County beat days. He was looking through the police reports, saw my story, and wanted to interview me for a report on Channel 9! Immediately, the "Spirit of Oklahoma" Jingle started playing in my head. I saw visions or me, Gan and Gary England becoming best friends, holding our hot and fresh Mold-A-Rama animals while riding the tram around the Oklahoma City Zoo. I was going to be famous!
I met Gan at Applebee's after class, they hooked me up with a microphone, and before you could say "Tequila Lime Chicken," Gan Matthews was interviewing me. I told him the entire tale. From the panty hose to the Mercedes to the good Samaritan who paid me back. Then, about four hours later, News 9 led the 6pm news with this crime story about a con artist who "tugs at the heartstrings of intelligent and experienced people."
You know what, I really should have worn a bear pelt and leggings. That would have looked more normal and natural than an Abercrombie hat, patterned shirt, white khakis and mandals. Plus, maybe Jenifer Reynolds would have been my Valentine.
After the news report aired, my pager – yes, pager – started blowing up. I called back the first person. It was my friend Lance. He was on speaker phone with his mom. In between loud laughs, he screamed into the phone if I had $20 he could borrow. At that point, I decided it would be a good idea not to call anyone back.
In a weird way, it's kind of fun to watch the video again. I'm still kind of irritated that Gan Matthews didn't explain that some nice dude gave me $20, but Gan probably had more important things to do like model for garden gnome statues and flirt with Tamara Pratt.
Here are a few random thoughts about the video:
- For the people who know me IRL, yes, that's me. I've aged about as well Renee Zellweger. I wish I could use plastic surgery as an excuse.
- Yes, I still do be believe that people who drive a Mercedes are "more reputable."
- I know I have a little Okie-twang to my accent, but I never remember it being that bad. I sound like a gay State Fair carnie in that clip.
- I like how Gan Matthews tells me that "I'm no fool," and I then turn around and mumble something incoherent like "the look on his face looked like somebody who was in panic." WTF. In panic? Was "panicked" too obvious a word for me? Even Dean Blevins thinks that sentence is fucked up.
Anyway, I guess let me know what you think about the video in the comments. And please resist the urge to ask if I'll loan you $20, or meet you for lunch at Applebee's. I know you want to, but I expect something more original.
Stay in touch
Sign up for our free newsletter