Everything Else
Friendly reminder, stupid frat boys are not the only bigots giving Oklahoma a bad name…
2:05 PM EDT on March 11, 2015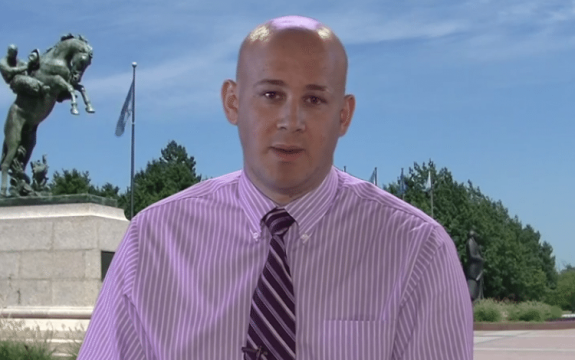 Last week, circumcised penis impersonator Joseph Silk, a State Senator from Broken Bow, sat down with the New York Times to talk about Senate Bill 440. The proposed legislation would give Oklahoma business owners the freedom to discriminate against gays and homosexuals; freedoms that, oddly enough, Oklahoma business owners already have since the LGBT community isn't protected under the Civil Rights Act.
A fan of irony, Silk named his bill the "Oklahoma Religious Freedom Restoration Act," because nothing represents freedom more than giving businesses the power to discriminate against individuals.
Via Salon:
State Sen. Joseph Silk made that statement in an interview with the New York Times, which examines the broader push for so-called religious freedom laws in a story published online Thursday. Silk told the Times that he while he knows real, breathing homosexuals and even considers some his friends, he nevertheless sees gay people as the top threat to religious liberty. "The L.G.B.T. movement is the main thing, the primary thing that's going to be challenging religious liberties and the freedom to live out religious convictions," Silk said. "And I say that sensitively, because I have homosexual friends."
Yeah, I'm sure this guy has a ton of homosexual friends. I bet there's nothing gays and lesbians in Broken Bow love more than to run into their old buddy Joseph, the homophobic legislator that sees gay people as "the top threat to religious liberty." I'm sure they're really his friend and not just being nice to his penis face.
After The Times story dropped, Silk's statements hit the national political blog circuit and solicited the typical "Check out what the fuck is happening in Oklahoma!" response. This prompted Silk to clarify his remarks on his website.
After careful consideration and prayer, I have decided to withdraw SB440 from consideration on the Senate floor. Upon speaking with religious leaders and my friends in LGBT community, I have learned the "Oklahoma Religious Freedom Restoration Act" is misguided legislation. It encourages discrimination and intolerance, and has the ability to actually harm those it...
Hehe. Just kidding. I made that up. Do you really think a GOP member of the Oklahoma Legislature would display a human trait called "compassion?" He actually doubled down on the gay hate like he was playing black jack at Gary's Chicaros.
Here is Silk's real statement:
An interview I had recently with the New York Times has gained a substantial amount of attention, so I thought it appropriate to clarify my views on this issue.

A bill that I recently introduced (SB 440) would protect businesses and religious entities who run their organizations according to their religious beliefs from being forced to violate their religious convictions in their businesses.
Once again, we should probably mention business owners already have the right to be bigoted assholes. That's because the LGBT community is not protected under the Civil Rights Act of 1964, which according to a guy named John F. Kennedy, was intended to give "all Americans the right to be served in facilities which are open to the public—hotels, restaurants, theaters, retail stores, and similar establishments."
This has outraged the LGBT community and they are crying discrimination while making themselves the only "target", in reality it has nothing to do with them. The intent of the bill is to protect private property rights and religious liberty. As a legislator, I will always fight to protect people's liberty to live their lives according to their beliefs and convictions.

People have a right to be homosexual and I will always protect that. However that right does not give them an excuse to trample another person's right to live out their religious beliefs in their place of business.
Well, at least he'll protect someone's "right" to be gay. That's nice. Hopefully he'll also protect a person's right to be tall, dumb or a bigoted state senator.
The problem with the current LGBT movement is that they have zero tolerance or consideration of other peoples rights, and yes they are a threat to our freedoms and liberties in the United States and Oklahoma. I am not questioning the rights of the LGBT movement, I believe they have the right to live how they want to live. They, on the other hand, are launching a massive campaign that is attempting to strip other people's individual liberties away if they hold different beliefs...this is complete intolerance.

Yes I did say that homosexuals do not have the right to be served in every store, just as I do not believe that I, my family, or anyone else have the right to be served in every private business. The right to provide services should be the decision of the business owners. We need to keep our country free and stop this radical, intolerant, movement.
Yep, the people fighting for equal rights under the law are part of a "radical, intolerant, movement." It's not the penis-faced Derplahoman who wants to let businesses discriminate against them.
Anyway, if you're bored, read Silk's statement again, only replace the words "LGBT" and "Homosexual" with "African-American" and "Black." His statement will read like something you'd see published in an Alabama newspaper editorial from the 1950s, which in all honesty, is where bigoted views like his belong.
Stay in touch
Sign up for our free newsletter