Everything Else
We tried the chunky guacamole recipe from Jack White's OU concert rider…
10:05 AM EST on February 2, 2015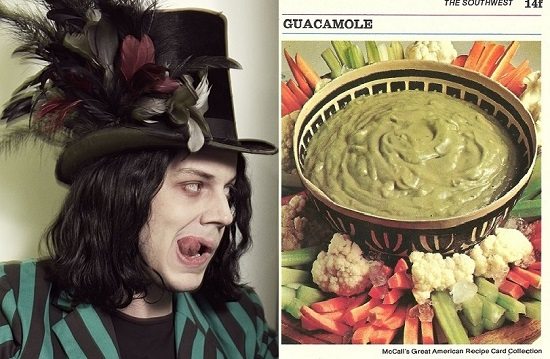 If you ever want to be totally disillusioned by any of your favorite artists, always take a look at their concert rider. Sure, on the outside they may appear to be one of the people, a regular Joe like you and me who has set out to change the world with only three chords and the truth, but a peek into their backstage requests will always open up the eyes of even the most worshipful fan.
From Van Halen's legendary brown M&Ms fiasco to Britney Spears' request that a framed photo of Princess Diana be in her dressing room at all times, you really got to wonder how much of these requests are necessary and how many of them are just power-tripping dares from overpaid and overrated pendejos who forgot where they came from.
Jack White's concert rider for his performance tonight in Norman seems to tread that line very finely.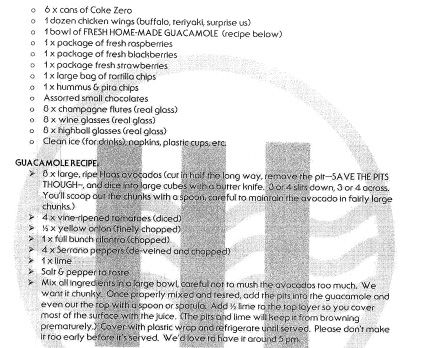 As reported by the Oklahoma Daily, White's rider calls for the mundane (six-pack of Coke Zero, a dozen chicken wings) to the outright inane ("We don't want to see bananas anywhere in the building," reads one clause.) But what has perhaps garnered the most attention is the confoundingly specific request for that South of the Border favorite, guacamole, insultingly followed by a precise recipe.
• 8 x large, ripe Haas avocados (cut in half the long way, remove the pit—SAVE THE PIT THOUGH--, and dice into large cubes with a butter knife. 3 or 4 slits down, 3 or 4 across. You'll scoop out the chunks with a spoon, careful to main the avocado in fairly large chunks.) • 4 x vine-ripened tomatoes (diced) • ½ x yellow onion (finely chopped) • 1 x full bunch cilantro (chopped) • 4 x Serrano peppers (de-veined and chopped) • 1 x lime • Salt & pepper to taste• Mix all ingredients in a large bowl, careful not to mush the avocados too much. We want it chunky. Once properly mixed and tested, add the pits into the guacamole and even out the top with a spoon or spatula. Add ½ lime to the top later so you cover move of the surface with the juice (The pits and lime will keep it from browning prematurely.) Cover with plastic wrap and refrigerate until served. Please don't make it too early before it's served. We'd love to have it around 5 pm.
Aye Dios mio, even the Pioneer Woman's recipe calls for more cojones than this!
I can only imagine a dedicated Latino cook, an artist who's spent years perfecting his palate for authentic Mexican cuisine, being given this recipe, totally second-guessed by the pinche guey who wrote "Dead Leaves and the Dirty Ground." You best take your ass on over to Ted's Café Escondido if you want that kind of service, Jack White—no self-respecting Latino is gonna be told how to make guacamole, especially from a recipe that has been so neutered, castrating any bit of culinary machismo the green garnish might even have: deveined serranos? Only salt and pepper?
While I kind of hope that White's opening act, the vastly underrated los rockers Chicano Batman, would take White aside and privately school the erstwhile White Stripes founder on proper guac-concocting, being the Lost Ogle's official chignon de comida, I was tasked to do their job for them, recreate White's guacamole recipe, word for word and garner some Superbowl snackers reactions and publicly shame the indie rock Morbius himself.
As you can see, here's the raw ingredients, right down to the specific type of avocado called for, the wonderfully textured Hass variation: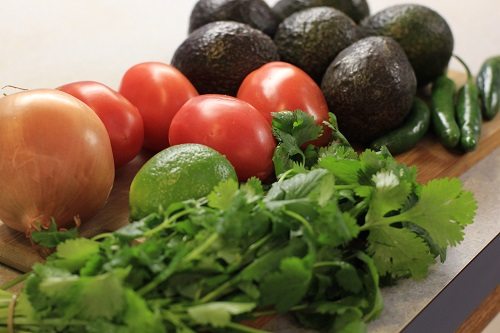 The most useless and time-consuming part was deveining the ever-so-thin serranos. Why would anyone do this? The heat…the flavor…the identity is in those veins and seeds. Without that power, this is just Mexican baby food. But even those Mexican babies wouldn't even eat without mom squeezing a little Valentina in it first.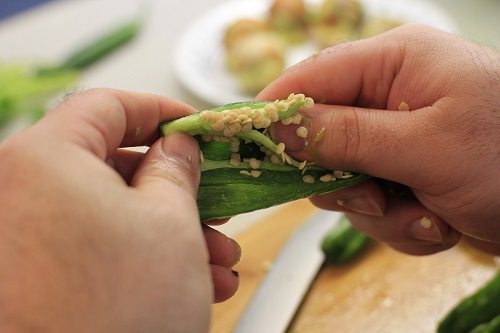 The ingredients combined in a bowl before and after mixing. Per White's request, I am keepin' it thick and chunky, something that I will agree with him about on everything from party dip to those sexy single moms at the Buy for Less Supermercado. I'll have what she's having.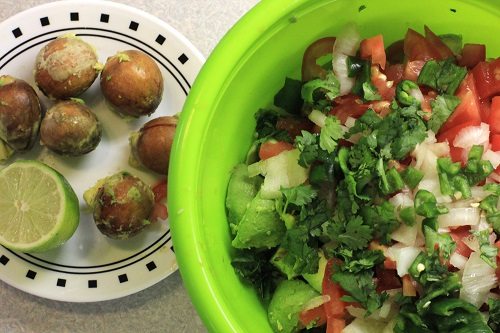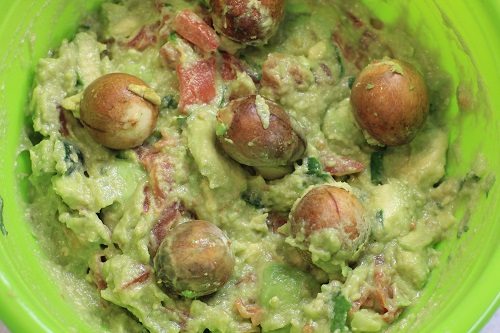 Throughout the evening, as I passed bowl around for various opinions in a rainbow coalition of taste-testers, the one word that kept coming back from even the whitest kids I know—and as a seasoned (no pun intended) guac consumer, fully expected it to—was bland. What White's recipe does is turn the beloved Aztec dish into a tepid, flavorless paste that might pass for cultural heritage in Detroit, but here in Oklahoma, it's bathroom spackle at best.
With this bowl of green dip so much more than just a snack treat now, it was suggested to me that I get the whole thing put into a more music-based perspective, so I went to Guestroom Records, 3701 N. Western, to get a few sound bites in-between bites from whoever was on duty.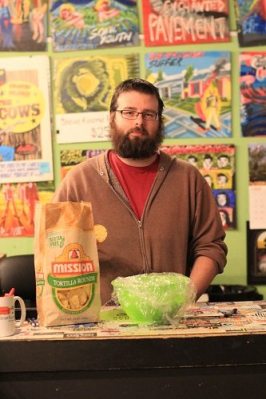 Even though opinionated Guestroom clerk Aaron Walton looks like the archetypal record store hipster (shades, ironically enough, of Jack Black in High Fidelity, anyone?), he's still a man who appreciates real Mexican food ("I love the spicier stuff," he said) and appreciates even more strangers walking in off the street just before closing to awkwardly offer him samples of some seriously pasty guacamole.
"It's not bad…it's just bland. There's no heat, no flavor," Walton said. "Jack White takes plenty of music from other cultures and makes it more white. I feel like that's what he's doing here…"
I couldn't agree more.
At the end of the evening, stuck with a big serving bowl of guacamole that I couldn't pay anyone to take off of my hands, when I got home, I did what any self-respecting Mexican would do: added a clove of garlic, about five chopped unveined jalapenos, some homemade chili powder, a few dashes of smoked Spanish paprika and my own secret additive that makes it my very own. And as a soundtrack? A supergroup of Tejano legends whose rider, if they ever come to the Metro, I'll take care of personally.
Photos courtesy of Dustin Harjo.
Follow Louis and his tool-like ethnic authority at @LouisFowler.
Stay in touch
Sign up for our free newsletter