ICYMI
The one where a guy from Lawton steals dirty movies from Family Video…
10:43 AM EST on November 21, 2014
I was running some errands yesterday in NW OKC and spotted this on the back of a Mercury Villager minivan.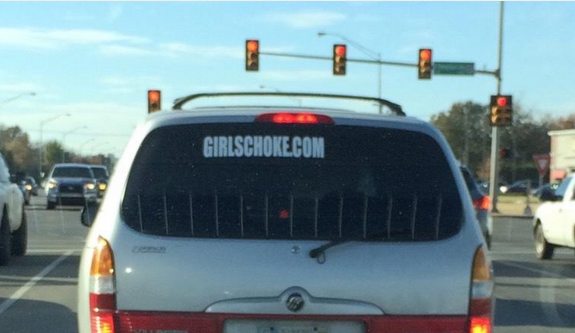 When I noticed the sticker, I thought "Yeah right... there's no way someone is driving around town with a porn site ad on the back of their minivan. It's probably just a weird goth band or something." So I grabbed my phone, went to GirlsChoke.com, and, well, yes way, someone is totally driving around town with a porn site sticker on the back of their minivan.
That may seem a little weird, tacky and gross, but at least there were not any stick figures having an orgy on the bottom right corner of the window. Also, the ad does provide a public service. Apparently there are some people out there who are not aware there's an ample supply of free pornography on the internet. And of course, these people live in Lawton.
We know this thanks to Anthony Mercier. He was recently busted trying to steal $1,200 worth of "porn" from a Lawton video store.
Via KSWO:
A Lawton man is behind bars after he stole nearly $1,200 in pornography from Family Video.
Okay, let's just stop it right there and address some questions...
1. Oklahoma video stores can sell porn? Unless our legislature recently changed some laws at the Blue House, the answer is "No." Oklahoma retail outlets are only able to sell 3.2% porn. You know, stuff like "Red Shoe Diaries" or "Rochelle! Rochelle!"
2. Family Video has an adult video section? That may be the greatest oxymoron of all time. Before you know it, Mardel will start selling biblical erotica and Family Leisure will let swingers have sex in the showroom hot tubs.
3. Why was the guy stealing from Family Video? Isn't this the same place that lets you rent 10 movies for $1 without any late fees? That would be like jacking a pizza from Cici's. It's about as stupid as paying for porn.
Here's the rest of the story. Like most things in Lawton, it involves cigarette lighters and the smell of burning plastic:
Anthony Mercier, 44, walked into Family Video Tuesday evening and went into the adult movie section. The employee at the front desk recognized him as a suspect in previous thefts and called officers to the store.

The employee and police watched as Mercier would select a video from the shelf, move to a different area of the store out of view and eventually put the movie cover back in its place. Mercier was seen doing this with several videos over a 45-minute period. The employee and police also noticed the smell of burning plastic. Police say this is a common way to remove the security device from the DVD case.

Mercier was reported to have been in the store earlier and several empty DVD cases were found with burn marks.

One of the officers in the store grabbed Mercier's arm as he tried to leave the store and several of the stolen DVDs fell out of his coat. They were afraid he would run once he saw the police vehicles outside of the store.

The officer and the employee recovered 21 empty DVD cases with burn marks from the store and 29 pornographic DVDs from Mercier's jacket. Twenty-one of the 29 videos matched the empty cases. The other eight videos are believed to have been stolen earlier in the day. Police also found 23 security tabs in Mercier's front right pocket.

Later, Mercier spontaneously told police that he was sorry for stealing the videos and admitted to using a lighter to bypass the security devices.
That's pretty sad. I think Knuckles should reach out to this guy and console him. Maybe write a rap song about him called "Porn Stealing Blues" or send home to GirlsChoke.com.
Stay in touch
Sign up for our free newsletter