Everything Else
College Football Musings from the Train: Week 12
10:05 AM EST on November 17, 2014
10) Oklahoma/Texas Tech
"Sometimes when you win, you really lose, and sometimes when you lose, you really win, and sometimes when you win or lose, you actually tie, and sometimes when you tie, you actually win or lose. Winning or losing is all one organic mechanism, from which one extracts what one needs." - Gloria Clemente, White Men Can't Jump
When is a win still a loss? When is running up over 500 yards of offense in Lubbock and winning going away still wildly disappointing and head shaking?
How about when your offensive coordinator is stupid enough to put the balance of the game on the arm of your freshman quarterback in his first start against the worst run defense in FBS.
Thank God someone got into that fat idiot's ear and told him he would be walking back to Norman if he called a single pass play in the second half. Well, that and Mike Stoops' decision to forgo the umbrella shitshow of a zone and take a chance that the guys YOU RECRUITED can play man coverage.
After falling behind a TERRIBLE (bold, italic, all caps and underline for emphasis) Texas Tech team 21-7 early in the third, primarily due to a complete disregard to logic and historical data, Oklahoma ran the Red Raiders off the field the final 25 minutes, while simultaneously figuring out how to defend a true freshman quarterback, winning going away 41-30.
Samaje Perine showed he can carry the load for entire games, rushing for 213 yards on 25 carries, including several jaunts replete with laid out defenders and broken tackles. Oklahoma outscored Tech 35-3 after falling behind in the second half. I suppose the fact this team did not fold is a sign they have some level of mental makeup.
Cody Thomas was predictably inconsistent. He was horrible executing a mind-boggling pass happy offense in the first half, throwing three interceptions, one of which took points off the board in the red zone. The latter ... I just don't know what to say. Except with 10 seconds left in the 1st half, down by a score, with a new starting quarterback, deep in your own territory ... you don't call for a 25 yard pass play. We all know what nearly happened.
But after Heupel underwent his halftime lobotomy, Thomas looked relatively good running the zone read. Yeah, I understand Texas Tech couldn't stop an elementary school fun run. But even against poor competition, Trevor Knight has struggled to effectively run the zone read. Thomas had no such issues. He ran for 103 yards on 8 carries, most of which came after halftime. And he has no fear. There was no sliding. No running out-of-bounds. He took on contact and it was quite the nice change from the quarterback running game in the history of Bob Stoops.
The defense started out the game as I expected: three and four man rushes, no real pressure, soft or combo zone, torched defense by a bad quarterback. Then Mike dialed up the pressure, brought five and six guys, left his corners and safeties on islands, and shut down Texas Tech for most of the second half.
There are some positives to take from this game (unlike one of those teams that played in Stillwater Saturday night), but the maddening complete lack of preparation and logical game planning on both sides of the ball did not change. The coordinators seem hell-bent on proving to the world that everyone else is wrong, and they are right. That running the ball 80% of the time with a badass offensive line and running backs, and a new starter at quarterback is dumb. That not pressuring a freshman quarterback to death is stupid.
I don't understand. And I am not the only one.
-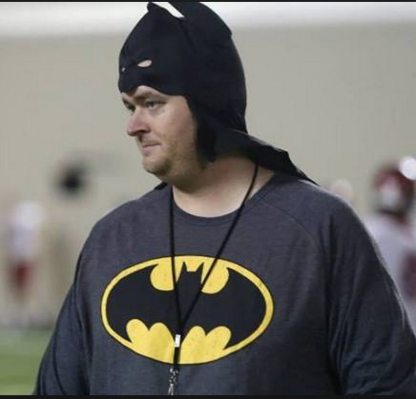 9) Josh Heupel Should Be Fired
Do not care that OU won the game. Do not care OU figured it out in second half. Do not care that Oklahoma outscored Texas tech 35-3 in the second half until the last play of the game.
The first half alone warrants the firing of the offensive coordinator.
Oklahoma, despite starting an inexperienced redshirt freshman with a grand total of 16 career passes, despite having its top receiver for one series, and despite playing against the 2nd worst run defense in the country, decided to call 17 passes against 18 runs in the first 30 minutes. Three of the passes resulted in interceptions, one of which was an inexplicable call in the Texas Tech red zone. The other an inexplicable call at the end of the first half when OU should have simply run out the clock.
My call for Heupel's firing came last year. It was screamed after Cody Thomas threw an interception in the first half with OU going in to tie the Red Raiders. Yes, Oklahoma had competed two straight passes. But the call made no sense. Texas Tech cannot and did not stop the running game. Calling a pass play on the first down in the red zone with the personnel Oklahoma is trotting out on offense is borderline brainless. Forcing a kid with less than 20 career passes to throw the ball 17 times in a half is nonsensical.
And don't get me going on the pass play to end the second half. You have a shell-shocked quarterback. A non-existent pass offense. Down by a score. Two picks already thrown. And for no reason you call a pass play down the sideline against a prevent defense. For what reason? Pad statistics? OU wasn't going to score. The ball was intercepted and Tech damn near took the ball back for a touchdown. Kneel, run the ball, run a screen, something. Take your licking at half.
I understand OU won the game, primarily due to the offense in the second half, but for OU to refuse to run the ball 80-90% of the time damn near cost them a win. And is a fireable offense.
-
8) The Second Half and Brain Engagement
And then the second half happened.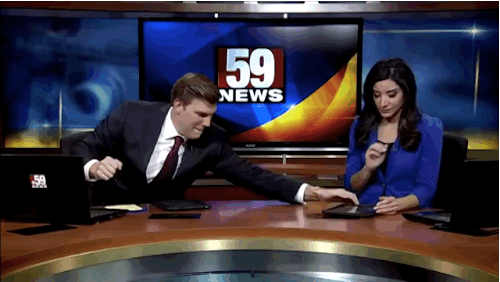 The Sooners ran completely over Texas Tech the final 30 minutes. After rushing for a paltry 68 yards in the first half, courtesy of the mongrel idiot calling plays, Bob Stoops (presumably) realized he was the head coach and cockslapped that moron, imploring him to call a power running attack against a porous Red Raider running defense. The Sooners responded with 316 rushing yards because Perine and Thomas can actually run a read option.
After throwing 17 passes, Cody Thomas threw THREE passes in the second half. Which should have been the number of passes thrown in the first half. There's no reason to have a new starting quarterback throw the ball nearly 20 times a game, much less one half. Samaje Perine went apeshit the final 30 minutes, running for just under 200 yards, including a game changing 64 yard touchdown run after the Fighting Notebooks moved ahead by two touchdowns on their first drive of the second half, because of course they did.
Whatever. And whoever. Someone figured out that Tech sucks donkey balls at stopping the run. You know, a fact everyone in America was aware of prior to 4:00 pm Saturday.
-
7) Florida Job Opens Up
First of all I know I should have more than two sections discussing OSU and Texas. But is there an OSU fan in America who really wants to read how poor OSU is at football right now? Besides, this has potential to be a huge national story with local ties.
It was announced yesterday that Will Muschamp would not be retained in Gainesville at the end of the season. Translation - his ass was fired after another embarrassing home loss, this time to South Carolina.
If Bob Stoops is ever going to leave OU for another college football head coaching job, it is this job and it will happen by the middle of January 2015. A high level employee of the OU athletic department once told me that Bob's goal was to pass Barry on the all-time wins list. I think that if OU had not turned it around the end of last year, Bob would have retired or taken an NFL job. No, he didn't get another national championship in Norman, but he has OU on cruise control (for better ... or worse)
He is a great coach. But he's been here longer than Barry or Bud. He is older than both when both retired. Things are going good, but not great. He has a coordinator problem. He has a fan base that is growing apathetic. He has one child who I believe is about to graduate high school, and, if I remember correctly, his twins are now driving - he and his wife are a few years away from the kids being out of the house. I could now more than ever envision a scenario where the kids and Carol stay in Norman for a few years, maybe even keep the house if one or more kids stay in Norman, while Bob takes the Florida job.
The guy needs a new challenge. He needs an excited fanbase. The SEC East does contain Spurrier (who is close to retirement/firing) and Mark Stoops, who won't stay at Kentucky. But that division could be won by Florida next year with a good coach and coordinators. Such a move keeps Bob's legacy intact in Norman and solves the coordinator problem. AND it doesn't impact his family the way it would have 10 years ago.
If it is going to happen, it happens now.
Well, that or Mike Gundy takes the job (or the LSU job, or the Michigan job, or the Nebraska job ...)
-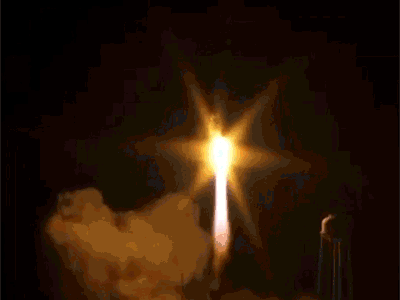 6) OSU/Texas and the Amazing OSU Offense
I don't know how to put this politely - Oklahoma State sucks. Is awful. Putrid. Horrible. Shit.
OSU was embarrassed by an ever improving Texas on Senior day in front of a few thousand Poke fans 28-7. The offense is probably the worst in the conference. After 45 minutes of football, OSU has less than 70 yards of offense. 3 first downs. Zero points. Down 22-0. This is what you get when you hire a Division III "prodigy" because your ego can't handle allowing someone with experience and a decent pedigree to call plays. And God forbid, he was successful. To describe this offense as anything other than an unmitigated failure is lying.
In such terrible years, one must find something to be excited about for next year. I don't see that in Stillwater. The offensive line isn't just young - it flat-out sucks. And they get worse as the season progresses. Daxx Garman isn't an FBS quarterback. The wide receivers are still pretty good, but the line can't hold the opposition from the quarterback for more than 3 seconds, and said quarterback can't deliver the ball accurately. Tyreke Hill is a great talent, but he needs the ball more than 7 times a game to impact the final score. Not a whole lot to look forward to.
Is the defense any good? Probably. There are some young pieces on the field that have all-conference potential. It's hard to judge that defense when the offense won't let you rest.
But, hey, at least the OSU crowd stuck around! You know, unlike OU fan last week. Oh wait...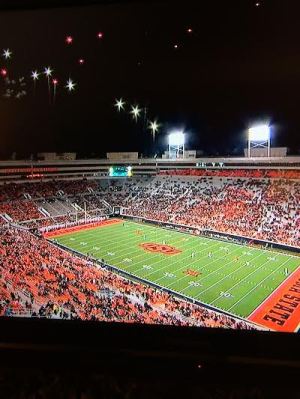 Are there 10,000 people in the stands? This was taken at halftime. That is probably a liberal number.  No one, and I mean no one, was left in the fourth quarter. So people like, say, Marlene should shut the $&@? up about OU fan and should direct their ire at the coaching staff, particular on the offense side of the ball.
-
5) 3rd down Conversions and Other Assorted Drizzling Shits
First OSU 3rd down conversion? 12 minutes left in the game. The Pokes have converted 11 of their last 57. Now three touchdown drives over the last 62. 6 conference games, 5 in which Garman has an Adjusted Quarterback Rating under 50. The number of points Baylor is going to score against OSU? Hovering around 60. Number of points Baylor will give up to OSU? Hovering around 0.
OSU's defense hasn't exactly lit the world on fire during conference play. But hell, what do you expect? The offense gives the defense no chance to be successful.
Something has to give. Either Gundy needs to move on, or overhaul his assistants. This is the same program that all but invented the highly paid assistant game.
-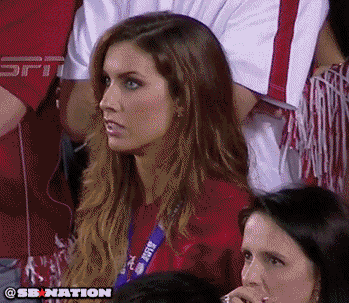 4) Alabama Returns
The demise of the Crimson tide was greatly ... wait, no it wasn't greatly anything ... Alabama is in the By God SEC West. Meaning they deserve all the accolades showered upon them. Or, as the rest of the country says, just act normal.
Alabama reinserted itself into the national championship discussion by defeated previously undefeated and top ranked Mississippi State. The game itself wasn't all that exciting, which says something about how mechanical this Crimson Tide team is. Alabama raced out to a 19-0 lead and frankly never looked back. The Bulldogs were able to score two touchdowns in the fourth quarter, but the result was never in doubt. Though the Crimson Tide were outgained by Mississippi State, they were efficient on offense and timely on defense, causing three turnovers, all from the arm of the prohibitive Heisman favorite.
When the college football playoff poll is revealed Tuesday afternoon, I expect Alabama will be at the top spot.
-
3) Florida State done Does it Again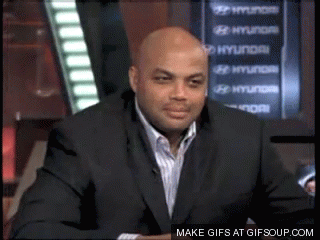 Yes Charles. SMF'ingH.
FSU was dominated by Miami for much of the night Saturday. And then the 'noles went all 2001 Ohio State, pulling victory from the jaws of defeat, outscoring the Hurricanes 20-3, and winning on the road 30-26. Bob Stoops may have sold his soul to the devil for the 2000 national championship, but the entire state of Florida has sold everything (Florida's football program, meth labs, teeth, duplex, morals, etc.) to allow FSU to keep this shit up.
They are due for an ass kicking in the playoff.
-
2) Final Four
Oregon - Still must play a decent team in the Pac 12 championship, but they are rolling right now. It will be interested to see who they play in the playoff and whether that rejuvenated offensive line can handle a real defense.
Alabama - The best team in the land.
TCU - Kansas isn't the same Kansas it was under Charlie Weis. But still, that was a bad win. They better watch out for Texas next Friday.
Florida State - Predictable. FSU is predictable.
-
1) Predictions
Oklahoma / Kansas
Kansas is shit. Oklahoma is not much better. But if OU runs the ball 80% of the time, they win by 30. They won't.
Oklahoma: 28
Kansas: 14
OSU/Baylor
This could be an ass kicking of epic proportions. A bad offense and a worn out, suspect defense going into Waco to play a team in desperate need of a statement win.
OSU: 14
Baylor: 63
Stay in touch
Sign up for our free newsletter