ICYMI
Behold the Emily Sutton earthquake face…
11:00 AM EDT on August 20, 2014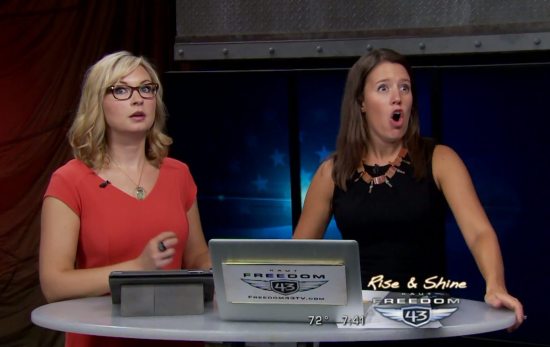 I'll admit, it's difficult for me to write about Emily Sutton right now. And no, it's not that I'm jealous about her engagement to Mr. Haha Imtotallybetterthanyou Fireman Dude. That's old news. I'm totally over that just like I am the James Harden trade, which will probably go down in history as one of the worst NBA trades of all time.
The issue is that now when I think of Emily Sutton, I find myself thinking about fireman, and when I think of fireman, I think of heat, and when I think of heat, I think of Miami, and when I think of Miami, I think of beaches, and when I think of beaches, I think of breasts, and when I think of breasts, well, I find it difficult to focus on writing for this website.
I bring all that up because Emily Sutton and Oklahoma City Community College Hall-of-Famer Lacey Lett were on the air Tuesday morning when another totally natural, not-induced-by-fracking-injection-wells earthquake hit the Edmond area. Thanks to it, we now know how Emily reacts when she sees a tornado or Serge Ibaka at the gym.
As is standard operating procedure, KFOR made a big deal about Emily and Lacey's reaction to the quake. It's not as erotic as the threesome Lacey Lett, Tammy Payne and Stan Miller had the last time the ground shook, but for a split second it looks like Emily and Lacey may kiss.
Here's the clip: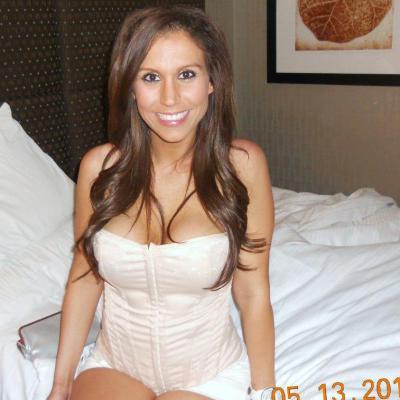 Dammit. See what I mean?! I thought about Emily, then I thought about firemen, and then yada yada yada, I find myself posting pics of KOCO's Tiffany Tatro. I could really use some therapy.
Here's the video of Emily and Lacey.
Did you miss the kissing part? Here it is: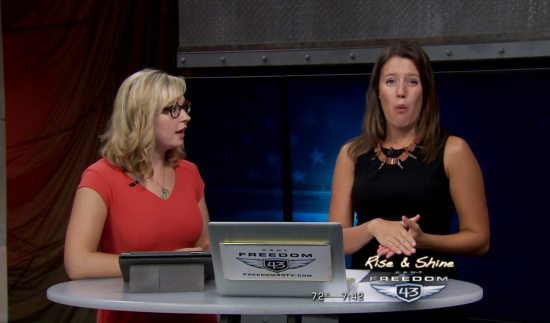 And here's a GIF of Emily dancing: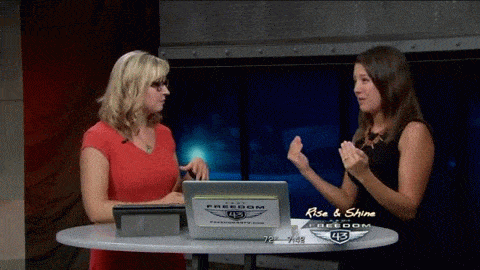 Because earthquake reaction videos are becoming so common, this video didn't go viral like the Danielle Dozier clip from a few months ago. In fact, I think the only other media outlet to give it any pub was Fox 13 in Utah. The channel is now home to the O.G. of Social Media Bandits, Ms. Mother Nature's Furry, Ashton Edwards:
Hilarious: News anchors freak out during earthquake on live TV

A 4.2 Magnitude earthquake hit Oklahoma Tuesday morning, according to the U.S. Geological Survey.

The quake's epicenter was near Guthrie, just over 30 miles north of Oklahoma City and was felt for miles.

Our sister stations in Oklahoma City, KFOR-TV and KAUT, were live on air when the tremor hit, as you can see in the video above.

Meteorologist Emily Sutton and anchor Lacey Lett had pretty good reactions.

No one was seriously injured.
Boy, that was a trip down memory lane. It was like reading a classic KFOR.com post from a year or two ago. I wonder how the folks in Salt Lake City like their Frugal Friday?
Anyway, I guess that concludes this week's edition of Emily Sutton Theatre. I swear to Gary England I'm not jealous about her engagement at all. I wish her the best of luck. Now excuse me while I take a break and search for Tiffany Tatro earthquake videos.
Stay in touch
Sign up for our free newsletter