Everything Else
The Garner Files: James Garner's Five Best Performances
12:00 PM EDT on July 22, 2014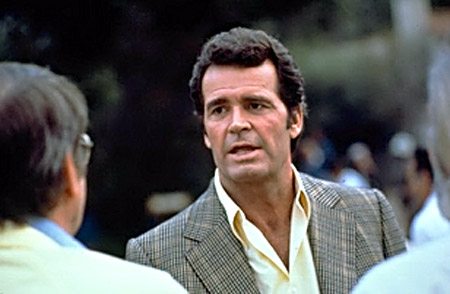 Oklahoma gets very few leading men in the pictures.
Sure, there's Brad Pitt, but he pretends like his life here never happened, so really, who does that leave you with? Brian Bosworth? Danny Cooksey? Ted Shackelford? All great actors, mind you, but not leading men material.
That's why James Garner was so revered by us. Born in Norman, Oklahoma, Garner was truly the last of his breed—an old-school charmer that could put up his dukes and outdraw any outlaw from here to Waco, or look positively dashing in a suit, sweeping sexy starlets like Kim Novak, Eva Marie Saint or Natalie Wood off their feet with equal aplomb.
Gaining notoriety in the late 50s for television westerns like Cheyenne and Maverick, his square-jawed good-looks and affable personality easily got him out of the cathode ghetto and onto the silver screen, becoming one of the biggest box-office draws of the 60s, becoming a quintessential jack of all trades right up until his death this past weekend, starring in hits like The Notebook and such.
Never forgetting his Okie roots, Garner could often be seen at OU games and even endowed the school's drama department with a half a million bucks, ensuring that his legacy will at least try to live on, both personally and pop culturally. It might not be a bronze statue, but in tribute to his career and legacy, here's five of his most seminal works that I consider to be his shining moments and a good time to load up that Netflix queue for a weekend marathon.
5. THE GREAT ESCAPE
The original Expendables! In what is truly one of the greatest casts ever committed to celluloid, Garner co-stars along with Steve McQueen, Sir Richard Attenborough, Charles Bronson, Donald Pleasence and James Coburn in a total man's man World War II epic, based on a true story, natch, about P.O.W.s who plan a daring escape from a dastardly Nazi concentration camp. Rivaling McQueen for cool on-screen was tough, but, as the "Scrounger" of the group, it was task that Garner was adept at effortlessly.
-
4. THE AMERICANIZATION OF EMILY
While many people tend to adore the 1981 Garner/Julie Andrew collaboration in (Tulsa-born) Blake Edwards' ribald farce Victor/Victoria, I've always had a soft spot for The Americanization of Emily, a 1964 anti-war dramedy that was actually their first time on-screen together. Written by the renowned playwright Paddy Chayefsky, Emily tells the story of an American Naval Reserve officer who, even in the middle of a bloody war, has managed to keep his penchant for the finer things in life well-stocked. This all changes, however, when he meets a recently-widowed motor-pool gal (Julie Andrews) and falls in love, then sent on a wholly useless mission which causes him to reflect on how he's been living his life amongst the bloodshed of his brothers in arms.
-
3. THE ROCKFORD FILES
Garner returned to TV in the 1970s, starring in what is widely considered one of the greatest shows on television, The Rockford Files. Playing smooth-talking private eye Jim Rockford, a wrongfully incarcerated dick that, back out on the streets, lives out of a broken-down old mobile home and spends his time helping put people so they don't end up in the same predicament as he did, he was the epitome of 70s cool. And let's not forget that Pontiac Firebird Esprit—when I was a kid, my dream cars were either that or Fred Sanford's junk-truck, for obvious reasons.
-
2. TANK
It was practically impossible to grow up on HBO in the early 80s without this action-comedy coming on at least twice a day, usually between showings of Harry and Son and Compromising Positions. Garner is likable-enough Sgt. Major Zack Carey, a career soldier looking forward to his retirement after his last post in a small Georgia town. But, when his younger son (C. Thomas Howell) runs afoul of the local redneck sheriff who seems to just absolutely hate our nation's armed forces, Carey takes matters into his own hands by unleashing his mammoth vintage Sherman on the backwards yokel law enforcement, blowing up everything in sight and creating a national sensation in the process. If only all of life's problems were that easy to solve.
-
1. MURPHY'S ROMANCE
Quite possibly my absolute favorite Garner performance, this movie will always hold a specific place in my heart, mostly because it was one of the few movie's that I ever saw my mother go ga-ga over when I was a kid. Maybe it was because she has always been attracted to older gentleman and James Garner was her ideal, unlike my father, who was also an older gentleman, but a brutally abusive monster to boot. Wishful thinking, I suppose.
In this sweet, subtle romance (one that Columbia Pictures didn't even want to make because there was no "sex or violence"), Sally Field is a perky recently-divorced single mom who, with her son (Corey Haim), has moved to a small Arizona town, determined to start her life over as a horse-trainer. Garner—justifiably nominated for his only Best Actor Oscar—is the town's likably lonely druggist that slowly romances her—per the title—even in the face of her boorish white trash ex returning to reclaim his woman. Garner's old-school wooing here is the something that should be passed down because when they say they don't make movies like this anymore, they really aren't kidding.
Other Garner films of note that I enjoy quite a bit, as a bonus, include: They Only Kill Their Masters (Garner vs. murderous dogs!), Skin Game (Garner and Louis Gossett Jr. swindle old west racists!) and Space Cowboys (Garner goes to space with Clint Eastwood, Donald Sutherland and Tommy Lee Jones!).
-
Agree or disagree with this list? Post some of your favorite Garner performances in the comments. And, as a bonus, any anecdotes you might have about this legendary Oklahoma native. Let's all work together to beat B.J. Wexler to the punch for once and for all.
Stay in touch
Sign up for our free newsletter