Everything Else
ALL 4 LOVE: Dream Celebrity Dates for Valentine's
1:00 PM EST on February 13, 2014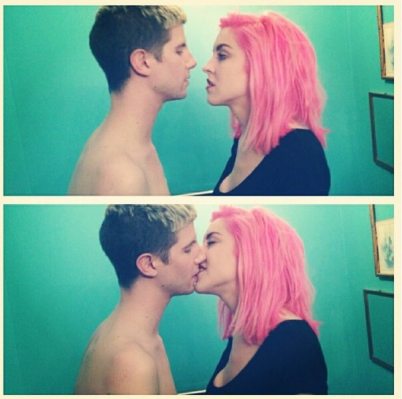 Sigh.
Looks like I'll be spending this Valentine's alone again with only my wife, my girlfriend and this side-chick that I occasionally hang out with to keep me romantic company. Don't get me wrong, they're great and all, but let's be honest: they're no sexy local celebrities.
What is it about local celebrities, the newsfakers and tastemakers of OKC, that is so much more sexually appealing than whatever piles of wet garbage that we're currently forced to make love to every night? Is it the fame? The personalities? The politics? The sheer fact that they're better than us because they oftentimes have a camera pointed in their direction? The probable idea that they're all members of some Eyes Wide Shut-style den of perversity that only the most beautiful and powerful of the Metro can ever gain admittance to?
While we may truly never know, I know that I can't be the only one to close my eyes and mentally dramatize what it would be like to be the significant other of a low-rent local name. So let's all lie back and turn the Lost Ogle into the Lust Ogle. Let the Eros forces of the universe let love inside our hearts, lust inside our loins, and imagine, just imagine, what it would be like to go on a romantic Valentine's Day date out with some of my favorite-ish local celebs.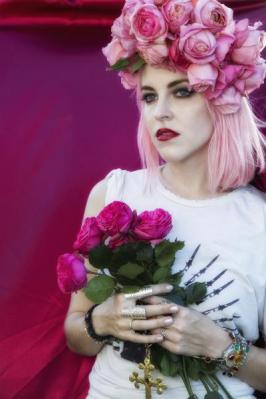 FALLIN' FOR CHRISTINA
Oh, that cotton candy hair. Do you think it smelled as good as it looked? Together, as Christina and I ride on my turbo jet-ski across Lake Hefner, her petite limbs wrapped around my ever expansive torso, holding tight as her pink coif mingles in the wind with my long Native American locks, I take a deep inhalation and yes! It smells like a State Fair snack wagon!
I'm in love.
Back on the shore, we enjoy a light lunch I packed of Chobani yogurt and those little cheeses wrapped in red wax while she produces a mini-Korg synthesizer from her knock-off Birkin and, together, we write a hip alternative rock song that will hopefully be used by drag performers at the Hi-Lo for years to come.
No Christina, your mom isn't invited! We laugh.
Love at first sight is an amazing thing and within hours, we're having a Unitarian pastor marry us at the Drum Room, but, when my insatiable like of their fried chicken leaves me too winded to perform my husbandly duties that night, she throws a cut-out bin copy of her latest album at me and has the marriage immediately annulled. It helps to have friends in high places, I guess.
In a fit of depression, I hang myself outside the Governor's Mansion.
-
I'M BUSTED, BUDDY!
For weeks now, I've been following Brian Bates, OKC's own Video Vigilante, filming his every move, learning his likes, his dislikes…you know, the usual. But what really draws me to him are those form-fitting Dockers that scream "Would you mind not bringing sexiness back here, pal?"
One chilly afternoon, I "accidentally" run into him at Epperson Camera and Video where we both reach for the latest Nikon XLR D-259 digital camera, our hands ever so slightly touching. There's a little spark that we both feel, our eyes meeting. I ask him if he's had anything to eat today and he replies that he hasn't but he's overdue for an Urbanspoon review.
He treats me to some downhome BBQ at some downtown joint I haven't heard of. As we flirt over sweet tea and hot-buttered rolls, I learn that Mr. Bates is a master of charming the pants off a fella, no school parking lot needed.
But, when our food finally arrives—full order of ribs for both of us—the veneer wears off as Brian seems more interested in writing a cleverly brutal review of the Carolina-style sauce and sugary coleslaw than our date. I hurriedly finish my food and offer my hand in gratitude for the meal, but he's far too engrossed in critiquing the forcibly rustic ambiance of this otherwise fine eatery to even notice.
In a fit of heartbreak, I hang myself outside Chucho's Bar on S. Robinson.
-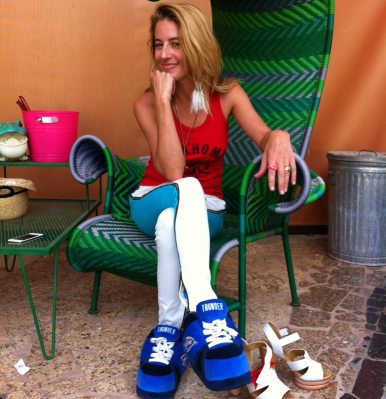 ONE COYNE IN THE FOUNTAIN
I first saw her sitting on a bench in the Plaza District, crying into her hands. I walked over and asked her if everything was okay, and she tearfully said "No, I'm leaving my husband!"
I sat down next to her and as I reached in my pocket for my handkerchief, I accidentally dropped the small tube of glitter that I carry around with me. She glanced at it and then smiled that beautifully crooked smile that was impossible not to fall in love with.
Her name was Michelle. I really didn't know much about her or her former hubby's band—I'm more of a Bryan Adams, Sting, Rod Stewart kind of guy—but I knew that, in that split second, I could love her for the rest of my life. "Let's make it all for one," I told her. "I'm all for love."
After a reasonably-priced slice of 'za at Empire—instead of parmesan, we used that same glitter that brought us together—we decided to go back to my place because I guess her old man was still at her old place. It's cool. It's the 90s. I'm progressive. Obama.
Before we could enter my house, she asked me what I did for a living. I matter-of-factly told her that I run an Instagram account called "LouisTakesPicsOfAllThe Naked18YearOldsButDon't WorryIt'sArt." It's more of a start-up, really.
Without a word, she turned and walked away. And there I was, left standing, alone, on my porch. And as the rain started, it washed my glitter-encrusted broken heart right into the gutter, never to be seen again.
In a fit of emotional distress, I hang myself on a vagina sculpture in the Womb.
-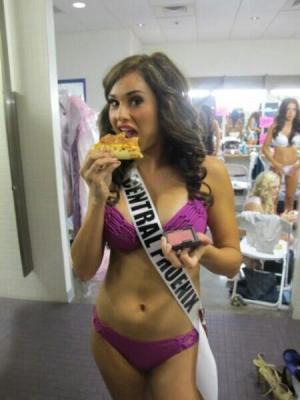 VIVA LAS SANTOS
Let me let you in on a little secret: I really don't care for white women.
Those white girls I date? They're just Caucasian sex dolls to have fun with until I find someone of my own race—preferably Mexican, thank you—to settle down with and start a family, all in a very respectful, traditional way that would make LA RAZA proud. Or, at the very least, my abuela.
I think I found that girl! Her name is Siera Santos and she's the hottest newsperson this side of an episode of Primer Impacto. Testing the waters, I sent her an email saying that I write for the Lost Ogle and that I think she really has a shot at being this year's Hottest Woman in OKC News Media. After going one step further and mentioning that we should discuss it over dinner, she caved in and, in the spirit of all things non-white, met at my current favorite lunch spot, Taqueria Rafitas.
As we laughed and connected over barbacoa tortas and Dean Blevins anecdotes, I sat back and could truly see my future in her eyes…our little brown-skinned babies being around our fenced-in front yard by an unneutered pitbull, attending the quinceañera of one of my 127 nieces and, most poignant of all, my abuela giving Siera and mine's coupling her blessing…
….RING RING….
Well, dammit. It's her white fireman boyfriend Brad. He's about to come pick her up in his new Iroc-Z so she "better get her ass outside now." He sounds like a total tool.  But, hey, he's a fireman. Chicks dig that, no matter what race, I guess.
In a fit of pure machismo melancholy, however, I down a bottle of tequila and stand outside mi amor Siera's window singing this song:
And then, wouldn't you know, Chad shoots my spic ass and I die.
-
Before he ends up in prison, follow @LouisFowler on Twitter.

Stay in touch
Sign up for our free newsletter