Everything Else
Love's is celebrating its 50th anniversary. Hopefully they'll clean their bathrooms.
1:00 PM EST on January 16, 2014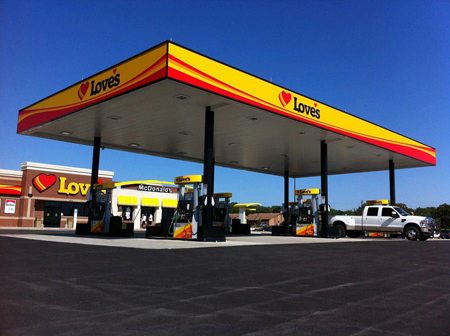 A few months ago I had to travel to Tulsa for a quick Saturday visit. Before hitting the Turner Turnpike, I stopped by the Love's on NE 122nd and I35 to get some gas. I remember two things about my visit:
1. I think it's where the Oklahoma State Fair carnies hang out on the weekends. Not that I expect a truck stop gas station to be like the Whole Foods parking lot, but this was awful. I almost thought I drove into a beat-up Dodge Neon Trade Show. I'm pretty sure there were two guys standing in front of the store arguing about who had the most teeth or meth. I couldn't totally understand them/
2. I spilled a little bit of gasoline on my hands. Don't you hate it when that happens? Because I was about to go on a 100-mile drive and didn't want to smell gasoline for the entire trip, I went inside the store's restroom to wash my hands. Dear God, that was a mistake. Gasoline may smell awful and emit toxic fumes, but at least it kills germs and doesn't breed them. That Love's bathroom was like walking into a life-sized petri dish of disease and sadness. It smelled like a mop bucket filled with bleach and urine and the entire floor was covered with a thin pool of what I pray to God was water. It was so bad that after washing my hands, they somehow felt dirtier. Next time I'll be sure to wear a radioactive clean suit.
Anyway, I bring all that up because Love's is celebrating their 50th anniversary. Here's a story by Jay Marks with the Oklahoman's PR Department:
Love's Travel Stops plans to open as many as 30 new stores this year as the family-owned Oklahoma company celebrates its 50th anniversary.

Officials will detail their expansion plans Tuesday in St. Louis at the opening of Love's newest location.

"I'm humbled every day by our success," founder Tom Love said in a news release. "Our unwavering commitment to our customers has been a significant force that's driven us full speed into the second 50 years of Love's."

Love's began in 1964 when Tom and Judy Love leased an abandoned filling station in Watonga. The company now boasts 312 locations in 39 states and more than 10,000 employees.

Love's typically adds about 20 stores a year, but officials plan to accelerate growth this year.

"Many companies are still struggling due to the economy, but we're fortunate to maintain our growth status," Love said. "I'm proud of how far we've come, but this unprecedented year of building that coincides with our 50th anniversary goes a long way toward showing that Love's has a lot more ground to cover."
Love's ranked No. 9 on Forbes' recent list of the largest private companies in the U.S. with estimated annual revenue of $26 billion.

The company has about 700 employees at its corporate headquarters in The Village. It recently purchased three more office buildings at NW 63 and Lake Hefner Parkway.
$26 billion a year? Jesus Christ. Instead of using all that revenue to build more stores, take Oklahoman reporters to lunch, and / or sponsor the totally demeaning Love's Loud City at Thunder Games (Seriously, isn't that kind of demeaning and patronizing thing. We get it. We're in the cheap seats. Don't rub it in by giving us a cute nickname for the amusement of all the people in the lower level), why don't they hire a guy at each location just to clean the bathrooms? That would be anniversary present everyone would enjoy.
Stay in touch
Sign up for our free newsletter