Everything Else
Liligers, Kangaroos and Weatherman: 10 news stories we missed over Christmas week
1:00 PM EST on December 30, 2013
Kind of like you, we fell off the map last week for Christmas and are about to do it again for New Years. Before we do so, I wanted to get caught up on things and share 10 local stories that we probably would have covered last week had we not been drinking with our families and getting stuck with a beard trimmer during Dirty Santa. Check it out. It's a great way to kill time while you're catching up on emails before falling behind again.
The first two are below, the rest are after the jump: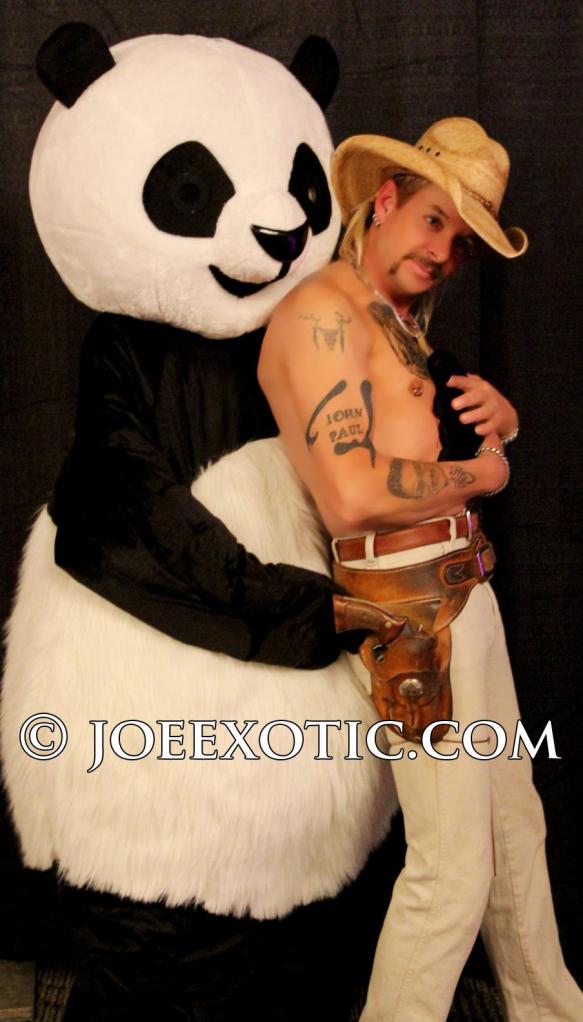 1. Joe Exotic has bred a liliger
Our favorite eccentric zoo keeper, Joe Exotic (a.k.a. the guy pictured who's not in the panda suit), made national news when he announced a litter of liliger cubs were born in his zoo outside Wynnewood:
From ABC News:
If ligers aren't exotic enough for you, meet the liliger. The Garold Wayne Interactive Zoological Park in Wynnewood, Okla., is home to the country's first liliger cubs, the hybrid offspring of a male lion named Simba and a female liger named Akaria.

The entertainment director at the zoo, who goes by the name "Joe Exotic," said that Akaria gave birth to three female cubs around Thanksgiving. "They were actually born during a storm, so we had to remove them from mom to keep them alive," he told ABC News.

He knows that it's difficult for a liger to breed but not impossible. "For 30 years since the liger has been in existence, everyone thought they were sterile," he said. "But we paired a baby liger and a baby white tiger male six years ago and came up with the first tiliger. That proved female ligers weren't sterile."

The zoo plans for the cubs to have their own exhibit. "They will be ready for public view just shortly after the first [of January]," said the entertainment director. "For now, they're currently living in my house."
They're living in his house? Those poor liligers! That has to be against some law, right? Maybe we can get DHS, Napoleon Dynamite and Uncle Rico to use their skills to save them.
Also, is anyone else concerned that the story of Joe Exotic is starting to read like the plot to a bad horror movie? What's really going on in that little animal sanctuary in southern Oklahoma? Expect Wynnewood to be attacked by a genetically altered breed of super cats any day now. It will be step one of Joe Exotic's plan to either take over the world or force people to listen to his music.
---
2. Ed Shadid has denied that he ever freebased cocaine with a male prostitute
As we predicted, The Oklahoman waited until the Sunday paper to hype what they found in Ed Shadid's divorce records. The most attention-getting accusation:
In a court hearing in August 2005, Hammam testified specifically about two times her husband used cocaine during their marriage.

"Basically he told me that he freebased cocaine with a male prostitute in San Francisco while I was away at a wedding in Switzerland," she testified about the first time.

The couple lived in San Francisco for awhile after they wed in 2000.

"He told me ... the first time because the male prostitute buzzed us and announced his name and I asked, 'Who is this?' And he was begging this guy to go away and told me who he was," she said.

She testified he also told her about using cocaine with other adults in a hotel in Las Vegas after he and his brother traveled there about four weeks before the brother died "of a cocaine overdose in October of 2004."

"He ... told me that he'd used for 24 hours, and that it just practically killed him," she testified.

Hammam's attorney brought up the cocaine issue at the hearing to support her claim that Shadid was an unfit parent.
For what it's worth. Ed Shadid denied the allegations that he used cocaine with a male prostitute:
"There were many false allegations during our divorce, which were reported on by The Oklahoman and other media outlets. For instance, outrageous allegations of sexual abuse and "free-basing" cocaine with a male prostitute were completely untrue."
Shadid has published a really nice blog post about the ordeal. You should check it out.
Also, once word of these allegations reached the Cornett camp, Mayor Mick promptly released a statement admitting that he once chugged three Mountain Dews and watched Pretty Woman on TNT.
---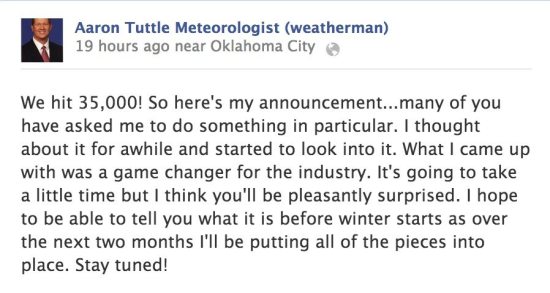 3. Aaron Tuttle is developing a weather app
Back in September, Facebook weatherman Aaron Tuttle warned that he was working on a "game changer" for the weather industry. Well, I guess the game has changed. He's announced the release of an Aaron Tuttle smartphone app. It's for those of you that need a little extra fear and doomsday prognostications when it comes to your Oklahoma weather forecast: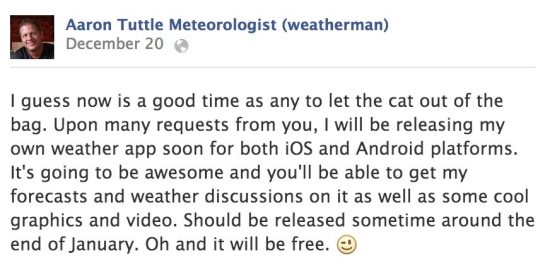 That's cool. I wonder if there will be a paid version where you can get Tuttle selfies?
---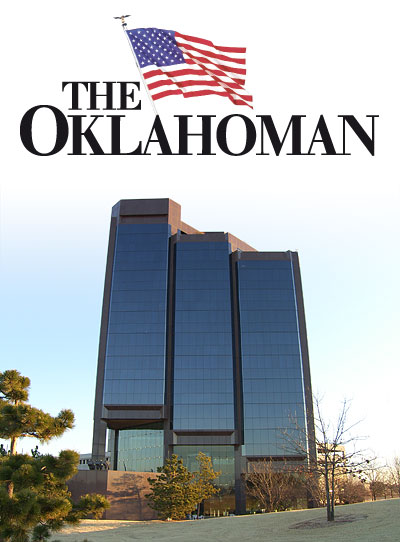 4. The Oklahoman did a great job in monitoring Russell Westbrook's injury...
Thanks to their inside access to players and coaches, connections to ownership, and all their other sources within the organization, The Oklahoman sports department is the go-to source for all things Oklahoma City Thunder. That's why on Thursday, the day before Russ had surgery on his ailing knee, the "State's Most Trusted News" published the following article about how healthy he is:
Following the Thunder's Christmas blowout in New York, Kevin Durant was asked a question he and his teammates face regularly at road venues.

"Does it look like Russell Westbrook is finally back to 100 percent?"

" … Triple-double in three quarters," Durant responded after a brief pause. "That speaks for itself."

For a time, the topic was relevant and the answer was unknown. But now, after Westbrook's latest masterful performance in an extended string of them, another question seems a bit more pressing.

Is this Westbrook — a seemingly fully healed Westbrook — the best version of the three-time All-Star we've ever seen?

Because in a dominant December, you could make a strong case for it.
That's embarrassing, but at least they didn't do go as far as the Tulsa World: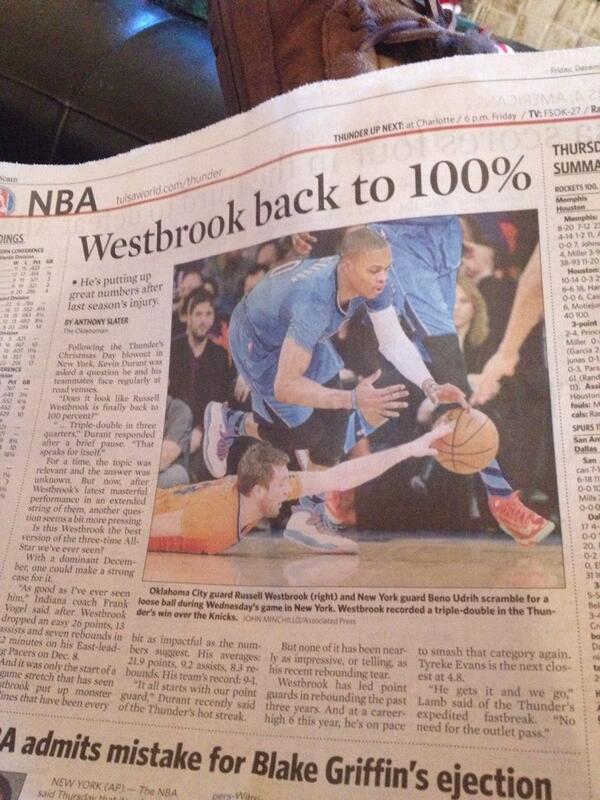 And that's what you get for sharing content with The Oklahoman.
This would probably be a good time to point out that a local newspaper that has two Thunder beat writers and brands itself as the best source for Thunder news and info had no freakin' clue that Russell Westbrook was going to have surgery on his knee. I know the Thunder is a tight-lipped organization, but how does word like this not leak out? It either means:
A) The Oklahoman has no insider access to the team
B) They sat on the news of RW's surgery.
Considering every Thunder article in the Oklahoman reads like it was written by the Thunder Ministry of Propaganda, I'm voting for B. The Joke probably had a story filed and ready to go, but Presti probably axed it when he reviewed his draft of the sports page the night before.
---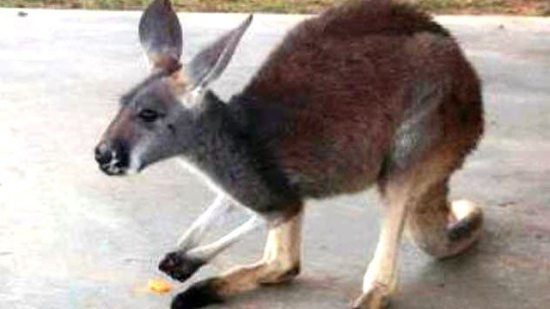 5. Hunters stumbled across a kangaroo in Northeastern Oklahoma...
A couple of dudes from Adair were goose hunting in the Hundred Acre Wood when they came across a kangaroo. Even if you've already watched the clip 20 times, do it once more. The guy's reaction is hysterical:
Obviously, the story of a kangaroo sighting in Oklahoma got everyone thinking the same thing: "Is that kangaroo Lucy Sparkles, and is Maddox the Missing Pincher tucked away in her pouch?"
Unfortunately, the answer is no. From the Bring Lucy Sparkles Home Facebook page: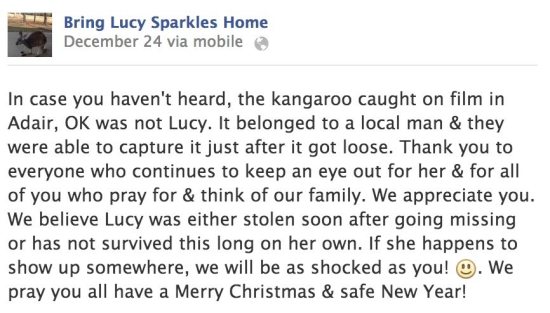 Rest in peace, little Lucy.
-
6. Randy Terrill was sentenced to a year in prison
Stuff the piñata and pour the cerveza, Randy Terrill is going to jail! Well, maybe:
Former Oklahoma Rep. Randy Terrill sentenced in bribery trial

Former state Rep. Randy Terrill, 44, was sentenced to one year in prison and fined $5,000 in Oklahoma County District Court. He remains free on appeal...

After formally being sentenced to a year in prison for bribery, former Rep. Randy Terrill said he was an innocent target of a misguided prosecution.

"What you witnessed was less me being on trial than the legislative process being on trial," Terrill, 44, said Friday after he was sentenced for bribing a legislative candidate not to run. He also was fined $5,000.

"I understand that I was the showpiece. And I understand they wanted to see me paraded out here in the orange jumpsuit. And, you know, I'm sorry I didn't have the jumpsuit on for you guys today. I know that's going to be very disappointing to the district attorney."
He's free on appeal? That's as disappointing as Mexican restaurant that doesn't serve free cheese sauce. Oh well, at least we still have a pic of him in an orange jumpsuit. Hopefully, he gets to wear one for a full year very soon.
-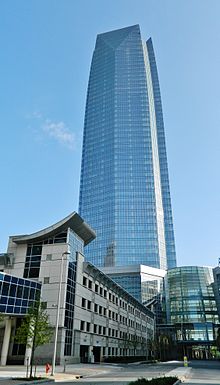 7. Protestors at the Devon Tower were charged with orchestrating a terrorism hoax...
Remember those activists who demonstrated at the Devon Tower a few weeks ago? They were protesting Devon's involvement in fracking and the role it plays in destroying the environment and stuff. Well, OKCPD has charged a couple of them with perpetuating a "terrorism hoax" because glitter fell off some of their banners.
From Mother Jones:
Stefan Warner and Moriah Stephenson, members of the environmental group Great Plains Tar Sands Resistance, were part of a group of about a dozen activists demonstrating at Devon Tower, the headquarters of fossil fuel giant Devon Energy. They activists were protesting the company's use of fracking, its role in mining of Canada's tar sands, and its ties to TransCanada, the energy company planning to construct the Keystone XL pipeline. As other activists blocked the building's revolving door, Warner and Stephenson hung two banners—one a cranberry-colored sheet emblazoned with The Hunger Games "mockingjay" symbol and the words "The odds are never in our favor" in gold letters—from the second floor of the Devon Tower's atrium.

Police who responded to the scene arrested Warner and Stephenson along with two other protesters. But while their fellow activists were arrested for trespassing, Warner and Stephenson were hit with additional charges of staging a fake bioterrorism attack. It's an unusually harsh charge to levy against nuisance protestors. In Oklahoma, a conviction for a "terrorist hoax" carries a prison sentence of up to 10 years.

Oklahoma City police spokesman Captain Dexter Nelson tells Mother Jones that Devon Tower security officers worried that the "unknown substance" falling from the two banners might be toxic because of "the covert way [the protesters] presented themselves…A lot were dressed as somewhat transient-looking individuals. Some were wearing all black," he says. "Inside the banners was a lot of black powder substance, later determined to be glitter." In their report, Nelson says, police who responded to the scene described it as a "biochemical assault." "Even the FBI responded," he adds. A spokesman for Devon Energy declined to comment...

In June, activists publicized TransCanada PowerPoint presentations delivered to law enforcement officials that encouraged them to arrest Keystone XL protesters on terrorism charges. One presentation suggested law enforcement officers contact district attorneys for "information regarding the applicability of state or federal anti-terrorism laws prohibiting sabotage or terroristic acts against critical infrastructures" when dealing with nonviolent protesters, or working with a FBI field office.

The environmental protest group Bold Nebraska obtained the briefings through an open-records request to the Nebraska State Patrol. After the presentations were made public, a TransCanada spokesman defended them by citing disruptive landowner demonstrations along the pipeline's proposed route in Oklahoma and Texas. TransCanada prepared one presentation, dated April 2012, specifically for the FBI.

Parr says Oklahoma City police seemed determined on Friday to arrest the Devon protesters on terrorism-related charges. He says he overheard an officer at the scene, Major Steve McCool, ask for guidance by phone on how to charge Warner and Stephenson under Oklahoma's anti-terrorism act. Nelson says McCool would have consulted with the city or district attorney to determine the charges. "Who they contacted, I wouldn't know," he says. A TransCanada spokesman referred a request for comment to the Oklahoma City police.
Because they are the "State's Most Trusted News" and have a duty to inform the public about situations where it appears the local police and large corporations are working together to intimidate people from engaging in protest, The Oklahoman pursued the story with their usual brand of flare and gusto:
Four environmental activists were in jail Friday afternoon after staging a demonstration at Devon Energy Center in Oklahoma City.

About 9:45 a.m. Friday, two of the protesters chained themselves to a revolving door at the office tower. Others unfurled two banners and spread what appeared to be black powder on the floor of the lobby.

The black substance alarmed regular tower occupants, who called police and the fire department, officers said. The powder turned out to be harmless black glitter.

Moriah Stephenson, 27, of Oklahoma City, and Stefan Warner, 26, of Harrah, were arrested during the demonstration on complaints of terrorism hoax, trespassing and disorderly conduct.

Cory Mathis, 23, of Austin, Texas, and Caroline McNally, 22, of Simi Valley, Calif., were arrested on trespassing and disorderly conduct complaints. All four were being held at Oklahoma County jail Friday afternoon.
And that's about it. If only one of the protesters could have been a marijuana addict, then the story would get the attention it deserves.
-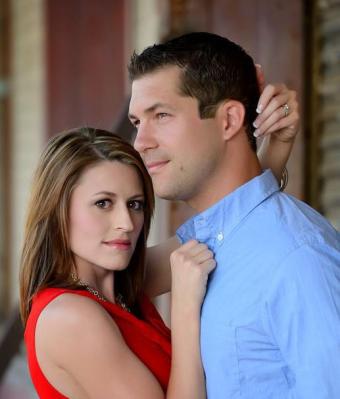 8. Damon Lane is working as a temporary weekend meteorologist on Good Morning America
Last week, we were hit with some search engine queries for "Damon Lane Good Morning America." This is probably why:
I don't know many details about this, but you have to think this is some sort of audition. If so, good for Damon. I'm jealous of anyone who gets to work with Ginger Zee.
-
9. Some guy finally punched one of those anti-abortion protesters
Imagine this. You and your girlfriend are leaving an abortion clinic after making a very difficult, private and personal decision, and suddenly some guy from Amish Mafia approaches you with a video camera and starts "ministering" to you "about the slaughter." How would you respond? This guy got angry:
For what it's worth, these are the same protesters who show up to public events like Thunder games and music festivals with signs displaying aborted fetuses and all that stuff. I don't condone violence, but that kind of makes me want to find the attacker and buy him a Little Mike's hamburger.
Also, here's the abortion protesters response:
Instead of punching the guy, he should have shaved his beard. That would have shown him.
-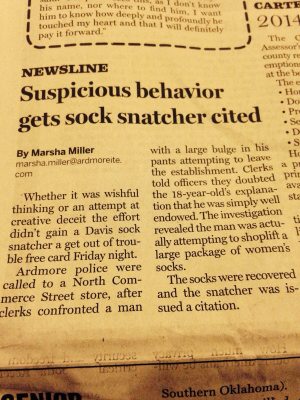 10. Ardmore police confronted a shoplifter with a large bulge in his pants...
I stumbled across this on the Oklahoma Reddit page. It's always fun to see a paper have fun with an absurd story. Marsha Miller should win some sort of award.
-
Anyway, if you ever stumble across a story we should know about, send us an email or contact us on Twitter or Facebook. Have a safe and happy new year.
Stay in touch
Sign up for our free newsletter