Everything Else
Stop the presses! Cars are being robbed in Nichols Hills…
1:35 PM EDT on October 29, 2013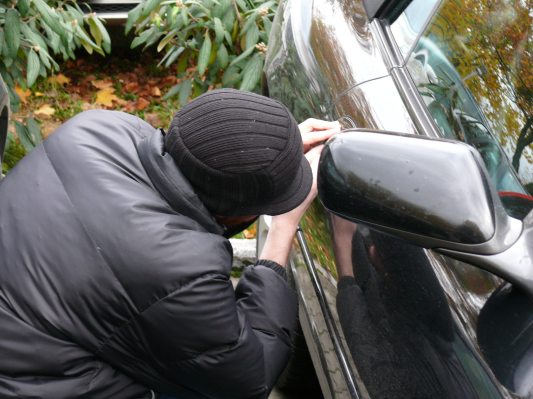 Auto burglary and theft is one of the most common crimes in America. At least I think it is. Everyone has had their car broken into once or twice, right?
It's happened to me at least a half-dozen times. The first two experiences occurred while I was in high school. One time, thieves I probably knew stole my JVC pullout tape player. Not only did they unnecessarily break out an expensive-to-replace vent window when the car was unlocked, but they made sure to eject and leave behind the Stone Temple Pilots cassette tape that was in the unit. At least they had good taste in music.
The third, fourth and fifth time all occurred when I lived in Lincoln Greens near 122nd and Penn. The one that burned the most was when they jacked the new Pioneer 5 Disc CD changer from the trunk of my Mitsubishi Galant. The device cost like $350, and that didn't include the installation and / or interest I paid on my credit card. The assholes also took my booklet of 100 CDs. They (fortunately) didn't leave behind any STP.
Just a few years ago, my car was broken into while parked in my garage. It was a Sunday night and I accidentally left my garage door open until about 10:00 p.m. That means while I was in my living room watching Sunday night football and eating spaghetti, some creepy and bold-as-fuck prick was in my garage going through the glove compartment of my car. King Big Balls took an old iPod Shuffle and change from my cup holder. I didn't even notice until I was driving to work the following morning and saw the contents of my glove compartment on the floor.
Finally, just a few months ago, a Level 4 Ogle Groupie's car was burglarized while parked in my drive way. The person grabbed some boxes of books from the trunk, and then proceeded to rummage through them by the side of my house. By the way, did I tell you I recently acquired a gun?
Anyway, I shared all that with you for a couple of reasons:
1. I felt like needlessly showing my age and enjoyed the transition from tape player to CD changer to MP3 shuffle stick.
2. I wanted to hit home the point that auto burglaries are common and frequent crimes that target lower-income folks and don't really deserve special media attention... unless, of course, you work for KFOR and the burglaries take place at an affluent country club in Nichols Hills. Then we need to be worried and alert and aware and watch KFOR for the details:
A high profile country club's parking lot has fallen victim to a string of smash and grab burglaries.

Nichols Hills Police say they want to talk to a group of people in surveillance video in connection with a string of smash and grab burglaries at the Oklahoma City Golf and Country Club.

Detective Casey Nix says the video comes from different stores around town where one of the victim's stolen credit cards was used.

"On two occasions employees were able to see the suspect vehicle and actually get tag numbers on the vehicle," says Nix. "Those tag numbers were later determined to be stolen."

Within the past two weeks, police say in addition to credit cards thieves stole a laptop, a cell phone, a hand gun and three thousand dollars in cash, all visible from the car's windows.
Uhm, that's it? Either these people are bad robbers or they accidentally hit the employee parking lot. This is the Oklahoma City Golf and Country Club. It's the most exclusive, high-end place in town. The thieves should be jacking gold bars, trust funds and debutantes.
Let's see what some pompous, probably out-of-touch with reality Nichols Hills resident thinks about the rash of break-ins:
Nichols Hills resident Greg Story says, "They have the nerve to go over there in the country club parking lot with valet people around and people coming and going."
Yeah, those thieves had the "nerve" to rob cars in the country club in front of the valet. That's much worse than doing it in The Village where the valets probably live. Where's the decency? I wonder what's next? Stealing a car in front of the coat check man or shoeshiner?
Story lives across the street from the country club and says the parking lot has been targeted before. The club's security has even used his driveway to stake it out.

"I went out there and said well what's going on?" says Story. "He said we're watching because of the car burglaries."
Attention thieves that robbed the Oklahoma City Golf and Country Club, thanks to Greg Story and KFOR, it's probably time for you to relocate the operations. I would suggest Gallardia, but it's gone bankrupt.
Story and Detective Nix have one solution to the club's problems if thieves come back.

"You just have to be careful," says Story. "And lock your doors."...

Story says the members had a right to think their things would be safe.

"Because it should be. It should be safe," says Story. "You should be able to go over there and valet park your car and be safe."
I'm not trying to empathize with or condone the actions of the thieves here, but this Greg Story guy sure is making it tough. He's about as sympathetic as the Sheriff of Nottingham. Does he really have to drop the valet references? We get it. Thieves targeted rich folks who use the valet! That doesn't make it any better or worse. Things like this happen all the time. It's a sad fact of life. I guess welcome to the club outside of the country club.
Stay in touch
Sign up for our free newsletter