Everything Else
Mary Fallin launched her 2014 re-election campaign by parking cars like a crazy person…
10:44 AM EDT on October 18, 2013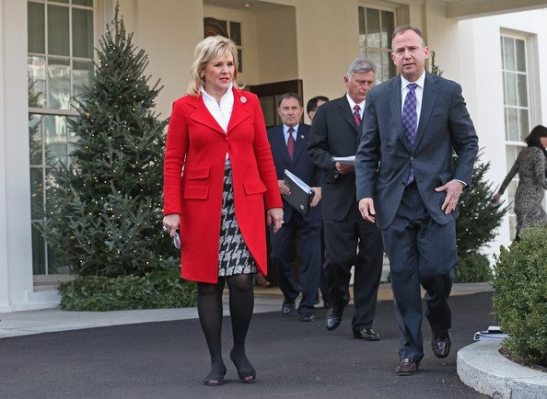 Yesterday afternoon, Oklahoma Governor Mary Fallin announced she is going to be the governor of Oklahoma from 2014 through 2018, or at least until Jim Inhofe dies. She did this in the form of something called a "re-election campaign kickoff."
The Oklahoman's new Birkenstock wearing hippie capitol reporter Graham Lee Brewer elaborates:
Oklahoma Gov. Fallin starts campaign for second term

Republican Gov. Mary Fallin, a former congresswoman, state House representative and lieutenant governor, launched her campaign for a second term as governor on Thursday at the Oklahoma History Center in Oklahoma City.

With the state Capitol and the Devon Tower looming in the background, Gov. Mary Fallin began her campaign for a second term Thursday at the Oklahoma History Center. She also made stops in Tulsa and Lawton.

A former congresswoman, state House representative and lieutenant governor, Fallin became Oklahoma's first female governor when she took office in 2011.

In her first term, Fallin and her administration have focused on creating a pro-business economic climate in the state, pushing reductions in the state's income tax and backing changes in the state's civil justice system.

"I think our big goal moving forward is that blah blah blah blah blah
You know what, does it really matter? This lady's going to win. She knows it, we know it, they know it and you know it. She could cuss out Andrew Speno, dye her hair pink and get caught doing coke with Wayne Coyne in the Blue Note bathroom and still coast to an easy victory. The only way she loses this thing is if zombies take over the world. Actually, that probably wouldn't even matter. Zombies love Mary Fallin.
You can tell there's some arrogance and overconfidence brewing in the Fallin camp. If you're looking for proof, just check out the way her campaign staff parked their cars at the Tulsa stop on her campaign launch. The pic was apparently snapped in the early morning hours by an Ogle Mole. The car is parked in front of a bagel shop: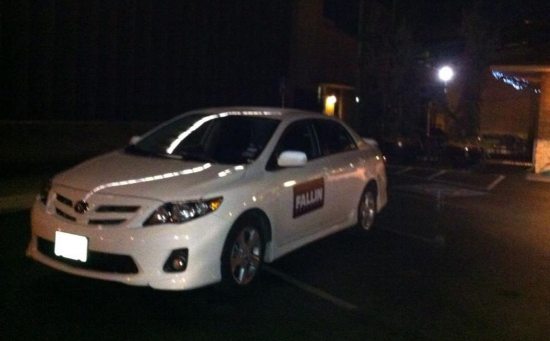 They took up three parking spots and nearly blocked access to the handicapped one. I can understand them doing this at the French Market Mall on 63rd and May, but this was for a wildlypopular campaign launch. Other people need to park their cars and cheer for the governor, too.
Of course, I'm possibly just overreacting. Some savvy politico on the Fallin team realized the tacky mistake and fixed the problem: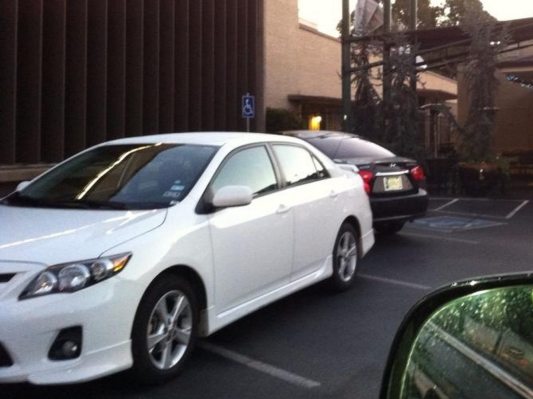 There you go. That takes care of it. In fact, why do I respect just taking off the magnet more than actually moving the car? That's some swagger right there. Also, why do I think the following conversation took place:
"I'm sorry officer, we have no clue who parked their car so badly. It could not have been someone from the Fallin campaign. I think the car belongs to Wayne Green from the Tulsa World. Wait, I'm sorry! You're a highway patrolman?! Well nevermind then! Let me show you this little magnet in the trunk. Do you have dinner plans later?!"
Anyway, this is shaping up to be the most boring gubernatorial election since 1998 when Keating defeated Denise Boyd. At least I think that's who it was. I'm too lazy to look it up. The last few elections haven't been very close, but at least they had established name candidates in Jari Askins and Ernest Istook. The Democratic field is so weak this year that Joe Dorman could throw his hat into the ring (just kidding, we know he wouldn't take off his hat) and he'd probably win the Democratic nomination. That wouldn't be too bad. At least we'd get a couple of Joleen Chaney watermelon pics.
Stay in touch
Sign up for our free newsletter