Everything Else
A License to Fill: A selection of less-religious Oklahoma license plate alternatives that everyone can agree on
10:38 AM EDT on August 19, 2013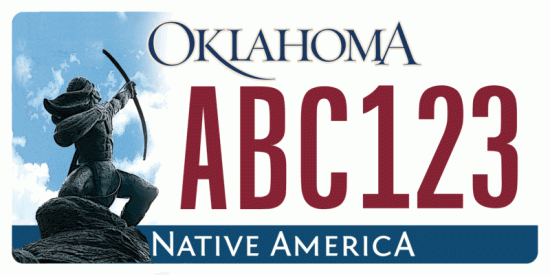 As much as you, faithful reader of the Lost Ogle, and I have tried to prove otherwise, there are many notable Oklahomans out there who want to continually reinforce the idea that we, as a state, are the right-wing hyper-religious stereotypes that the rest of the country thinks we are. Whether it's local radio personalities coining the phrase "Guns and ammo for everyone!" days after Sandy Hook, local small-time politicians putting up websites dedicated to the belief that their darker-skinned rival wasn't born in America, or, as Keith Cressman, pastor at the St. Marks United Methodist Church in Bethany believes, that the Native American warrior shooting an arrow into the sky in the hopes of rain on our license plates is an affront to his Christian beliefs, there's always gotta be some dude who just has to ruin it for the rest of us.
But, in Cressman's case, he just might succeed: last June a federal appeals court ruled that the minister's case can proceed. What does this mean? Well, on the negative side, it means that racial bigotry—especially towards Native Americans, such as myself—is alive and well in Oklahoma City. On the plus side, however, it might mean that a new "Design Our New License Plate" contest will be coming up very shortly! Eagerly anticipating the deluge of entrants, I wanted to get my ideas in early. These are plates that, I feel, best describe everything that represent Oklahoma on a sheet of metal that goes on the back of your car.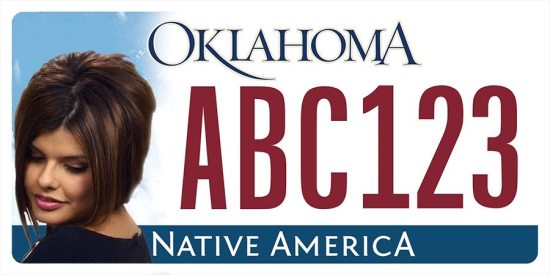 THIS HAIRSTYLE
Since moving back to Oklahoma, I've noticed that this repulsive hairstyle—I don't know what it's called and I'm not going to bother to look it up—seems to decorate and desecrate the heads of 9 out of 10 Oklahoma women, most notably every single dental hygienist, elementary school teacher and First Fidelity bank teller in the state. For extra sass, they always seem to add a pair of hot pink flip-flops, gym shorts that ride up just a little too high and an old OU sorority "Li'l Sis" sweatshirt. They are also usually racists, but maybe that's just to me.
-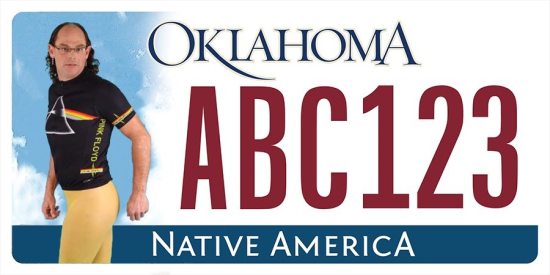 BIKERFOX®
According to his Wikipedia entry, the Tulsa performance artist (?) BikerFox® believes that "a bicycle should have the same rights as an automobile while driving around town without being impeded by cars. In fact an automobile should be extra cautious when approaching any pedestrian, biker or disabled person on the sidewalk or walking in the streets. Respect oneself only then can one respect others." What better way to not only remind yourself to not only share the road, but to do so with extreme caution, than with a middle-aged creeper biking enthusiast that has been arrested over 10 times and been charged with 3 felonies (ALLEGEDLY®) staring at you accusingly (yet highly smoldering) everywhere you look?
-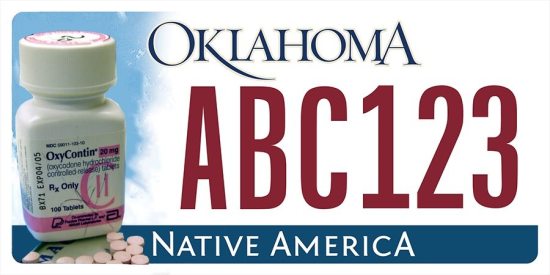 OXYCONTIN
Have you ever been busted for trying to use an alias at CSL Plasma? Do you refer to prescriptions as "scripps"?  Do you visit Valley Brook more than three times a week, yet only once to patronize Valley of the Dolls? Then chances are you have a heartbreaking addiction to OxyContin, or, as it's known in lesser circles, "stepmother's little helpers". But hide in the shadows no longer with this exclusive tribute to the little miracle pill that takes all of your pain away, be it physical or emotional, in just the few scant minutes it takes to drop your kids off at their alternative school.
-
JESSIE JAYNE
Like many people in Oklahoma City, I continually hope and wish and pray that during one of my frequent trips to the amazingly still open Penn Square Mall, I accidentally bump into Jessie Jayne and that she is so overcome with lust at my facial hair and obesity that she offers to meet me in the Yankee Candle break room. Could it happen? Probably. But until that magic moment, at least I can look at this license plate and hold out some form of hope until it does, wherein I will invariably be left embarrassed and sickened with my inability to maintain an erection under the intense pressure of performing with her.
-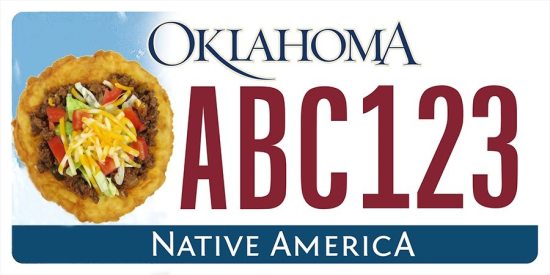 THE INDIAN TACO
I'm mostly submitting this one because it's 2 a.m. and dammit, do I really want an Indian taco. Why isn't there an all-night Great State Fair of Oklahoma around when I need one? (Besides the 24 hour Wal-Mart at Belle Isle, of course.)
-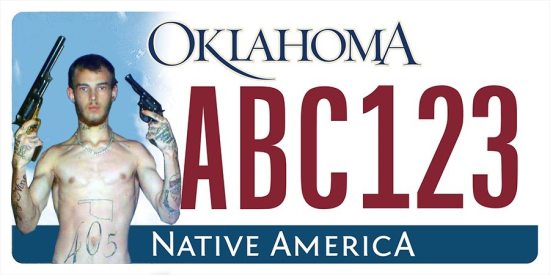 ZERO
Can we all just agree that no one—and I mean no one, you jerk—has more Oklahoma pride than thoroughly scary talented local rapper Zero? Covered head-to-toe in inspirational OK-inspired ink, Zero has released numerous hip-hop odes to his home state, as well as becoming something of a second amendment patriot, unashamedly defending our Constitutional right to bear arms by posing in numerous pictures with large guns, all of which are best used to protect our homes and children from people who would want to take our guns away and throw us in FEMA death camps. Scoff if you want to, but when Obama and his army of New World Order thugs come marching up Western, you'll only hope and pray that Zero and his scary gang freedom lovin' pals are there to defend us and our way of life. So send a message to the Illuminati fatcats in Washington by putting Zero on our license plates!
-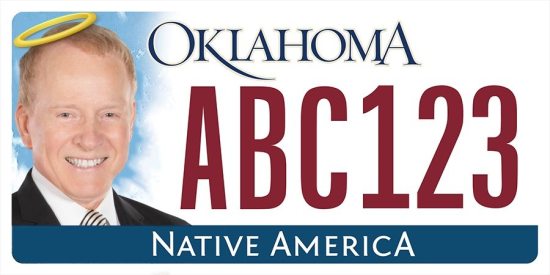 GARY ENGLAND
Even the most ardent atheists agree that Gray England, with his preternatural sense of weather prognostication, is proof that there is a God and that, even today, he continually sending down angels to mate with human women, creating beings called nephilims that are God's warriors and the sworn defenders of the Earth. Or something like that. I think it all has something to do with the Quickening. But either way, Gary England is a supernatural being who is worthy of at least the same status of St. Medard. But until some clever entrepreneur makes dashboard Gary Englands, I'd feel just as blessed and protected if he were on my license plate, always keeping me advised.
Editor's Note: Special thanks to Burke Hamblin for the idea and the artwork.
-
Louis Fowler is an overweight Native-American/Mexican-American freelance pop-culture vigilante based out of OKC, as well as the 2013 Plaza District Hot Dog Eating Champion. Follow him on Twitter at @LouisFowler and catch his work every week in the Oklahoma Gazette.
Stay in touch
Sign up for our free newsletter