OKC Media
The new 107.7FM sports talk station will be called The Franchise…
5:56 PM EDT on August 7, 2013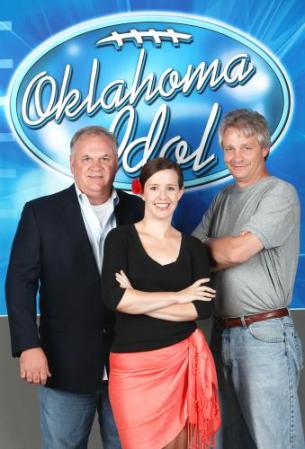 As you know, Tyler Media recently announced they are converting 107.7FM to a sports radio format. Back on August 1, we updated our Twitter followers to some of the developments.
Here's the first tweet we sent out:
It looks like we were right...again. Earlier today, Tyler confirmed the station's name and released the logo. They even got some guy to say the Franchise in a deep voice or something. Here's a video of the logo:
So, is The Franchise a good name? I don't know. I guess they could have gone with The Fan, The Ticket, The Score, The Game, The Jock, The Zone, etc, but just like the Franchise, those names are kind of generic and in use in other markets. I personally would have gone with The Drunk Heckler, but what do I know. One complaint I've heard is The Franchise is kind of long and doesn't exactly roll off the tongue, but then again, you can say the same about The Sports Animal. They seem to be doing okay.
In addition to other stuff reported on this site (Steely, Lump, and Rohde going; Rodgers staying; Traber "undecided"), here's some other news about The Franchise:
Hey, it could be worse. They could have hired Robert Allen or Greg Swaim.
Actually, I don't mind Sam Mayes all that much. Even though he's such a massive OSU homer that he drinks juice out of an old Mike Gundy jock strap and actually enjoys eating those nasty orange and black wrapped candies that old ladies give away for Halloween, he actually seems to know a little bit about football. Plus, once again, he's not Robert Allen or Greg Swaim
-
This was a good move. Randy's worked behind the scenes at The Sports Animal for years and is a good dude. Back in the HornetsCentral.com days, I would appear for a segment on the "Hornets Weekly" radio show with Randy, Pork and Brandon Rush. That's before I was "toxic." I think the last time I saw Randy was when a friend and I were doing a "mock run" for one of our Snuggie Pub Crawls and barhopping on Classen Circle. Randy was drunk out of his mind in the Drunken Fry parking lot. He was blabbering like Sloth from Goonies while some Cumulus employees tried to get him in his van (he wasn't driving).  I tried to take a pic, but then some crazed sales rep from The Sports Animal attacked me and my friend and chased us out of the parking lot. No lie, that's a true story. Since that sales rep was a girl with red hair, we didn't press any charges.
-
Yep, Brent Skarky. I don't know if it's going to happen or not, but if it does, I hope they're able to land Dave Morris, too. From 4 - 5 they could host the Dominate Douches. If the land Jack McBride, they could host the Total Douchieness Hour:
"Hey Dave, where you at?"
"I'm at Coyote Ugly in Bricktown. What about you, Brent?"
"I'm at Vape Haven. We have deals on all e-cigs, vapes and synthetic marijuana. Is Jack on the line?"
"I'm here at Gil's, brah! Just did a killer set at the gym! YOLO!"
Actually, that's kind of unfair. Brent Skarky really isn't a douche bag anymore. I'd say he's more of a dork than anything.
-
Other than that, the only question is when the new station will launch. According to my sources, that still hasn't been officially determined. Rumors are floating around, but right now that's all they are. The only thing I know for sure is that the new station will launch this month before the first OU game.
Anyway, as we know more, we'll tell you more. If you want to see it first, follow us on Twitter.
Stay in touch
Sign up for our free newsletter