Everything Else
Derplahomans are trying to kill the Oklahoma Standard…
3:16 PM EDT on July 17, 2013
It may be time to bid farewell to the Oklahoma Standard.
Last weekend, The Oklahoman published an in-depth feature about the lack of severe weather warning systems for Oklahoma's large and growing Spanish-speaking population. The piece focused on nine Guatemalans who tragically lost their lives in the May 31st tornado outbreak, and examined what needs to be done to better inform, prepare and warn Spanish-speaking residents about our state's deadly tornado outbreaks.
Overall, it's a good conversation to have. All you have to do is look at the numbers to see something needs to be done:
At least 42,000 Hispanic people in Oklahoma City do not speak English well, according to research from the Pew Hispanic Center, a branch of the nonpartisan Pew Research Center in Washington.

The agency conducted a survey of Hispanic people and found most Hispanics believe immigrants should have to speak English to be a part of American society, though a significant minority disagreed.

When it comes to severe weather, language difficulties can be fatal, Aragon said.

"They speak enough English to get along in their jobs, but there is still a language barrier, enough so there's always a risk for miscommunication and lives that could be lost," Aragon said...

Oklahoma City's Hispanic population is about 100,000, or about 17 percent of the total population, according to 2010 Census figures. The Pew Hispanic Center estimates undocumented residents living in Oklahoma City number at least 44,000.

Telemundo is a small station with a fast-growing audience, and the only Spanish TV news station in the area, news director Martinez said. Telemundo's live 5 and 10 p.m. programs began in 2006, making the tornado outbreaks May 19, 20 and 31 the first time the station had covered disasters of that scale. Overall, tornadoes and storms killed 49 people.

Educating its audience about severe weather basics — what the sirens mean, what the storm warnings and watches mean — is key.

"Some have only been here for a couple of months and they don't know what a tornado is capable of doing," Martinez said. "We try to break it down."
Of course, NewsOK.com posted the article on their Facebook Page along with the following note:
Would more lives be saved in Oklahoma if storm warnings were issued in English and Spanish? Officials say many Spanish speakers were confused or ill-informed about what to do during the May storms, and some lost their lives. What do you think should be done?
They just had to ask, didn't they.
Instead of showing that signature brand of compassion, camaraderie and help-thy-neighbor spirit that has come to be known as the Oklahoma Standard, Derplahomans came out of the woodwork and showed their true colors. Underneath of photograph of a Guatemalan family who tragically perished in the May 31st storm, they whined and complained about Spanish-speaking people who call Oklahoma home.
According to most of the Derps, the last thing this city and state needs to do is properly warn our 42,000 Spanish-speaking residents about life or death emergency situations. These "Mexicans" should either learn to read, speak and comprehend English (including all meteorological terms) or be left to fend for themselves when a deadly tornado strikes.
Did I mention they posted all of these comments underneath a photo of a hardworking, honest family that died in the storm?
Check out some of the comments:




On one level, I agree with these Derps. Like most rational people, I think individuals should eventually "learn English" if they want to start a new life in our country. It would make everyone's lives easier.
Of course, that seems like an overly simple, somewhat flippant solution to the problem posed in the NewsOK.com article. Seriously, what do we do for the people who are still learning English and filling up the Unites States with those CHILDREN!?!
Maybe we should just send them back to where they came from:

If you don't know. Punctuation. Perhaps you should. Go. With. Them.

Yes, return to the country you left, check out English for Dummies or Rosetta Stone from your local library, spend a decade or so studying it, then come back and we'll welcome you with open arms. That seems logical, reasonable and totally makes sense, especially when you consider that English is such an easy language to learn. Heck, just look at Oklahoma high school test scores. We're practically masters of the English language.
Some Derplahomans feel there is a double-standard at play and that Spanish-speaking Latinos should take the personal responsibility to master our language and study our dynamic culture before moving here. You know, because that's what hard-working Americans would do if put in a similar situation. We wouldn't expect special treatment when fleeing to a new country to start a new life.

Before he opens up the Olive Garden menu for his crash course in the Italian language, Garth may want to focus a bit more on English and the difference between "where" and "were."
-

I don't know. How hard is it to understand a siren going off??? Maybe we should consult with the thousands of English-speaking Oklahomans who fled the May 31st storms and then blamed Mike Morgan.
-

That's a totally fair comparison. Living on a military base in Europe is very similar to fleeing your homeland to pursue a new and better life in a foreign country.
-

Excellent point! Have you ever been to Cancun, Cozamel, Tijuana, Puerto Vallarta or Acapulco? They Mexican authorities don't do anything for the millions of American refugees living there. You have to learn Spanish or it's adios amigos!
-
Out of all the "personal responsibility" comments, this one was the best: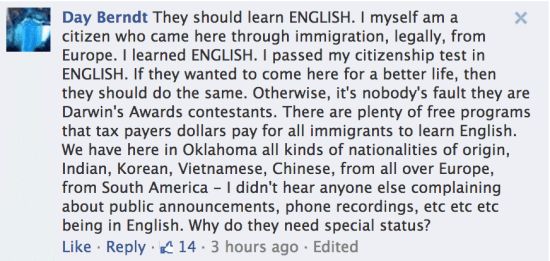 Once again, I agree. These "Darwin Awards Contestants" should enroll in the free and abundant ESL classes that you see everywhere. Of course, that's assuming they're able to get a day off from one of the two jobs they have to work to support their family in Oklahoma and back home.
That comment intrigued me because it came from an immigrant to our country. I clicked on Day Berndt's profile to learn more about her story and background. That's when I discovered this photo: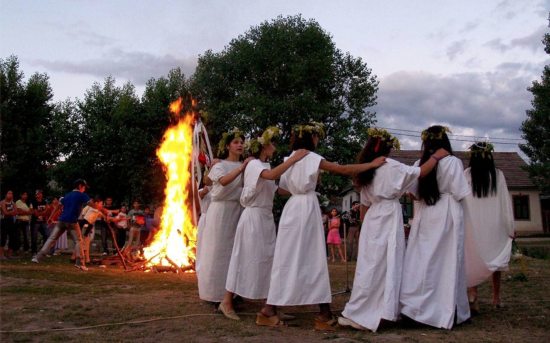 Uhm, what's that? Just your typical National Fairy Day Séance. From Day's personal website:
I am a Romanian witch. I've been born, raised, and lived in Romania until the age of 38 when I moved to Oklahoma, USA, in 1999.

Ancient Dacian as far as religion goes, and a family/tradition witch as far as the Craft goes. In my heart live for ever the High Gods of the Dacian Empire.

I know my path is not very known (especially in the US) but keep checking my site and you might find more about it.

I have academic education in History of Religions and Comparative Religions. I am also a fully ordained ULC minister for the State of Oklahoma and the Priestess/President of the Sage Grove in Midwest City, OK - incorporated as a non-profit religious fellowship under the laws of the State of Oklahoma.
Hey, if a Romanian witch can make time to learn English between building houses made of gingerbread and turning people into newts, so can 'Darwin Award contestants' from Mexico or Guatemala.
Some of my favorite comments were left by people who seem to unintentionally enjoy irony:

I hate to do this, but:
1. Spanish-speaking Oklahomans pay taxes, too.
2. The people who died were from Guatamala.
3. Hopefully, they're taught how to spell in their ENGLISHZ classes.
-

Patience, John. There trying really hard to learn our language over their.
-
You have to give Dustin credit. He knows his stuff (and he's not racist in any way). Who could forget all those classic scenes from the Godfather Part II where Vito Corleone and Tessio talked about their adventures and life problems in perfect English. My favorite thing about going to all the Pho places on Classen is that all the employees talk with British accents.
-

Well, probably because millions of Europeans don't immigrate to the U.S. each year. That would be my first guess.
I hate to be this guy, but Sarajevo is the capital Bosnia and Herzegovina. I know I'm just splitting hairs because they are similar languages, but she probably should have learned Bosnian first. Just sayin'.
-


Before you respect French could you work on English punctuation and sentence structure thanks that is all
-

You really do have to feel sorry for all those corporations. It's sad that they have to spend so much money pursuing the ever-growing and profitable Spanish-speaking Latino market. I remember when a company I worked for targeted Spanish-speaking customers and sales and profits went through the roof. It was a nightmare.
P.s. - Yes, the Spanish-speaking people are the special and ignorant ones. It's not you at all.
-


During the upcoming World Cup and Olympics in Brazil, Kevin will probably complain about all the people speaking Portugaluese. Actually, he'll probably complain about Brazilian.
Of course, it wouldn't be a good Derplahoman thread without the person who is blatantly racist:
Anyway, that's it for the Derps. Lets wrap this up on a positive note. Not every comment was left by a Derplahoman. There are some good people out there. You should give them a high-five if you ever see them walking around: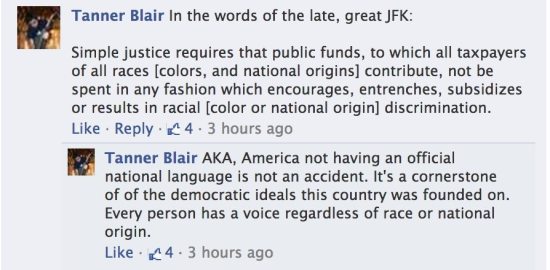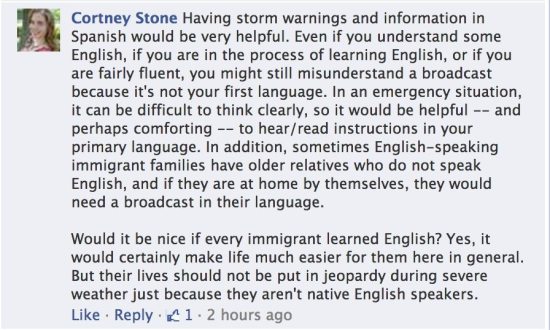 Can we give Cortney Stone a medal? She should get free chips and queso for life! Maybe the Oklahoma Standard isn't dead after all.
-
Anyway, if you're a Derplahoman and want to leave a comment go ahead. We probably won't approve it, but I'll enjoy you wasting your time.
Also, here are a couple of other posts where we take a look at Derplahoman Facebook comments.
Top 25 Crazy Anti-Obama comments posted by Oklahomans to KFOR's Facebook Wall…
Based on these Facebook comments, The Derplahomans were not happy that Obama visited Oklahoma
Stay in touch
Sign up for our free newsletter