Law and Order
This Pedo Claus was naughty…
2:51 PM EDT on July 16, 2013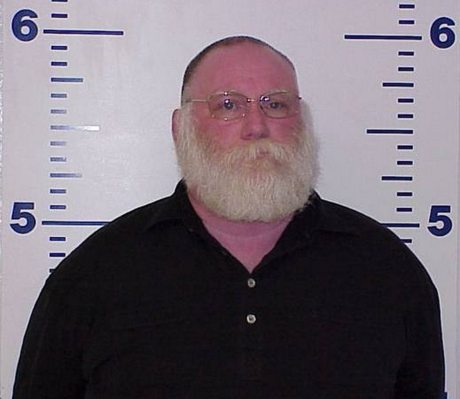 Yesterday was a bad day for men with long gray beards.
First, OSBI announced that they arrested Wiley Gene Davis Jr. He's a coed baseball coach, Santa Claus impersonator and apparently has never watched "To Catch A Predator."
From NewsOK.com:
A Warr Acres man often paid by local schools to play Santa Claus has been arrested after attempting to meet a teen girl for sex, authorities said Monday.

Wiley Gene Davis Jr., 49, was arrested on complaints of lewd proposals to a child under 16, violation of the Oklahoma Computer Crimes Act and possession of a firearm while in the commission of a felony.

A spokeswoman for the Oklahoma State Bureau of Investigation said Davis responded to a Craigslist ad he believed was posted by a 15-year-old girl, making numerous sexual and lewd proposals and referring to himself as "Santa."

He arrived about 7:30 p.m. Thursday at a convenience store near Coltrane and Waterloo to meet the girl and was instead greeted by OSBI agents and Guthrie police.

Davis was carrying a loaded pistol and a private investigator badge when he was arrested, authorities said.

OSBI agents said in addition to playing Santa at area schools, Davis coached coed baseball for children 6 years old and younger in the Oklahoma City area.
Shocking, huh? I can't believe that a grown man who dresses up in a costume and promises gifts and toys to small children sitting in his lap would ever be accused of wanting to bang a 15-year-old girl, or would actually believe that a 15-year-old wanted to sleep with him. I could see that happening to the dude who plays the Easter Bunny or the neighborhood Tooth Fairy, but not Santa. Speaking of that, what ever happened to the old neighborhood Tooth Fairy? Remember him? When I was a kid, he'd prance around my neighborhood selling pixi sticks to kids as we played in the sprinkler in the front lawn, then one day he suddenly disappeared. He was an odd fellow.
Pedo Claus wasn't the only gray beard to have a bad weekend. Meet Raymond Hulsley. He was caught trying to break into his neighbor's house while naked and armed only with a piece of wood and a sex toy.
Via News9.com:
Police say an Oklahoma City man gave a northwest side neighborhood quite the show in nothing but his birthday suit early Monday. Now the suspect could be facing a slew of charges.

Raymond David Hulsey, 58, was booked into the Oklahoma County jail on six complaints including suspicion of burglary II, public indecency and public intoxication. According to court records, Hulsey already has 13 convictions in Oklahoma.

Police say, around 4 a.m. Monday, Maria Dolrodo heard a noise coming from her backyard. That's when Dolrodo says she looked out her window and got an eye-full. The family says Hulsey took clear plastic coverings off windows in an attempt to break into the house. Witnesses say he used a piece of wood form a nearby fence to bang on the windows. Police found Hulsey drunk with drugs and a sex toy, according to MSgt. Gary Knight of the Oklahoma City police department.

"I've been here for 15 years and never had a problem," neighbor Jim Hunsucker said.

Neighbors say the area is usually quiet. They realize this situation could have been much worse.

"[My mom] was crying when she called me this morning," Dolrodo's daughter Yovanna Chacon said.

Hulsey's criminal history includes mostly drug offenses, with some weapon violations. Before his early-morning arrest, Hulsey was already facing two charges from a meth bust in 2012.

Hulsey is being held without bond.
Man, that guy has really gone down hill since he helped Jeremiah Johnson get away from that bear.
Anyway, thanks to those two jackasses I ended up shaving away my glorious gray beard last night and turning it into a chevron mustache. As I said, yesterday was a bad day for men with gray beards. I'll be okay, though. I'd rather be associated with highway patrolmen, porn stars and Tom Selleck than old pervs. Plus, I don't feel or look like I'm 55. That's kind of neat.
Stay in touch
Sign up for our free newsletter