Oklahoma Business
Billionaire Harold Hamm is getting a divorce. Of course, our local media totally ignored it.
1:33 PM EDT on March 25, 2013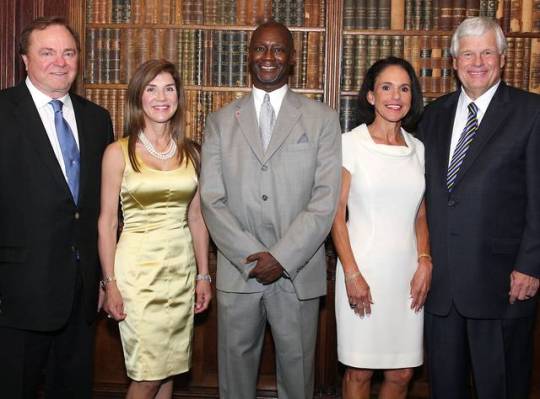 The guy pictured to the left is Harold Hamm. Harold is the founder and CEO of Continental Resources. He's worth about $11,300,000,000. For those who suck at counting zeros, that's $11.3-billion. According to Forbes, that's good enough to make him the 90th richest person in the world.
The hot piece of plastic surgery located next to him is his wife Sue Ann Hamm. She's a lawyer, economist and former executive for Continental. She and Harold married in 1988. For those who suck at counting, that's about 25-years.
I don't know who the other people are in the photograph. I assume they're about to ask Harold and Sue Ann for some money, but that doesn't really matter. You see, the photo was published in Peggy Gandy's Oklahoman Social Scene column on April 22nd, 2012. Less than a month later, Sue Ann would file for divorce, officially putting half of Harold's fortune (and control in his company) in jeopardy.
We know all this thanks to Oklahoma's most trusted source of local business news...Reuters:
Continental Resources chief executive Harold Hamm, one of America's wealthiest and most influential businessmen, is embroiled in a contentious divorce that could lead to a record financial settlement and threaten his control of America's fastest-growing oil company.Sue Ann Hamm, Harold Hamm's second wife and a former executive at Continental, filed for divorce on May 19, 2012, Oklahoma court records show.Documents in the case are sealed. But in a March 7, 2013 filing obtained by Reuters, Sue Ann Hamm alleges that Harold "was having an affair" that she discovered in 2010, prompting her to later file for divorce.Harold Hamm, 67, is a leading force behind the U.S. oil boom and served as the senior energy adviser to Republican presidential candidate Mitt Romney's campaign. Time magazine named him one of the most influential people in the world, and Forbes listed him last year among the 50 richest Americans. Ranked No. 35, Hamm is worth $11.3 billion, the magazine estimated.His estranged wife, Sue Ann Hamm, 56, has held key posts at Continental. She has led oil-industry trade groups in Oklahoma, testified to Congress on behalf of Continental and created Continental's oil and gas marketing units. She is no longer with the company, her lawyer said....Whether the Hamms signed a prenuptial agreement is unclear. Legal analysts who reviewed court filings said that without one, the case could lead to a record-breaking financial settlement - one that could exceed the $1.7 billion paid by News Corp. founder and chairman Rupert Murdoch to ex-wife Anna in 1999. One outcome could be a split of "marital property" that may include dividing Harold Hamm's controlling 68 percent stake in Continental, currently worth $11.2 billion."I don't know of anything that's ever been this big," said Barbara Atwood, professor emeritus of family law at the University of Arizona. "There's just so much money involved."...
Yeah, that's a pretty big deal. Of course, you have to wonder why we're just now hearing about this. You would think that someone at the Oklahoman and / or Journal Record would have learned about the divorce filing, and with billions of dollars and control of one of our state's largest corporations at stake, would have reported this information to their readers before the Reuters' report.
Then again, maybe they just didn't know. Perhaps the divorce was a surprise to them. From all appearances, it looks like Harold and Sue Ann were a happy couple. They appeared at social gatherings together, hosted fundraisers, and lit each others cigars with $100 bills. I mean it's not like they had a dysfunctional marriage or anything:
Court records show that Sue Ann Hamm petitioned for divorce in May 2012. But earlier Oklahoma court records suggest the Hamms' relationship has been rocky.In 1998, Harold Hamm filed for divorce and demanded that Sue Ann undergo a psychological evaluation. He later withdrew the divorce petition and the case file was ordered destroyed this year, on February 13, according to Oklahoma court records. What prompted the destruction of the file is unclear. In 2005, Sue Ann Hamm subsequently filed for divorce; that case also was dropped.Her 2005 divorce filing is now a key issue in the Hamms' divorce battle, according to a court document reviewed by Reuters. Indeed, it could play a pivotal role in determining how property - including interest in Continental - will be divided, legal analysts said.According to Harold Hamm, the couple "actually separated in the fall of 2005 and have lived separate lives ever since," the court document says.But Sue Ann Hamm's attorneys counter that the Hamms "continued to reside together (although they do own four homes), travel together, attend public functions together, raise their children together, file joint tax returns, and work together."
Okay, so I guess the divorce filing probably wasn't that big of surprise to those in the know. Why then, did the Oklahoman wait until after the Reuters story was published to acknowledge the divorce? Maybe this has something to do with it:

In case you care, that's a Continental Resources ad that appeared in the Oklahoman's special publication "Oklahoma Inc." In it, they named Continental Resources as the top publicly traded company in the state. It's not the first Continental advertisement to ever appear in the Oklahoman, and probably not the last. That probably explains a lot.
Anyway, the fact that the Oklahoman is still protecting their friends isn't very surprising. The paper established that tradition years ago. I guess you can't blame them. If Jonathan Fowler was caught with a Nickleback CD in his car, I probably wouldn't write about it. Then again, we don't brand this site as "the state's most trusted news" either. With the way the Oklahoman picks and chooses what to report, maybe we should.
Stay in touch
Sign up for our free newsletter