Everything Else
People on Twitter have some things to say about Gary England
8:00 AM EST on March 4, 2013
Hi everybody, it's Monday again, which means it's time to spend another week working for the man every night and day. And by working for the man, I mean wasting the day at work on Twitter, instead of what I do during the weekend, which is waste the day at home on Twitter. Man, work sucks! Am I right?
To help you get through your day, here is what you missed last week on Twitter. Today's Monday Morning Tweets is after the jump.
Personally I'm really looking forward to Channel 5's version of "The Rant." Their viewers have such incisive commentary!
---
As a connoisseur of '90s music, I feel pretty safe in saying that "All I Wanna Do" is not a Counting Crows song. But I can't say for sure. My favorite Counting Crows song is "Mmmm mmmm mmmm mmmm....."
---
Yeah, I know what Lance West is saying. This sort of thing happened here in the TLO offices last month when Patrick sent us all an email with the subject line "Rowdy." The email told us to open the attachment and look at the picture, because he has the "best dong in the world." We had all agreed to file sexual harassment charges before we realized it was all just another one of Patrick's classic typos!
---
I think it's fantastic that Chase Thomason and Ashton Edwards are dog-sitting for Adam Mertz and Liz Dueweke, but... is that a freaking Christmas tree in the background? It's March, guys! You can take it down now.
---
Hopefully it wasn't a Virgin supporter. You know, I had been wondering who it was that had introduced the Combating Irresponsible Driving With Big Gulps Act of 2013 in this legislative session.
---
Back-to-back tweets:
I believe this is what my English teacher told me is called juxtaposition?
---
This week the weather was a big deal in Oklahoma, so I decided to see what people were saying about Gary England.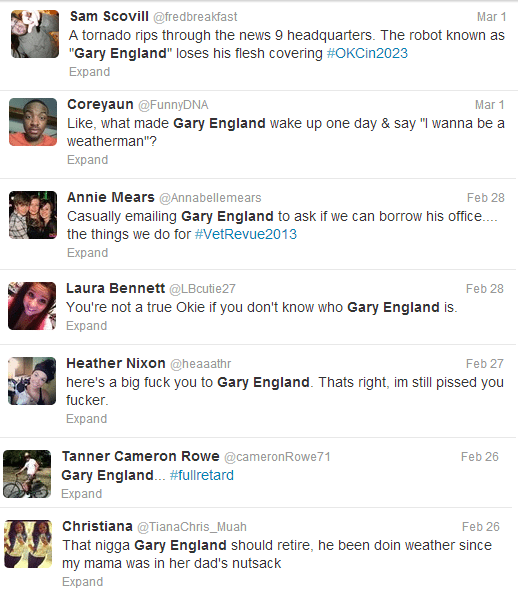 In other news, Heather, Tanner and Christiana have suddenly been struck by lightning...
---
Oh... God... Abigail Ogle Really Is Going To Run This Town Someday
Abigail Ogle has over 12,000 Twitter followers. This is your weekly reminder that Abigail Ogle is going to run this town someday. It's because she asks the important questions like this. Surely there are no other factors at play. Don't fight it, everyone, just prepare accordingly.
---
Awkward Twitter Conversations With Linda Cavanaugh
I nominate Linda Cavanaugh to OKC's Social Media Welcome Committee.
---
The Dean Blevins Memorial Weekly Tweet From Dean Blevins

https://twitter.com/DeanBlevins/status/307730294805499904
So that's why his Tweets make no sense. I'd pay good money to see a shot of what Deano looks like watching a game with this setup.
---
That's all for this week. Follow me on Twitter here. Good bye!
Stay in touch
Sign up for our free newsletter