ICYMI
This cock wants to eliminate all state funding to the Oklahoma Arts Council…
11:56 AM EST on January 23, 2013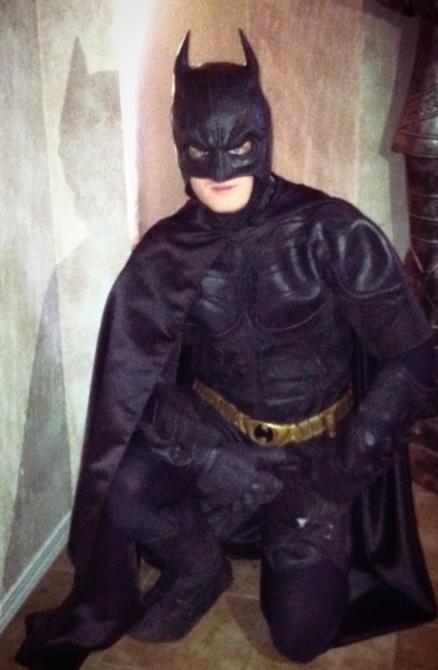 See the guy pictured above? That's Oklahoma State Representative Josh Cockroft (seriously). He's the Assistant Majority Whip of the State House and has introduced legislation to cut off all state funding to the Oklahoma Arts Council.
Here's what Batman...err...Bruce Wayne...err...Josh had to say about the topic on his personal blog:
As many of you probably know by now, I have filed legislation to reduce and phase out appropriations given to the Oklahoma Arts Council. Currently, approximately $4 million is appropriated each year for the funding of the arts council. HB1895 would decrease the amount of appropriations given to the Council by 25% over four years. This bill is a result of a study group over the summer with several members and OCPA (Oklahoma Council of Public Affairs)...

The question each of us must ask is if we are properly funding the core functions of state government. If the answer is "no" in any area, it must be our responsibility to ensure that each taxpayer dollar is going to the funding of those core functions before we ever look at the many side projects of which we have been so ready to fund in years past. My goal is not to destroy the arts in Oklahoma, but rather to start a discussion of what our responsibilities are. I have nothing against the arts, in fact; quite the contrary. However, I do not support the misuse of taxpayer's dollars. Every dollar saved from these side projects is a dollar better spent for our education system, state employees, and agencies across Oklahoma.
Two quick questions for Mr. Cockroft. If your goal is to not destroy the arts in Oklahoma, then why introduce legislation that would help destroy the arts in Oklahoma? That would be like saying "Hey, I don't want to burn down the barn, but let me go toss a lit match in that field of very tall dry grass that's located right next to the barn."
Also, you write "I have nothing against the arts, in fact; quite the contrary." Oh, you don't say? Care to share with us??? Because for some reason, I get the feeling that "quite the contrary" involves judging middle school art shows, browsing posters in Hobby Lobby, and drawing doodles during house committee meetings.
Seriously, why not expand on "Quite the Contrary" a little bit. I think you're trying to suggest that you support the arts. If so, why don't you give us some specific examples and proof? I'm sure all the people involved in the art programs that HB1895 would eliminate would love to hear about them.
Cockroft continues:
This past spring, OCPA published an article about the funding structure of the Arts Council. I agree with this statement from their article wholeheartedly: "The Arts Council can operate solely from donations and self-generated funds, without receiving state appropriations. Promotion of the arts is a nonprofit interest, which should not be advantaged over other nonprofit efforts that do not receive state appropriations. State government has core functions that are neglected when limited resources are diverted to things which are not core functions of government."

This legislation is simply following in the footsteps of Kansas, who eliminated their Arts Council funding completely in 2011. Today, supported by private donations, their Arts Council is still going strong. My legislation is a much gentler approach with a five year phase out. Phasing out appropriations is not a death sentence; instead it is an encouragement for less government reliance. I truly believe that the private sector can and will do a much better job at managing than State government ever could.

Please provide any feedback and thoughts that you may have. I hope to count on your support as we make our State government leaner and more efficient.
Here's some feedback. Can you introduce a law the prevents anyone who dresses up like Batman or is named "Josh" from running for public office? I think a lot of people would go for that. And while we're at it, can you write some legislation that prevents us from ever following in the footsteps of Kansas? Dear God, I think that's one of the few states we've surpassed in recent years. Why do we want to go back in time and be like Kansas?
Anyway, over at Josh's blog a lot of intelligent people have posted comments that totally refute all his major talking points. You can view them over there. I encourage you to leave a comment as well...or email Josh at josh.cockroft@okhouse.gov...or call his office at (405) 557-7349. I'm sure he'd love to hear from you.
In the meantime, I decided to do some research on Josh and see what I could find out about this guy. Here's what I learned from looking at his Facebook page:
He's a fan of Glenn Beck
Shocking, isn't it, that a guy who wants to destroy the arts in Oklahoma is a fan of a guy who was too crazy for Fox News? Josh probably hugs and kisses that picture before he goes to bed each night.
-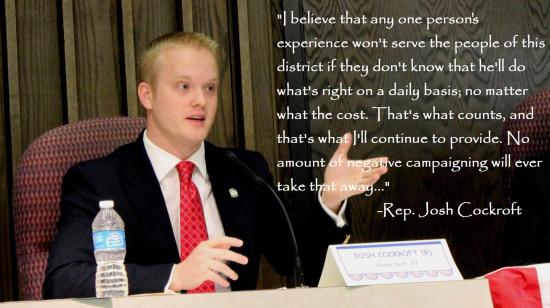 He's also a fan of Papyrus font
Shocking, isn't it, that a guy who wants to destroy the arts in Oklahoma uses one of the worst, most overused fonts in history as a typeface for his campaign materials? Oh well, at least it's not Comic Sans. That was probably too girly for him.
-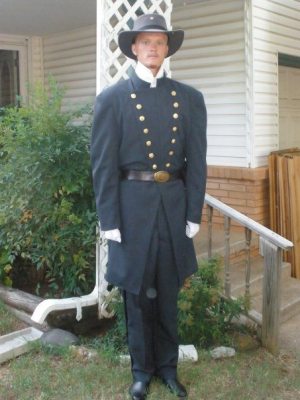 He enjoys to dress up like a Civil War Soldier
Shocking, isn't it, that a guy who wants to destroy the arts in Oklahoma dresses up like an old soldier for fun on the weekends? Then again, that could also be the uniform for the secret militia that he probably belongs to.
Speaking of secret militias...
-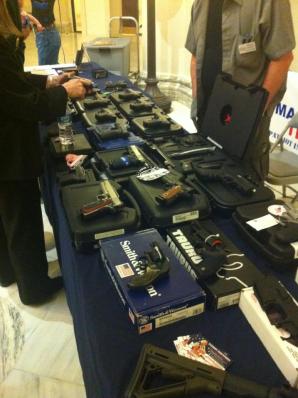 Josh really likes guns
Okay, I'm done with the whole "Shocking, isn't it" motif.
That was some random picture he posted to his Facebook page. The caption was "Wet Dream Day at the Capitol." Oops, sorry about the typo. It was actually "Gun Appreciation Day at the Capitol" or something like that. I wonder if they also show pictures of all the Oklahomans killed by guns each year for "Gun Appreciation Day?" That would be kind of neat. I'm sure everyone would get a kick out of that.
-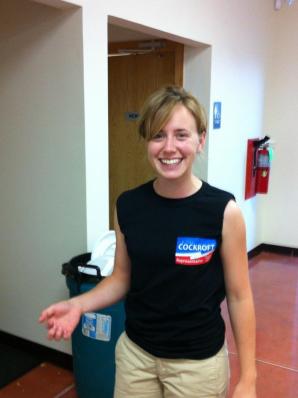 His wife kind of looks like Pam from the Office
That's actually not a bad thing. It's just a shame she ended up with Dwight instead of Jim.
-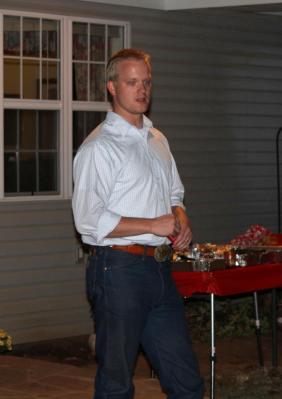 He buys his jeans at Sears
Okay, I don't know if he buys his jeans at Sears or not. He could shop at Kohl's, too.
-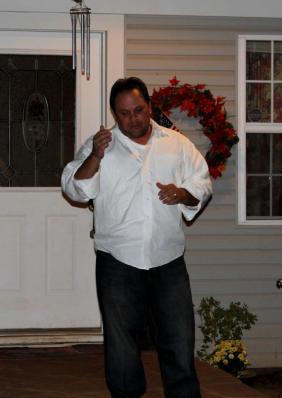 He let this slob speak at a campaign event
I don't even know who that dude is, but he looks like he just got done playing Golden Tee at Henry Hudson's. How pathetic. Never let a guy like that speak at a campaign event.
-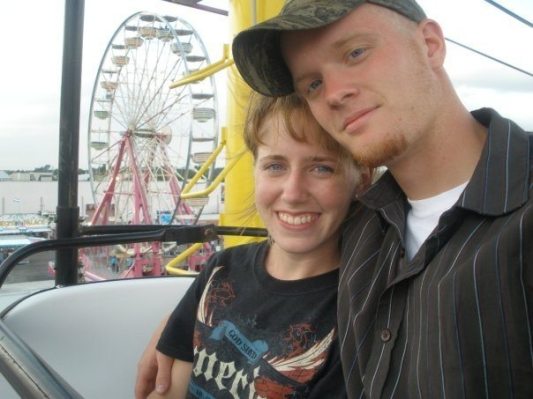 He once had a methstache
I don't know if methstache is a word or not, but that's what I call the weird patch of fur he once had on his face.
-
And one more time, he dresses up like Batman
In all honesty, that's probably all you need to know about the guy.
Stay in touch
Sign up for our free newsletter