weather
Today is Gary England Day and we are headed to Seiling…
9:00 AM EDT on October 3, 2012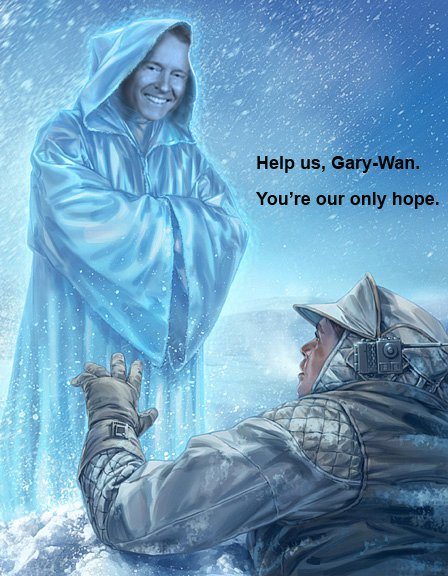 Happy Gary England Day. We hope the weather in your area is calm and treating you well.
On this day in 1939, Gary England, our holy chief meteorologist and severe weather savior, was born in a small barn in Seiling, Oklahoma. Upon his birth, thunder rumbled and lightning struck throughout the Sooner state. Seeing this as a sign that the chosen meteorologist had entered our mortal world, three wise men traveled to Seiling on horseback, bringing with them a thermometer, small weather balloon and bag of ice melt as gifts for the young weather deity.
At the age of only seven, Gary England forecast his first twister during the famed Tinker Air Force Base Tornado Outbreak of 1948. His advanced notification system saved several hundred lives. In 1952, Gary performed the first of what would be known as the "Kay County Miracles" by accurately predicting the summer time high temperatures and dew points for 24 consecutive days in Blackwell, Oklahoma. During the 1957 prairie blizzard that struck the midwest, Gary rescued hundreds of stranded motorists while wearing only gardening clogs.
By the time 1963 rolled around, Gary was known throughout underground (and outlawed) meteorological sects as the "chosen one." He would travel from small town to small town, teaching people the art of tornado "per'cautions" in late-night, bonfire revivals. At the Carnegie State Fair in 1971, Gary fought off a large squall line with only a sword and shield. This heroic act of bravery was noticed by the powers that be at KWTV Channel 9, and by early 1972, Gary was brought in as a meteorologist. The rest, as they (especially Al Eschbach) say, is history.
To pay tribute and honor our Holy Chief Meteorologist, Tony and I (along with Cardboard Jim Traber) will be making our first ever pilgrimage to Seiling, Oklahoma. On this trip, we will make an offering of rainwater and hail from the Great Hail Storm of 2010 at the town's tornado siren. We will also search for ancient lost relics, including the Holy Gentner of Apache, the original script to Twister, and Gary's first five-day forecast. It should be an amazing trip.
We will post pictures from our excursion next week on the site, but you can tag along with us by following our journey on Twitter (@TheLostOgle) or Facebook (Facebook/LostOgle). We'll be classing it up very nice in a new Touareg provided by Fowler Volkswagen of Norman. Did you know Touaregs are built with a titanium shell that is resistant to hail, tree limbs and crazy girlfriends? Well, they are not, but after we sprinkle dirt from the ground where Gary England was born over the hood, I bet ours will be.
Anyway, before this gets any weirder, let's recite the "Ode to Gary England" poem that we wrote last January and get along with our day:
Ode to Gary England
He was born in a barn in Seiling.
Oh what a wonderful feeling
it must have to have been to be there when the stars combined.
He will always stay up late
and monitor Mother Nature's hate
and battle her with Val on the Gentner and Doppler radar as his guide.
He can summon Ranger Nine
and it's always quite divine
when he rescues a deer or badger from a frozen pond.
He will never rattle or shake
when he feels a strong earthquake
and instead rescue Lois Lane like Superman did in that movie.
He gave us Friday night in the big town
and made us jump up and down
when he told us about all those terrible twisters.
Yes, Gary England is his name!
Staying with him is the aim
because we always know he'll keep us advised.
Amen.
Stay in touch
Sign up for our free newsletter