Everything Else
Apparently house arrest isn't all that bad…
4:00 AM EDT on September 18, 2012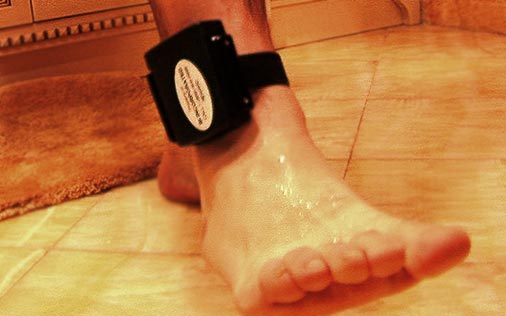 So, maybe going straight from game day in Norman to Las Vegas to Los Angeles and living out of a suitcase for two weeks straight wasn't the soundest of ideas. Everything in my refrigerator is spoiled, cobwebs have formed on my bookshelves, and my DVR is so full of season premieres that it didn't even have room to record Frank Ocean on last week's SNL. I'm exhausted, starving from only eating organic vegan gluten-free LA food, and ridiculously sunburned from California's extremely temperate (yet extremely UVA-ray heavy) beaches. I pretty much want to slather my entire body in aloe, eat a cheeseburger from Fat Guys, and get a solid ten hours worth of sleep in my bed.
On yesterday's flight home, I found myself praying that over the weekend a cop exposed himself on Riverside, a fattie tried to walk off with a full keg from McNellie's, or some redneck from Bixby sexually assaulted a farm animal, but none of those things happened. We just had a 15-year-old kid wearing an ankle monitor rob some homes. I guess that's kind of interesting. From News on 6:
People want answers after a 15-year-old boy was arrested for breaking into Rogers County homes last week, while wearing an ankle monitor.
Deputies say the boy's GPS records show several violations of him being too far from home or gone for too long. Neighbors want to know why the boy's ankle monitor was not being monitored and whether he's going to be punished for those violations.
The person who is most frustrated is the father of a little girl this teenage boy tried to kidnap in February - the reason he's on an ankle monitor.
Brittany, 13, was at her bus stop in Broken Arrow in February when a teenage boy grabbed her from behind. He dragged her across a neighbor's front yard and around the corner before that neighbor saw what was happening and ran after them screaming.
The boy let Brittany go.
Brittany's father says he was told that the boy was determined to be unfit for society and supposed to be held in a medium or maximum security facility. So he was quite surprised when the boy was arrested just seven months later, living in Rogers County.
"They waited until I was done paying attention and let him go," said James, Brittany's father.
The boy was living in this Rogers County neighborhood the past few months.
Neighbors say his parents went to work and left him home alone. He often walked the neighborhood, knocking on doors and ringing doorbells.
Once cars and houses were broken into and items stolen, an alert neighbor decided to keep an eye on him. She saw him break into a house, and deputies arrested him still inside.
They say his ankle GPS showed him at six different homes in the neighborhood, including two that had items stolen. He was at one home twice in 10 months. 
Neighbors say young girls live in some of those houses. Deputies say the boy wasn't supposed to go much past the street in front of his house and if he did, the ankle monitor would vibrate. That gave him 10 minutes to get back, or he was in violation.
Deputies say the boy had numerous violations.
Neighbors - along with Brittany's dad - find it outrageous that no one seems to have been monitoring this boy's monitor.
No one's monitoring the house arrest monitor?! That's the same crazy lawlessness that was thematically explored in Watchmen, but the Watchmen in Watchmen literally punted f#$&ers like this off ten-story buildings. That's pretty twisted and sick if you're 15 and already trying to kidnap girls. I mean, at least wait until college for that sort of creepy behavior! We've all seen that E! Investigates countdown on children who killed other children in their own neighborhood. My elementary school's guidance counselor used to repeat "there's no such thing as a bad kid" over and over and had the phrase plastered in block letters all over Jenks Southeast. I beg to differ, Mr. McKethan. Joran van der Sloot Jr. is definitely big trouble.
I'd be pretty furious as well if I lived on a street where a someone deemed unfit for society is sentenced to well, never ever leave that said street. Think about the poor girl he tried to capture--she can't even retrieve the mail or take out the garbage without worrying that this punk is staring at her through his bedroom window with a telescope. This makes about the same amount of sense as firing a football coach who's an accused pedophile but still granting him access to school facilities and hundreds of children.
Also, this might just be my extreme laziness and penchant for Netflix marathons, but being sentenced to house arrest doesn't exactly sound like much of a punishment to me. It sounds like the perfect excuse to never get your hair cut, never go to the dentist, and never having to grocery shop. In fact, does anyone know what the uh, least offensive offense is that could earn me at least a week's worth of house arrest? I could really use some downtime right about now.
-
While in Los Angeles, I watched a midget rock band with Russell Westbrook, met a Saudi Arabian prince, and discussed the new Academy Award qualifying rules with Michael Bay...while sitting in his living room. You can read all about it here. Or just follow me on Twitter at @xCawoodstock.
Stay in touch
Sign up for our free newsletter