OKC Media
Out on the West Texas town of El Paso, they fell in love with Oklahoma City
9:57 AM EDT on September 6, 2012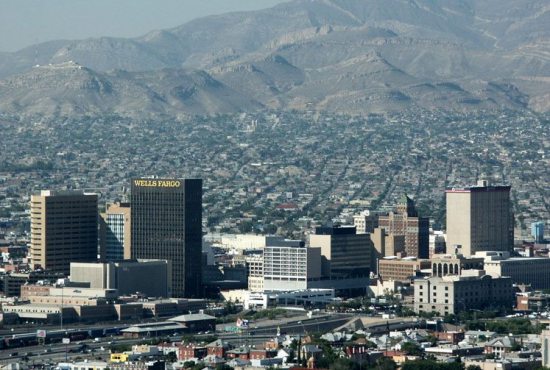 As you know, last Saturday night the University of Oklahoma football team traveled to El Paso and struggled to defeat a low-level program that uses yellow mustard to treat injuries.
The fact that a prestigious football program was crazy enough to venture to southwest Texas to play a football game was a pretty big deal to the El Paso media. In fact, it even spurred one local news channel to run a story on the similarities between El Paso and OKC, and how El Paso can possibly become a big league city if they can just build a ballpark in downtown.
From KVIA in El Paso:
Oklahoma City and El Paso have a lot of similarities and city leaders say replicating a series of projects that Oklahoma has used to revitalize its downtown, could be applied here.

OKC natives say their city's road to success first began by building a Tripla-A baseball stadium.

Since 1993, Oklahoma city has turned its town of about 600,000 people into a thriving mecca other cities are trying to model. El Paso leaders are looking to Oklahoma City's downtown revitalization projects, hoping to reap the same successes.

"Sports has a lot to do with it," Oklahoma native Paul Thomas said.

In 2003, OKC opened a Triple-A baseball stadium in a rundown part of town, now known as Bricktown. El Paso native David Nieto lived in OKC for a short time and said OKC's downtown is booming, a quality he attributes to having a baseball stadium.

"Bricktown is in the middle downtown near the river walk. That whole baseball field brings it up to life," Nieto said.

Building a $57 million baseball stadium was one part of a three-part revitalization plan. Construction for the stadium needed voter approved and was paid for by a one-cent increase in the OKC's sales tax. Some El Pasoan's are still skeptical bringing Triple A baseball to the city will jump start downtown...

Some people said Oklahoma City demographics are different. They have more high-income households that can consistently pay for baseball tickets, and the fancy restaurants, stores and entertainment venues downtown.

Oklahoma's growth can also be pinned on the fact that they have a professional basketball team and college sports. Building a stadium in El Paso could very well bring less lucrative results.
Yep, the reason Oklahoma City has become a "thriving mecca" is because we built a baseball stadium downtown in the late 1990s. It really is that simple.
Actually, it's not that simple at all. If you're a resident of El Paso and you've stumbled across this site while looking for a better place to live (a.k.a. anywhere), let me clarify a few things for you:
1. The Bricktown Ballpark was one of nine projects that were part of $350-million urban revitalization package called MAPS. It's not like we built a baseball stadium in a crummy part of town and it made our city awesome. In addition to the ballpark, we built a bare-bones NBA arena, a boring canal, a library, remodeled an old performance venue, dammed a river, and made our fair grounds more attractive to people who ride horses. The combined draw of those projects is what spurred investment and development in our city's core.
2.  In addition to the MAPS projects, we also benefited by being the home to several growing energy companies. These energy companies helped stabilize and grow our economy. They also built tall buildings and boat houses.
3. Nobody gives a rats ass about our baseball team.
Anyway, not to get all down on El Paso, but if their residents really want to emulate Oklahoma City, the first thing they should do is move the city to a part of the country where people want to live. Either that or change the name. When your city's crowning achievement is being the setting of a Marty Robbins song that my friend Brendan would sing at karaoke bars in Midwest City, you've got a long way to go.
Of course, you could have said the same thing about Oklahoma City 30-years ago (minus the Marty Robbins song). Back then, the only to do in Oklahoma City visit the zoo or get a job in Dallas. It's funny how things can change. Who knows, maybe a new downtown ballpark will get El Paso on the right track. I doubt it will, but you never know.
Also, I apologize for all the criticism I've given to Oklahoma City television news media over the years. It turns out that TV channels in other markets also struggle at reporting facts. My bad.
Stay in touch
Sign up for our free newsletter