Everything Else
This dude lost his cool over a melted popsicle
7:30 AM EDT on August 9, 2012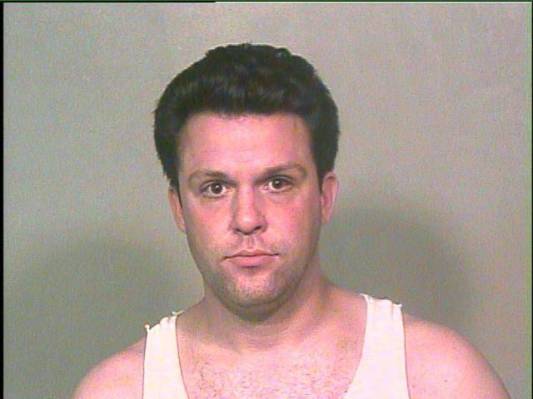 The guy in the picture above is David Gee. If David looks upset and defeated, well, he is. Last Friday night, he paid $2 for a melted popsicle from the ice cream man in Midwest City. Obviously dissatisfied with his purchase, he tried to exchange it or get a refund. Instead, he ended up in jail.
From a Tim Willert report in NewsOK:
A man is accused of robbing an ice cream van after workers refused to refund the $2 he paid for a frozen treat, police said.

David Gregory Gee, 32, "became irate and began cursing" after buying a frozen treat and then trying to return it because he said it was melted, according to a probable cause affidavit filed Monday in Oklahoma County District Court…

The workers told Midwest City police Gee grew angry when he was told he would have to call the company for a refund.

According to the affidavit, he entered the van through the driver's door and grabbed a coffee can with money, pushing the workers in the process.

A witness told police Gee grabbed a $10 bill out of the container.

The witness said he tried to grab the money out of the defendant's hand, tearing the bill.

Gee told police he asked for another treat because the one he bought was melted.

When the worker refused, he asked for his $2 back.

The defendant said he intended to take his $2 when he opened the door to the van, but accidentally grabbed a $10 bill.

He said he tried to give the money back, but one of the workers drove off and said she was calling police, according to the affidavit.

Gee is being held in the Oklahoma County jail with bail set at $20,000, a jail official said.
I know it's "cooled" down to the 90s for the past few days, but I think it's safe to say that the heat is making everyone a little extra moody, irritable and angry. It's even got to me a little bit. Last Monday, I held a door open for a soccer mom and her teenage son at Subway and then nearly killed them with my eyes after they proceeded to order six footlong subs while I stood directly behind them in line. I did everything in my passive aggressive power to let them know how pissed I was. I tapped on the glass, made audible sighs, and called my imaginary wife who was at home with our newborn baby to tell her it would be a while because I was stuck in line. That's a far cry from my typical Subway line behavior, which is to contemplate what I'm doing at Subway or get caught up with Words With Friends.
Anyway, here are a few of questions / thoughts about this:
• Has anyone else notice that all grown-ups who buy ice cream from the ice cream man all kind of look like the ice cream man? Seriously, just look at the guy. If you had to guess his occupation, ice cream man would rank right behind alcoholic and unemployed.
• What type ice cream did he buy? When I was a kid, the $2 ice cream was the expensive stuff that I wasn't allowed to get, like the Pink Panther with the gumball eyes or the chocolate taco looking thing. With inflation and everything, wouldn't those items be in the $5 range? If so, that means the dude probably flipped out over a rocket pop or dreamsicle.
• Does the $20,000 bail seem a bit excessive? It's not like he stole all 31 flavors from Baskin-Robbins. He simply lost his cool on the hottest day in our city's history and forced his way onto an ice cream truck to get his $2 back, and in the process, took $10. Okay, I take that back. $20,000 bail seems fine.
Stay in touch
Sign up for our free newsletter