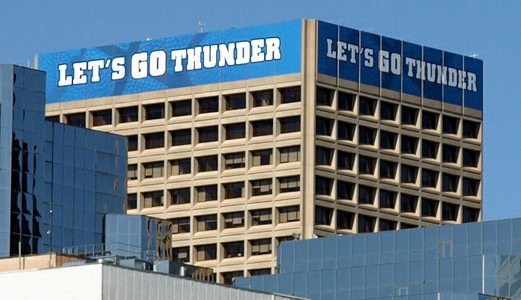 Did you know the song "Happy Birthday to You" is copyrighted? That crappy little song that everyone sings to their niece while she contemplates jamming her fist into the cake is actually something that creates a revenue stream for the descendants of Mildred and Patty Hill who were nursery school teachers. Even though the song contains only six words (one of which is supplied by the singer) it is still complex enough to be considered intellectual property. That's the reason Chuck E. Cheese created their own song to use at birthday parties.
While this might be news to you, I think Oklahoma City resident Charles Syrus is familiar with this anecdote.
In 2007, Syrus wrote a song about the Oklahoma City Thunder. Like a savvy musician, he copyrighted the song which included Shakespearian lyrics like "Go Thunder" and the entirely unique phrase "Let's go, Thunder." Because the team requested fans provide input for the new team, he then sent his mixtape out to Mayor Cornett, the team's "head cheerleader", and one of the coaches. Soon thereafter, and entirely because those phrases had been heard by the three people he had given his song, fans started chanting "Go Thunder" and "Let's go, Thunder." There was also some clapping in his song, and that is definitely the reason people do that during games.
For his contribution to the Thunder experience, Syrus believes he is due the paltry sum of "20-30% of net gross." So, if an oil executive pays $150 for a seat in the lower bowl, the team should forward $30-$45 to the wannabe musician with a knack for coming up with phrases that everyone uses naturally.
The U.S. 10th Circuit Court of Appeals, probably shocked that the suit had made it as far as them laughed it off. Pointing out that copyright law requires that the work "possess at least some minimal degree of creativity", Circuit Judge Scott Metheson surmised brutally, "the phrases at issue here do not contain sufficient creativity; they are, in other words, 'ordinary.'"
Where Syrus erred is in understanding what he copyrighted with his song. The song cannot be used without permission, but just because he used words, that does not make the words his. Contending that he created the phrase "Go Thunder" because he copyrighted a song using those lyrics would be like Mildred and Patty Hill suing Hallmark for using "Happy Birthday" on a greeting card.
As ridiculous as this entire suit was, Charles Syrus went all the way to the Supreme Court with his claim. Considering how bizarre some of their recent rulings have been, I'm slightly surprised they didn't grant his appeal.
Clark Matthews is a world-class checkers champion, co-founder, and basketball editor-emeritus of The Lost Ogle
Read More:
Stay in touch
Sign up for our free newsletter