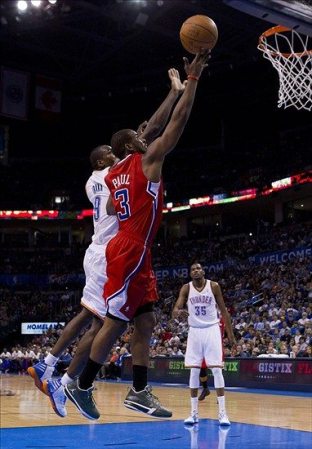 During the month of April, thunder has dominated the skies, but the Thunder has not emulated that on the basketball court. A team that was winning approximately three-quarters of their games coming into the month has only won half of their ten games since March ended. For many fans, this has been cause for panic.
Don't.
Royce Young at Daily Thunder recently invited me to participate in a panel regarding the Thunder's April swoon, and all three members of the panel agreed that most of the concern is unmerited. At this point in the season, the team has little on the line.
As much as the prestige and potential benefit of achieving the "best record" means to fans, it is hardly something that professional basketball players can work themselves into a lather about. I don't imagine Kendrick Perkins pumping up the guys in the team huddle with motivational speeches that go like this:
"We gotta go out there and take care of our business in the event we play the Spurs in the conference finals and it goes seven games so we need that home court advantage in the last game. You with me fellas!"
Honestly, if the team was motivated strongly by that, I would question their confidence. Should they really be concerned about a theoretical benefit when they are hopefully believing they can win anywhere and sweep anybody?I am confident that when the season becomes about best of seven instead of the doldrums of a compressed sixty-six game schedule, the team's focus will return and we will all see the team that impressed us prior to spring.
Now after minimizing the value of theoretical scenarios for the player's, us fans are all about them. So, I started to wonder who the team should want to play in the first round of the playoffs. Barring some really strange finishes, the top five teams are fairly well set (some order of OKC, San Antonio, the two LA teams, and Memphis), but the bottom three of the playoffs could be completely scrambled over the next two weeks as five teams are within two games of one another. One of those teams are bound to be the Thunder's first round opponent. Would you prefer...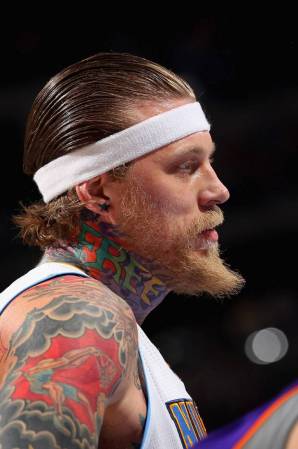 Denver Nuggets
Yes
Thus far, Oklahoma City has played Denver twice and beaten them twice. The first game was a wildly entertaining overtime thriller that featured Kevin Durant's first fifty point game, Russell Westbrook's first forty point game, and a triple-double by Serge Ibaka. A whole series of similar games has to appeal to any fan.
It is hard to see Denver being able to keep up with the Thunder for a seven game series, as well. Oklahoma City would, at minimum, boast the two best players.
No
The Nuggets have depth. Despite their lack of stars, they may have more talent at the end of the bench as a result of the haul they received when they traded Carmelo Anthony and Chauncey Billups last Winter. To date, OKC has not seen them at full strength since their last showdown was after the trade that netted them JaVale McGee, but before McGee reported to the team.
That first view of the full Nuggets will probably be the last game of the regular season, a fact that might make this a less favorable matchup. Denver will get a free game of scouting right before the playoffs start.
Dallas Mavericks
No
Dallas pwned the Thunder in last season's Western Conference Finals.
Yes
That was a lifetime ago for the Mavericks. Mark Cuban decided not to make the financial investment to bring back their defensive anchor, Tyson Chandler. Instead, they chose to go with Brendan Haywood who is not in a contract year, and is therefore worthless. The team's acquisition of Lamar Odom completely blew up on them. Oh, and Dirk has not quite been Dirk since he spent the entire off-season celebrating his first championship instead of training to be Dirk.
Including the pre-season, Oklahoma City has beaten Dallas five out of six games.
Phoenix Suns
No
The one team in the league who might be better at running a fast paced offense than the Thunder is Phoenix. They will make the game devolve into a shoot out and try to encourage Russell Westbrook to get out of control. Meanwhile, they have one of the best floor generals in league history with Steve Nash running the show.
Yes
Name me any Sun player under the age of 38 that scares you.
Houston Rockets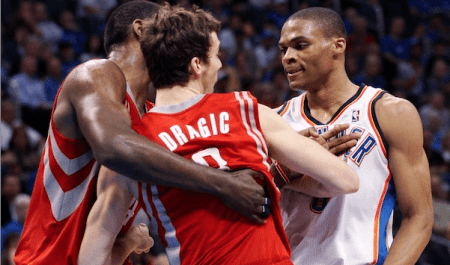 Yes
Houston is another team that lacks stars. They have talent, but none that should put fear into the Thunder.
No
They split the season series with Oklahoma City. I can't explain it. I know that Goran Dragic knows how to get Westbrook out of his game. And I know that rookie Chandler Parsons bothers KD. But outside of that, my best guess is that they are tough to game plan against because they really don't have a strong identity. Perhaps that is their strength.
Utah Jazz
No
Something about that arena full of Mormons is intimidating. Even to referees.
Yes
Do you think Gordon Heyward can keep up with Kevin Durant for a full series? And who guards Russell Westbrook?
Clark Matthews is a world-class checkers champion, co-founder, and basketball editor-emeritus of The Lost Ogle
Read More:
Stay in touch
Sign up for our free newsletter