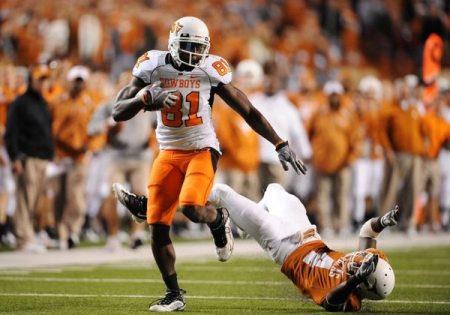 Ah, snap!
Football is only ... okay, I don't know how many days away it is because I have chosen to block all the guys on my Twitter feed who have annoyingly been doing a countdown, but it is apparently only a few Saturdays away. Despite there being no games, or even practices, going on right now, the OSU/OU rivalry is in full swing.
According to NewsOK, a Sooner wide receiver took to Twitter to rail against Oklahoma State's star player. That's what happened, right? Look at the headline:
OU's Kenny Stills criticizes OSU's Justin Blackmon on Twitter
So, now the OSU fanbase is fired. Me included. Blackmon is a certifiable badass. Whoever it is that hands out the award for best wide receiver in college football (The Biletnikoff Trophy) gave it to Blackmon last season. Blackmon absolutely dominated every game he played. In twelve games, he caught 111 passes for 1,782 yards and 20 touchdowns. He scored at least once in every game. How could Stills, a secondary target at his own school have the audacity to go after the best?
The facts of the matter suggest he was not really criticizing Blackmon so much as he was praising his teammate. It started when Patrick Peterson, a star defensive back at LSU last season, lobbied his Twitter followers with this suggestion: "Everybody follow the best WR in the College Football this year and last year @jblack_81." For those who don't speak Twitter, that was an effort to get people interested in what Peterson has to say and to also listen to Justin Blackmon.
Playfully, Kenny Stills responded to the post by suggesting the LSU star put the wrong name with that description. Instead, he felt Peterson should call Stills' teammate Ryan Broyles the best receiver in college ball. He then made a couple of tweets contrasting the two players in a way he felt made Broyles out to be the better player. Such as:
"(Blackmon) is all about big bodying people and sloppy routes. (Broyles) gets open by finding space...Based off of routes, knowledge of the game and the caliber of his fellow receivers, I'd go @RyanBroyles"
So, that's his opinion. Kenny Stills thinks that his teammate, a Biletnikoff finalist, is a better player than the trophy winner who plays for one of their rivals. I'd be more surprised if he did not feel that way. Regardless of how wrong Stills' opinion is (and I cannot stress how strongly I disagree with him), it isn't really controversial for him to hold that belief. He even admitted in the end:
"Apologies to @JustBlack81, Wasn't knocking the Biletnikoff winner at all. He makes huge plays and dominates the game."
So the question is, why did The Oklahoman seize on the "criticism" part? From the Sooner point of view, it was probably an Aggie conspiracy to make it sound like OU was afraid of the Pokes. From the OSU fans perspective, the journalists were telling it as it was. In reality, it probably relates to a lack of interesting stories considering NFL and NBA free agency are on hold from lockouts and there is no actual football going on.
Clark Matthews is a world-class checkers champion, co-founder, and basketball editor-emeritus of The Lost Ogle
Read More:
Stay in touch
Sign up for our free newsletter