Politics
Contest: Send us your Tales of Falls Creek Debauchery
1:00 PM EDT on August 12, 2010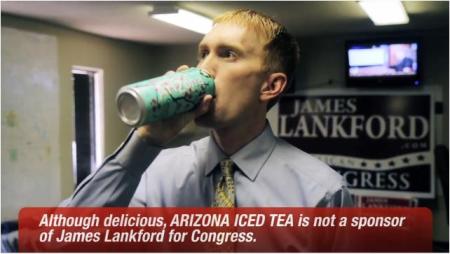 One of the big surprises of this campaign season has been the rise of political newcomer James Lankford.  He's gone from the Program Director of Falls Creek Church Camp to the prohibitive favorite to be our next right wing nutjob US congressman.
Here's what we wrote about James in our 5th Congressional District Preview:
From what I understand, James Lankford's ONLY job to this point has been director at Falls Creek Church Camp. On his website, he writes "Falls Creek has never been about any one person, it has always been about what God chooses to do in the lives of people who get quiet and listen to His still small voice." Yeah, apparently God's still small voice says, "Get drunk and sleep with as many confused young girls as possible."
This place is called the "Baptist Breeding Grounds" for a reason.  When I was a kid, all my church friends told me I had to go to Falls Creek. They told me this when I informed them I'd never been drunk, stoned, or laid.
"Dude, go to Falls Creek and you won't be saying that at the end of the summer!"
As I grew older, and spoke to more people, the tales of debauchery were rampant when anyone brought up Falls Creek. "That was the first place I got drunk/stoned/laid/got all gay with some dude."  And this guy oversaw it for years? I kind of want to vote for him now that I think about it.
Since Falls Creek seems like such a cool place "" and in an effort to  make this political race bearable and interesting"" we thought it would be fun to have our readers submit their own personal tales of Falls Creek debauchery.
The tale can be about anything you experienced while attending the Falls Creek Church Camp.  It can be about the first time you drank Boone's Farm, the first time you touched a girls boob, or the first time you watched someone else touch a girls boob while you hid behind the bushes.  We'll then publish them on the website, and give a special still-not-determined prize to the one we like the best.  And it should be noted that bonus points will be given to any tale that happened under Lankford's watch or begins with "I can't believe I'm actually writing this."
Also, before you ask, we did consider a similar contest related to Kevin Calvey, but we figured stories about how you would spend your wealthy brother's money would be boring.  Although the Russian spy angle is kind of cool.
Anyway, please email your hopefully true tale of Falls Creek debauchery to The Lost Ogle at gmail.com.   Tales that are published in the comments section will be not be accepted or permitted.
Stay in touch
Sign up for our free newsletter