Politics
Lost Ogle Q&A: US Congresswoman Mary Fallin
12:30 PM EDT on July 26, 2010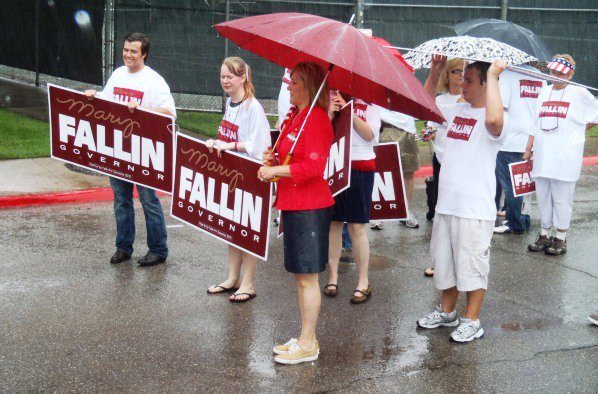 Let's be honest here, we have had quite a bit of fun with Mary Fallin on this website. Therefore, it's pretty cool that she decided to do this Q&A.  Unfortunately, we're now going to feel a little guilty when we make fun of her.  Oh well, we'll get used to it.
Anyway, Mary Fallin is our former Lieutenant Governor, represents the Oklahoma 5th district in the US House of Representatives and was an extra in this depressing Molly Ringwalk film that also starred the dude from Gremlins.  Mary Fallin is also popular, a Republican and a strong favorite to be Oklahoma's next Governor.
Check out our Q&A with here after the jump.  And if you missed them, be sure to check out our QA's with Jari Askins and Drew Edmondson after the jump.
1. Thanks for doing this interview. The first question may be the toughest one to answer. As Governor, will you follow the tradition established by Brad Henry and be at least 20 minutes late to any scheduled appearance?
No. Although if my interview with the Lost Ogle was in person, I had planned on being at least 20 minutes late.
-
2. Now an easy question. What will be your number one priority if you become Governor of our fair state?
As governor, creating more and better jobs will be my number one priority. To do that, we need to develop a friendlier climate for business growth and development, especially small business, which provides over 97% of our jobs. I'll lead the way by working towards lower taxes on businesses and individuals, reducing government bureaucracy and eliminating the kind of red tape that keeps a lid on small business growth.
-
3. During a severe weather crisis, which local weatherman are you going to watch?
I'm not going to play favorites here. But Gary England.
-
4. White Water or Frontier City? And why?
I've been to both many times with my children. Now that I'm getting older I prefer not to be seen in public in my bathing suit [queue accompanying Lost Ogle Photo Shopped pic], so I suppose I'd prefer Frontier City over White Water. But they are both great parks.
-
5. Let's ask at least one tough semi-controversial question. What are your thoughts on the recent immigration legislation passed in Arizona?
The recent law in Arizona just mirrors federal law and allows it to be enforced locally. It promotes a pretty basic, commonsense idea: if you want to live in Arizona, you have to live there legally. I agree with that policy and I think the vast majority of Oklahomans and Americans do as well. I have been really disappointed to see President Obama and his administration misrepresent this policy as somehow un-American or even racist.
As governor, I'll continue to support legal immigration into Oklahoma. I will, however, absolutely not tolerate illegal immigration or employers who knowingly and willingly hire illegal immigrants.
-
6. As a follow up, what's your favorite local Mexican food restaurant?
Ted's. Great salsa.
-
7. In the past year we've had blizzards, ice storms, earthquakes, tornados, destructive hail and flooding. Any prediction on what's next?
I think once we get a good conservative governor in office, we'll see sunny days.
-
8. How many times have you been to the Oklahoma Panhandle?
Many times! I served as lieutenant governor for 12 years and I've always enjoyed my trips to the panhandle. On my "Working Across Oklahoma" tour earlier this year I campaigned across the state doing other people's jobs. When I got to Guymon I drove a feed-truck and fed cattle, which was a lot of fun. I think sometimes that area feels ignored by statewide officials, but the panhandle definitely has my attention and I am looking forward to representing their interests as governor.
-
9. What's the fastest you've ever driven on the Turner Turnpike?
I plead the Fifth.
-

10. Since you're an Oklahoma politician, I'm going to go ahead and assume you're a member of the NRA. If that's case, how often do you shoot a gun?
I am indeed a proud member of the NRA. Unfortunately, I haven't had a lot of free time for recreational shooting between my congressional work and my campaign, but as lieutenant governor I used to lead an annual turkey hunt for business prospects considering a move to Oklahoma. And we all really enjoyed the turkey I shot!
-
11. What do you think of "Do You Realize??" being Oklahoma's official rock song?
I'm more of a country music gal. It wasn't my first choice.
-
12. Where do you really think Barack Obama was born?
Clearly not in Oklahoma, or he wouldn't be pursuing the kind of far-left agenda he is now.
-
13. Do you think Oklahomans should have the right to buy wine in the same store that they can purchase spaghetti sauce, noodles and French bread?
I don't think buying noodles and wine in the same place is a "right" in the same way I think, for instance, freedom of speech is a right. I do think Oklahoma's voters should be able to decide how and where they want to sell alcohol, whether it's through their legislators or some kind of a ballot initiative.
-
14. Without choosing Ronald Reagan, John F. Kennedy or Brent Rinehart, who is your political role model?
My mother and my father both served terms as mayor of Tecumseh. Their service started my interest in public life and I consider them to be both my political and personal role models.
-
15. We've saved the toughest question for last: tell us something nice about your opponent.
I think it takes guts to run for public office, and I give my opponents credit for that. In all seriousness, when you become a candidate you accept the fact that you are opening yourself up to attacks, sometimes on this blog. All of us running for office care enough about Oklahoma that we are willing to live with you guys busting our chops. That certainly includes every candidate in the governor's race.
Stay in touch
Sign up for our free newsletter