Politics
Lost Ogle Q&A: Lt. Governor Jari Askins
5:30 AM EDT on July 26, 2010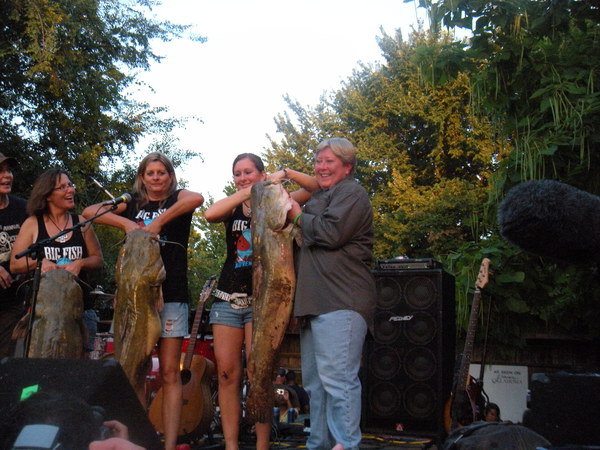 A couple of weeks ago, we got the idea to do a Lost Ogle Q&A with the four "major" politicians running for the governor's office. The guidelines were pretty simple.  We'd send each candidates the same 15 "light-hearted" questions, and they'd have a few weeks to answer them.
I'm not sure if we should be surprised, flattered or feel naughty, but three of the four took us up on the offer.  They were Lieutenant Governor Jari Askins (D), Attorney General Drew Edmondson (D) and Congresswoman Mary Fallin (R).  State Senator Randy Brodgon (R) apparently decided not to participate in the Q&A.  He was probably just too busy misinterpreting the constitution or thinking of potential nicknames for a state militia.
The first Q&A we are publishing this morning is with Democrat Jari Askins.  She is the current Lieutenant Governor of Oklahoma, a former judge and a former state representative.   She's also an active alumni of the Alpha Chi Omega sorority.  There's no word on if she's ever tried to make it snow.
Anyway, check out our interview with the Lieutenant Governor after the jump.  And check back in a couple of hours for our interviews with Edmondson and Fallin.
1. Thanks for doing this interview.  The first question may be the toughest one to answer.  As Governor, will you follow the tradition established by Brad Henry and be at least 20 minutes late to any scheduled appearance?
I realize that is a trait of past governors, but it doesn't fit me. I try very hard to be on time if not early to events or meetings.
-
2. Now an easy question.  What will be your number one priority if you become Governor of our fair state?
Education.  With a strong education system all boats rise to the top.  We increase our skilled work force, bring stronger businesses to Oklahoma, we reduce crime, we increase income, and we begin a cycle of a stronger state with more safe and secure families.
-
3. During a severe weather crisis, which local weatherman are you going to watch?
We are typically on the road, so lately my favorite has been to watch the #okstorms hashtag on Twitter .
-
4. White Water or Frontier City? And why?
Frontier City.  I'm very competitive and love a good carnival game.  I always take home a prize!
-
5. Let's ask at least one tough semi-controversial question.  What are your thoughts on the recent immigration legislation passed in Arizona?
See my response from the recent Governor's Forum here.
-
6. As a follow up, what's your favorite local Mexican food restaurant?
Whichever one I'm sitting in at the time. Chips, salsa, queso and I'm a happy camper.
-
7. In the past year we've had blizzards, ice storms, earthquakes, tornados, destructive hail and flooding.  Any prediction on what's next?
After seeing the movie 2012 my biggest fear is a toss-up between a super volcano or Woody Harrelson having his own radio show.
-
8. How many times have you been to the Oklahoma Panhandle?
I know since I've been Lt. Governor I've attended at least seven events in Guymon, I've been to Boise City twice, once to Hooker, Beaver and to Beaver Dunes State Park, Kenton, and of course toured beautiful Black Mesa.
-
9. What's the fastest you've ever driven on the Turner Turnpike?
Let's just say I'm always on time and leave it at that :-)
-
10. Since you're an Oklahoma politician, I'm going to go ahead and assume you're a member of the NRA.  If that's case, how often do you shoot a gun?
Shotgun: At least a few times a year during the turkey hunt and I usually go quail hunting at least 1-2 times a year.  This year I got a 19# turkey!  See our photos here.
Handgun: I typically shoot enough to stay sharp--it makes my troopers jumpy.
-

11. What do you think of "Do You Realize??" being Oklahoma's official rock song?
If you listen to the lyrics it's about savoring life as much as you can, because everything goes so fast.  "See the beautiful faces" and "allow happiness to make you cry" because someday we'll all be gone.
-
12. Where do you really think Barack Obama was born?
Well, I hear that men are from Mars"¦.
-
13. Do you think Oklahomans should have the right to buy wine in the same store that they can purchase spaghetti sauce, noodles and French bread?
Sauce and noodles yes, but I think French bread deserves further study.
-
14. Without choosing Ronald Reagan, John F. Kennedy or Brent Rinehart, who is your political role model?
I answered this at a recent Governors Forum which you can see here.
-
15. We've saved the toughest question for last: tell us something nice about your opponent.
I just love his wife Linda!
Stay in touch
Sign up for our free newsletter