Everything Else
Clark's Annual NBA Draft Blog (Now Live!)
12:19 AM EDT on June 24, 2010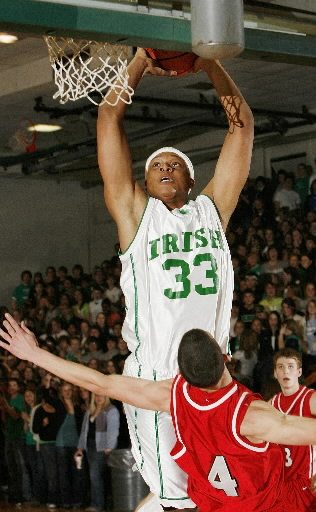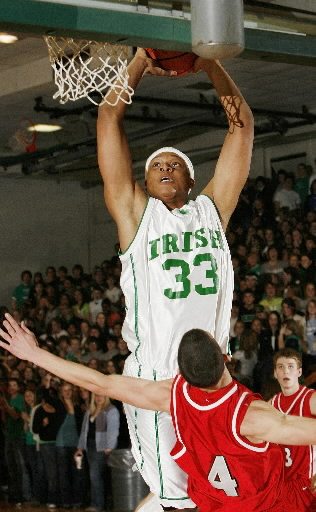 Most people love Christmas.  They like the carols, the decorations, the gift shopping, so on, and so on.  Me?  I'm not much of a Christmas person, but I understand the excitement of the season because I have today.
For me, the NBA Draft is the event of the year.  In the weeks leading up to it, I get anxious about how the draft lottery will play out, fret about who the Thunder will take, read every column ESPN's Chad Ford publishes, refresh DraftExpress.com hourly, and spend gobs of time on HoopsHype.com researching salary information so I can dream up trade possibilities.  Yes, I'm a basketball nerd, and the NBA Draft is my Star Trek Convention.
This year's draft has even more intrigue to me than usual.  Not only does the Thunder's development plan continue to take shape, but a plethora of players with ties to Oklahoma will hear their names called tonight.
Xavier Henry (Putnam City) and Daniel Orton (Bishop McGuiness) are both early entrants who played just one season of college basketball.  Both are potential lottery picks.  Then, there is Edmond Santa Fe alum Ekpe Udoh who helped Baylor reach the Sweet 16 in his only season there after transferring from Michigan.  He could actually be the first to be drafted as rumors swirl that Golden State, picking sixth, is strongly considering him.
Meanwhile several players who played in Oklahoma during college have hopes of landing in the NBA with a guaranteed contract.  Big XII player of the year and Oklahoma State star James Anderson is the most likely to be a first round selection.  However, a trio of Sooners from this year's ill fated team (Willie Warren, Tiny Gallon, and Tommy Mason-Griffin) all declared as early entrants.  Two of them have a small chance of being first rounders.  Tulsa even boasts two players that should be second rounders in big man Jerome Jordan and point guard Ben Uzoh.
In all, Oklahoma should have a much larger imprint on the league next year.
All this without even considering the intrigue of our hometown Thunder who currently possess two choices in the first round.  Supposedly, Daniel Orton has been promised he will be selected with the earlier pick (#21--bringing him back to OKC), but he could be gone by then.  Also, Chad Ford is reporting that Thunder GM Sam Presti is active in his attempts to trade up.
It could be very interesting, and I will be undating this post periodically throughout the day with whatever news I hear.  Then, once the draft starts at 7:00, it will be rapid fire updates.  Keep checking back.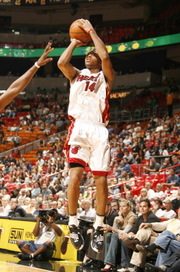 ___________________________________
9:35 PM
I realize this "update" is before the post is actually scheduled to go live.  Sorry, I don't want to re-write the intro.
The first trade involving a first round pick has occurred, and the Thunder were involved.  In a deal designed for the Miami Heat to save even more cap space by shelling off one of the four players still on their payroll and avoiding the need to pay a first rounder, Oklahoma City acquires Dequan Cook and the #18 pick.
For the Thunder, Cook provides some much needed shooting.  They were awful last year outside the three point arc, and I cannot count how many one point games they lost with awful shooters taking tough shots for the win.  As for the draft pick, that leaves OKC with three selections (18, 21, and 26) in the first round.
I am unsure who Thunder GM Sam Presti is targeting with the new pick, a couple of sources have speculated that it is Virginia Commonwealth's Larry Sanders, a former teammate of current back up point guard Eric Maynor.  However, I am fairly certain that this is just the first of multiple deals to be finalized by the Thunder.  The roster is already pretty crowded, as is.
Adding Cook means the Thunder now have guaranteed contracts for thirteen players next season.  There are only fifteen roster spots, and technically, the three first rounders would have to have a spot if they want to play in the NBA next season.  Sure, one of the three could be a "stash pick" (foreign player who won't come to the U.S. for at least one more season), but it would be unprecedented to see a team make multiple stashes...particularly in a draft devoid of strong international talent.  At minimum, one of the picks will be sold to a team trying to acquire a first rounder (Cleveland, Denver are rumored to be interested).
_____________________________________
10:13 PM
A rumored deal that would have sent the Thunder's two earliest first round picks (#18 & #21) along with back up point guard Eric Maynor for Indiana's #10 pick has supposedly been quashed.  Good!  If the Thunder are going to give up Maynor, they have to get something great back in return, and whatever player they would target (supposedly Kansas Greg Ostertag clone Cole Aldrich) could not possibly make up for what the team would be losing from the point guard position.  Now, if T.J. Ford were also coming to OKC (or Maynor was dropped from the deal) and Presti drafted someone more athletic than Aldrich, I could have gotten behind it.
Hopefully, this deal doesn't crop up again.
__________________________
8:24 AM
Rumors. Rumors. Rumors.
One of the best parts of draft day is hearing all the speculation that goes on.  According to well sourced journalists, big names like Chris Paul, Gilbert Arenas, Al Jefferson, and Vince Carter are being shopped around the league.  Ordinarily, these guys are untouchable and/or impossible to move, but something about having executives from all thirty teams in the same place makes unthinkable things thinkable.
Since Chris Paul was OKC's first superstar, his saga holds the most interest in these parts.  New Orleans' owner George Shinn, despite having agreed to sell his share of the team, is still in penny-pinching mode and willing to ship his best player away if the acquiring team will take one of the Hornets' bad contracts, as well.  Of course, they also promised that they would only trade CP3 to a contender--which is doublespeak because anyone who can afford to absorb the league's best point guard and another high paid player either doesn't have anyone on their roster currently, or would have to give up some significant assets to make it happen.
________________________
10:05
Mock drafts are a waste of time, but everyone who follows the draft, including me, do them.  Even knowing they are worthless, it still gets me up in hackles to see so many people expecting the Thunder to use all three of the picks they have in the first round to take guys who play both power forward and center.
I understand that Jeff Green is not a traditional power forward and that Nenad Krstic is no traditional center.  Still, the roster is loaded with guys who play those positions.  Hell, last season the Tulsa 66ers got to keep D.J. White and Byron Mullens (the center drafted last year) for almost the entire season.  If someone like ESPN's Chad Ford is correct, the center postion could take up more than 1/3 of the 2010/2011 Thunder roster.  Even worse is reading comments from OKC fans excited about this.
When the team was in Seattle, the last (awful) general manager used picks every year to draft a project who was at or around seven feet tall.  Do you know how much use the team got from those players?  None.  It's the number one reason the team is in OKC now.  The team went nowhere because of poor draft decisions, and the Seattle fanbase revolted until only a vocal handfull remained.  Meanwhile, current Thunder fans tout Sam Presti as a genius and expect him to make the same decisions as the guy who ruined the team before.
Mind boggling.
_____________________
11:45
Twitter message from DraftExpress.com:
DraftExpress Daniel Orton should write a book entitled: "How not to handle the NBA draft process." Made every mistake imaginable in the last few months.
Considering that this is coming from one of the most connected reporters when it comes to NBA basketball, this does not bode well for the former star of the Irish.  Not that this is a surprise.  Rather than hiring an agent, Orton chose to let his relatives handle the process.  Sure, they have a legend like former OSU disappointment Terrence Crawford in the family, but not really anyone familiar with what happens during the draft.
An agent would have done damage control on the medical red flags that came up about his knee (supposedly, they weren't horrible reports, but enough to require answers), told him not to "clear things up" with the media that would hurt his chances of getting picked, and assuming he doesn't have a promise from OKC, made sure teams didn't think he had a promise from OKC.
It might be a long night for Daniel.
__________________________
12:51
Based on the comments, it sounds like I'm going to get hammered for my obsession with Ricky Rubio in last year's draft.  I'll admit to having a draft crush every year.  They've included Chris Paul, J.J. Redick, Kevin Durant, Derrick Rose, Brook Lopez, and Rubio.  Some winners, some losers, some indifferent.  But those are guys I really hoped would end up with my favorite team.  This year, that status belongs to Greg Monroe, and unlike past years, it would take a miracle for him to wind up in Thunder blue.
As for Rubio, I still think he will be an incredible NBA player.  Certainly, I was wrong about him filling a need (Russell Westbrook made me eat every word I wrote about him developing into a point guard), but that doesn't mean Rubio is a bust.  He will be in the NBA someday, and he will probably be an all-star.  If David Kahn hadn't botched every single aspect of trying to complete a buyout to get Rubio out of Spain (most of which involved making Rubio not want to play for the Timberwolves), Ricky probably would have been in the league this past season.  Instead, he was the starting point guard for a Euroleague champion at the ripe old age of 18.
Let's wait before calling him a bust.
____________________
2:01
Adrian Wojnarowski of Yahoo! Sports is reporting that talks between OKC and Indiana for the #10 pick are dead.  Now, Sam Presti is on speed dial with the Hornets for #11.  The good news?  They won't demand Maynor.  The bad news?  If Presti really wants that draft pick, he'll have to eat one of New Orleans' bad contracts.  That means he has to take Peja Stojakovic ($15MM expiring after this season), Mo Peterson ($6.6MM expiring), James Posey ($6.5 now, $7.0 next), or Emeka Okafor (4 years, starting at $11.5MM).  Peja or Okafor actually helps the team with immediate needs, but are the pricy.  Peterson or Posey would probably end up getting bought out.
____________________
3:10
Things. Just. Got. Interesting.
Not for the draft.  The deal that sends Kirk Hinrich and the #17 pick from Chicago to Washington has little ramification from that standpoint.  What it does do is give Chicago the space to sign two max level player this Summer to pair with star point guard Derrick Rose and stud center Joakim Noah.  Now, if they manage to convince the Clippers to take Luol Deng, as well, the Bulls will be THE place for LeBron to sign if he wants a legacy of being a champion.  If he can bring Chris Bosh along, the Bulls and Thunder could be the new Celtics/Lakers--fighting in the finals every year.
_______________________________
5:05
Chad Ford of ESPN is reporting that the Thunder have a tentative deal in place with Toronto to acquire the 13th pick if the player Sam Presti covets is still on the board.  He didn't name the player, but my assumption is that it is Butler's Gordan Hayward.  That name has been attached to OKC a lot today.  Of course, Ford projects that Hayward will be taken by Indiana, who re-buffed Presti earlier today, at #10.
_______________________________
The word count on this pre-draft blog is about to surpass 2,000 words (---->this<----- is word 2,000), so I'm going to start a second post for discussion of the draft as it happens.

Clark Matthews is a world-class checkers champion, co-founder, and basketball editor-emeritus of The Lost Ogle
Read More:
Stay in touch
Sign up for our free newsletter