Politics
Brian Maughan is single and ready to mingle…
6:00 AM EDT on June 8, 2010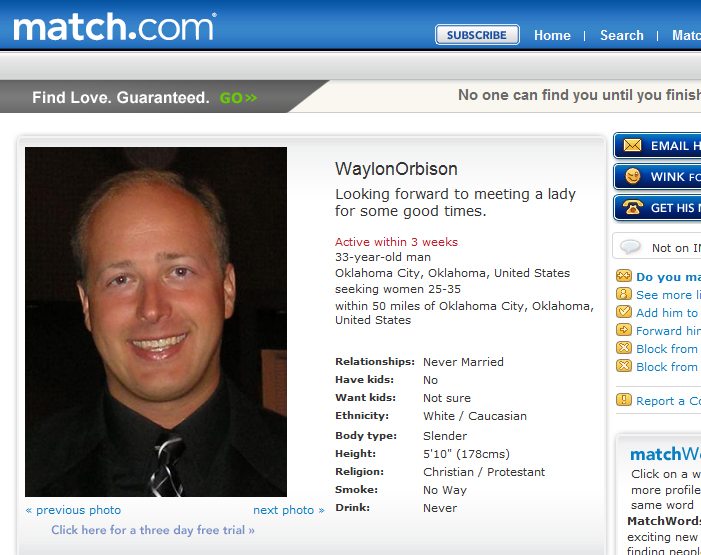 Brian Maughan is an accomplished man. He is the Oklahoma County District 2 Commissioner, the president of South Oklahoma City Rotary Club, and the President of the US Grant Alumni Association.  Hell, he even helps with the Wheel Chair Foundation and was inducted into the Oklahoma City Community College Hall of Fame.  Yes, there is apparently a Hall of Fame for Harvard on May.
But to us, he's just WaylonOrbison.
Yes, it looks like Oklahoma County Commissioner Brian Maughan has turned to Match.com to enhance his love life.  I guess we can't blame him for looking for love online.  I'm sure there are a bunch of interesting girls on internet dating sites.  You know, girls who like fine dining, enjoy traveling and cuddling up and just watching a movie, and girls whose self esteem is low enough that they are both easy and grateful.  That's a bonus!
Anyway, as a favor to our country commissioner, we have decided to take a look at and analyze Brian Maughan's probably-soon-to-be-deleted Match.com profile.  We are calling this a "favor" because now even more single ladies will get the opportunity to learn about this "slender" "never married" man and all he has to offer.
Check it out after the jump.
-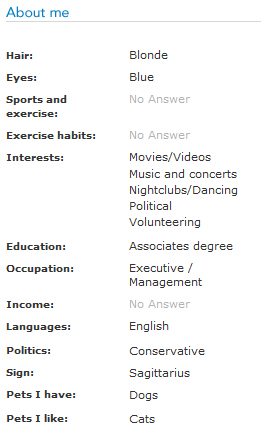 Yeah, I guess this is pretty standard and kind of normal.  That being said, it's kind of odd that he won't tell us how much he makes or anything about his exercise habits, but then he proudly lists his Associate's Degree. An Associate's Degree is about as impressive as a Bachelor's Degree from the University of Phoenix, but only cheaper. I should know. I have one.
You also have to love the fact that a County Commissioner likes night clubs and dancing.  Considering Brian is 33, that mean the ladies at Groovy's, Russell's and maybe even Friends have had some well vodka tonics purchased for them.  Oh well, I'd rather have our County Commissioner buying girls drinks at bars than designing and distributing comic books.
-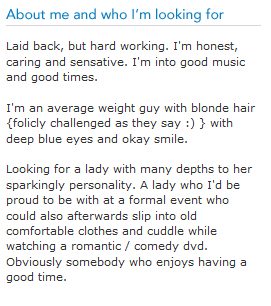 First of all, he just wrote on the internet that he's looking for a girl who wants to "slip into old comfortable clothes and cuddle while watching a romantic / comedy DVD."   Wow, how desperate can you be.  He should have changed it to "And I'll watch Sex and the City reruns with you.  Basically anything for a blow job."
Also, who other than Brian Maughan and Brent Skarky would say something like "Folicly Challenged?"
-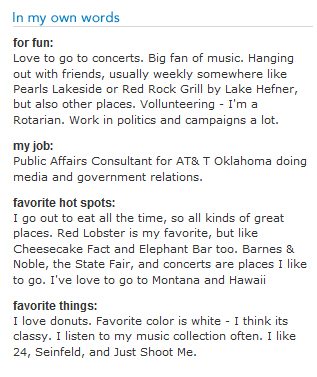 Brian should change the title of this from "In My Own Words" to "Various Reasons Not to Date Me."  Seriously, this guy just admitted that Red Lobster is his favorite restaurant.  That will reel in the ladies...at least the ones who like biscuits.
And did he really just include the State Fair as hot spot???  Now, I don't profess to being king of "hot spots" (although I should be), but there is a reason we have an annual Oklahoma State Fair Photo Contest, and it's not to get pictures of hot chicks and douchebags dancing at a club.
-
This is hysterical.  Brian would apparently consider a curvy 6' 8" Protestant widower who's trying to quit smoking with dark brown hair, but a hot slender blonde is out of the equation.  No wonder the guy is single.
-
Anyway, so that's a look at Brian Maughan's Match.com profile.  We will offer a $10 bounty for any photographs that surface of Brian on an internet date at Red Lobster.  We may even throw in some cheese biscuits, too.  Who doesn't like those biscuits.
Stay in touch
Sign up for our free newsletter