Everything Else
Page 3: The Top 10 Sports Days in Oklahoma History
1:44 PM EDT on April 22, 2010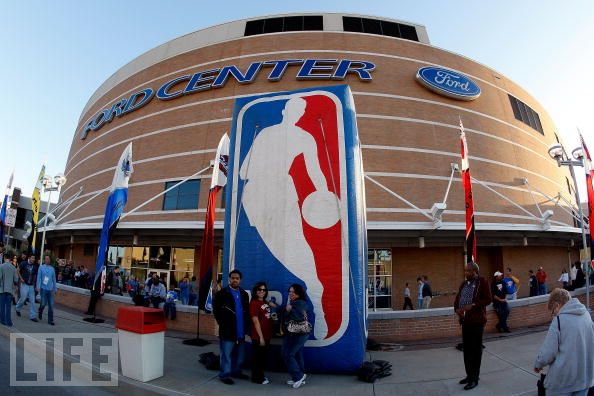 With the Thunder christening this city with a professional playoff game tonight, it got me wondering: Is this the biggest sports day in this state's history? Heck, is this the biggest day, period? These are questions I ask myself while making a Hot Pocket at 2 AM. These are also questions I ask my wife only to get a response of, "Uh, ask someone else." (Last night I asked her if Robin Williams's performance in Aladdin was the greatest animated voice-over ever and she talked for 25 minutes. I guess I wasn't asking the right debate questions. Alas.)
So anyway, I thought long and hard (read: 10 or 15 minutes) and came up with this flawless list.
10. Opening Night for the Hornets. It's what started everything. At the time, I don't think any of us realized how important that night was. But without the outpouring of support we experience those two fun seasons, I don't think we'd be having a tonight.
9. OU's 2000 National Title. I was just 14 when OU won it that year, but I remember my dad trying to explain to me how big a deal it was OU was even in the game. I recall watching the late 90s with dad and thinking, "They used to be good? Or is dad lying to me about that?" And then 2000 happened and restored everything to order. What an improbable season and the 2000 title game was kind of the perfect way to cap a wild, unexpected season.
8. Tulsa Oilers - Oklahoma City Blazers CHL Final. Just kidding. But as Patrick pointed out today on Twitter, remember when those were big playoff series? We used to welcome in Shreveport and Wichita for the postseason. Or the Redhawks maybe had the Nashville Sounds in a playoff series. Now, it's the Los Angeles Lakers. Think about that for second.
7. The Drafts. A local OKC kid taken No. 1 in the NBA Draft? Insane. And a year later, in another sport the exact same thing happening all over again with Sam Bradford? Equally insane. These nights aren't big because of anything that occurred in the sense that it was a big moment for a fanbase or something. But in terms of Oklahoma sports, it's hard to top two Oklahoma City kids being the No. 1 overall pick in two different sports. Assuming Bradford is taken No. 1 tonight of course...
6. Tommy Mason-Griffin's announcement to turn pro on Facebook and simultaneously destroying the English language. Confession: I was having trouble coming up with 10, so I tossed two stupid ones in here. So sue me.
5. The Game of the Century. It's called the freaking "Game of the Century" for crapsakes. No. 1 Nebraska vs. No. 2 OU, in Lincoln. Irresistible versus Immovable. It was the perfect storm of college football. An audience of 55 million tuned in nation-wide, what was then the largest viewing audience ever for a college football game. As Beano Cook said after the game, ""They can quit playing now, they have played the perfect game."
4. Oklahoma State vs. Missouri, Feb. 5, 2001. Just some mid-season Big 12 conference game between two decent teams. Nothing that big about it. But let me tell you, even as a Sooner fan I could feel the emotion in Gallagher-Iba that night. This game was played less than a week after the tragic plane crash that killed 10 people, including two players. I'm almost choking up a bit just writing about it. It was an incredibly tense day as we all wondered what the response would be by the team and the fans. Safe to say, Oklahoma State rose to the occasion, beating Mizzou 69-66 in front of one the craziest, most insane atmospheres I've ever seen.
3. Opening Night. There was an incredible electricity in the air that day, but it wasn't because we were excited for the game against the Milwaukee Bucks or pumped for basketball. It was really because nobody could really believe we were about to watch OUR OWN team take the floor and play professional basketball.
2. The 1988 Bedlam Game. The 1984 game was No. 2 vs. No. 3, but the 1988 game had the Big 8 title on the line. It featured a ton of talent on both sides, and had a pass not slipped through the hands of Brent Parker, No. 12 OSU would've had the biggest win in school history. It was a fantastic game that for once, really meant something. The entire state was captured by it, but just half of it went home happy.
1. Tonight. I don't think I can properly sum this night up. I fancy myself a writer, but I'm not close to good enough to package the intensity everyone feels in 150 words. This is just... massive. It's like the culmination of everything we had worked to get through post April 19, 1995. The state has come full circle. It's only fitting that we're playing our first playoff game just days off the 15th anniversary of the bombing. It's almost too perfect.
You know what's also crazy about this evening? This will probably be the biggest NFL Draft ever for Oklahoma with a number of Sooners and Cowboys all going, with the top pick likely being a local OKC kid. But nobody cares. College sports are big in this state and understandably dominate the market. But this city and state are Thunder crazy right now. And with this playoff run happening, I think the team has turned the casual observers into hardcore fans. The fanbase is being built before our eyes and the biggest moment in the short history is tonight. Hopefully tonight marks a small notch on the timeline of the Thunder, but it'll be something I know I will never, ever, ever forget.
Stay in touch
Sign up for our free newsletter